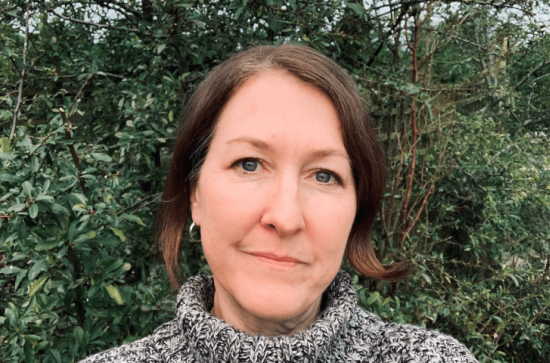 Thursday, March 9, 2023 - 12:00
Finding a Voice and the Contemporary Music Centre, Ireland are delighted to announce Jacqueline Fletcher as the winner of the 2023 competition for Emerging Composers.
Jacqueline Fletcher is a Co. Galway based composer, music educator and viola player who has lived in Ireland since 2001. She has a degree in music from Manchester University and an MA in Composition from Maynooth University. She has written works for Ficino Ensemble and Crash Ensemble and is a member of the Irish Composer's Collective. She currently works with Music Generation Galway in addition to teaching privately. Her work, song of the weeping ice for viola and tape, evokes the atmosphere of a glacial ice cave: a place of eerie and otherworldly beauty. The cave is still and silent, but for the sound of dripping water – a sound that increasingly becomes more threatening as we realise its significance: the glacier is melting.
Jacqueline's award-winning piece will receive its world premiere on Saturday 11 th March in Clonmel in Nathan Sherman's concert with percussionist Alex Petcu as part of Finding a Voice 2023. The programme will also include the world premire of Siobhán Cleary's Sheherazade: Tales of the Trickster (2022), for viola, percussion, and electronics, alongside works by Rebecca Saunders, Áine Mallon, Kate Moore and Missy Mazzoli.
Finding a Voice runs from Wednesday 8 th to Sunday 12 th March 2023 in Clonmel, Co. Tipperary. For further information on Finding a Voice, visit findingavoice.ie