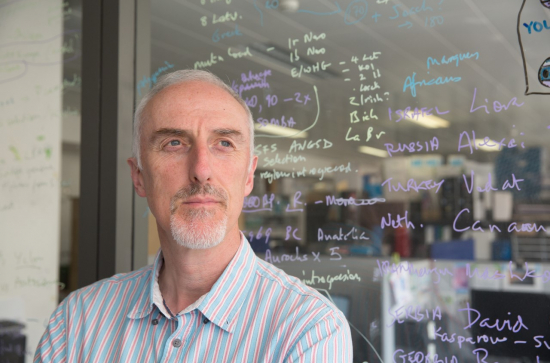 Thursday, March 31, 2022 -

19:00

to

20:30
Iontas Lecture Theatre, Maynooth University
The event will also be streamed live via YouTube (register to receive the link)
Faculty of Science & Engineering Deans Lecture 2022:
'Deciphering the past using ancient Irish genomes; expect the unexpected'.

Professor Daniel Bradley, Professor of Population Genetics, Smurfit Institute of Genetics, TCD
Registration: Maynooth University Faculty of Science and Engineering Deans Lecture 2022 | Maynooth University (geckoform.com)
Our genomes are our biological blueprints. Their DNA code also carries the traces of our family ancestry and at a deeper level, the history of the population we come from. With modern instruments we can sequence for the first time the DNA of people who lived thousands of years ago and read their long-lost biological stories. Genomes from ancient Ireland, including from those buried in famous megalithic tombs such as Newgrange and Poulnabrone dolmen, highlight the great migrations that brought different waves of people to the island, and also give us hints of the very different societies that prevailed in our prehistory.


Biography
Dan Bradley spent his early years on Co Derry farm. After a degree in genetics from Cambridge University and PhD in medical genetics from Trinity College Dublin he subsequently started to work on the genetics of each species present on that farm, including Irish humans, and has done for over 30 years. He pioneered the molecular genetic analysis of Irish populations, particularly co-analysis with surnames and the sequencing of the genomes of people who lived here thousands of years ago. This tells about their origins, sometimes their traits and diseases and how they relate to modern Irish people. He also works on ancient genomes of domestic animals from bones and parchment. He holds a Personal Chair in the Smurfit Institute of Genetics in Trinity College Dublin. He was awarded the 2020 Royal Irish Academy Gold Medal in the Life Sciences.