ISO 50001 Overview
Maynooth University and St Patrick's College Maynooth have implemented an energy management system in compliance with ISO 50001. ISO 50001 is the international standard for energy management. It sets out best practice for managing energy and supports organizations to use energy more efficiently. This saves money, conserves resources and tackles climate change. Energy use on campus costs approximately two million euro every year.
Our energy management system sets out a number of repeatable steps to continually improve energy performance. These steps include:
Developing a policy for more efficient use of energy
Fixing targets and objectives to meet the policy
Using data to better understand and make decisions about energy use
Finding and implementing energy efficiency projects
Measuring project results
Training and Awareness
Reviewing how well the policy works, and
Continually improving energy management.
Energy Performance
We have set targets to reduce energy consumption by 33% from 2009 to 2020. We are set to realise this ambitious goal.
Maynooth University and St Patrick's College Maynooth have implemented many projects to improve energy efficiency including:
Upgrade to LED lighting
District Heating System upgrade on the South Campus
Thermal and Photovoltaic solar panel installations
Air Handling System Upgrades
Building Management System upgrades
Energy Monitoring System on the North and South Campus
Energy Usage
The consumption of energy usage in a building depends on many factors including:
Building Usage (laboratory, office, classroom
Age
Building Services type (and vintage): Lighting, Boilers, fans, pumps
Upgrades and maintenance on the mechanical equipment
Outside air temperature
Occupancy of the building
Insulation, window type and shading
Heating, Ventilation and Air Conditioning (HVAC) Schedules
Specialty equipment, e.g. lasers, fume cupboards, servers, etc.
The plug loads in the building.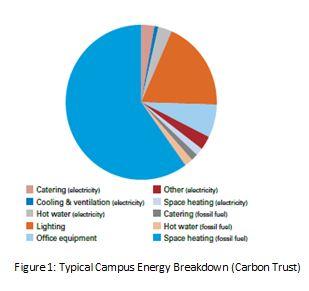 People across the campus are encouraged to actively improve energy efficiency and contribute ideas. The main areas people can have an impact are reducing plug in loads, turning off lights and providing feedback on heating schedules.
People are encouraged to contribute energy efficiency ideas to the Management Representative. Please email ciará[email protected] with your ideas.