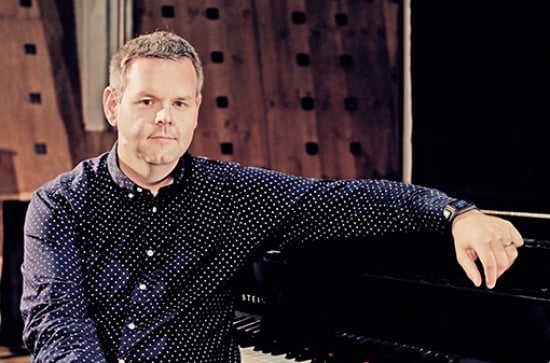 Gaeilge agus fáilte
Associate Professor
Logic House
109
(01) 708 3730
As a composer and performer, Ryan Molloy's work has been performed to international audiences on four continents for over fifteen years, including major concert venues such as Lucerne Hall, KKL (Switzerland), Kölner Philharmonie (Germany), National Concert Hall (Ireland), Holywell Music Room (England) and Ulster Hall (N. Ireland). In great demand as an accompanist, he has recorded over a dozen albums and his repertoire spans numerous genres from genres from traditional Irish music to contemporary classical music, performing with the Chieftains, David Munnelly Band, Beoga, Hard Rain SoloistEnsemble, the Ulster Orchestra and the Irish Concertina Ensemble amongst others. Currently a lecturer in composition at Maynooth University, Ryan studied at the University of Oxford and latterly at Queen's University Belfast where he completed his PhD 'The Traditional Contemporary Dichotomy in Irish Art Music: A New Compositional Approach' under the supervision of Dr Simon Mawhinney.

Ryan's compositional work has won numerous prizes and has been broadcast both nationally and internationally on BBC Radio 3 and Radio Ulster, RTÉ Lyric FM, Radio 1 and Ráidió na Gaeltachta as well as on BBC 2, UTV and BBC World. Most recently, Ryan received a major commission from RTÉ Lyric FM for a new harp concerto, Gealán, as past of their 20th birthday celebrations. Several of Ryan's works have also been chosen to represent Ireland internationally by the International Society for Contemporary Music, at the ISCM Musicarama in Hong Kong in 2015 and at the ISCM World New Music Day in Vancouver in 2017 and in Auckland in 2020. From 2012 to 2014, Ryan's compositional work was supported by a BBC Performing Arts Fund Fellowship in association with Moving on Music.

In early 2017, Ryan released a CD of his piano works entitled Innisfail, recorded by award-winning American pianist Alexander Bernstein. Other recently completed works include a violin concerto for Darragh Morgan and the Ulster Orchestra, Gortnagarn II a commission from the Hard Rain Soloist Ensemble, Dúchann, a fanfare for the papal visit to Ireland in 2018, a new work for piano and tape commissioned by the IMBOLC International Arts Festival, and Ogham, a new work commissioned by the Ulster Youth Orchestra to celebrate their 25th Anniversary Year.

2019 saw the release of Ryan's critically acclaimed first solo album pianophony, and 2020 also sees the release of a new CD of chamber works, featuring the 30-minute song cycle for voice, flute & harp Buaine na Gaoithe performed by its commissioners, the Damselfly Trio (CH-USA). 2020 additionally sees the première of works for the Dublin International Piano Competition and the 'In Tune for Life Orchestra' (a 'trad orchestra').

Past collaborations include diverse performers and ensembles such as the Danish String Quartet (DK), Concorde Ensemble (IE), EXAUDI Vocal Ensemble (UK), Ulster Orchestra (NI), Composers' Ensemble (UK), Hard Rain Soloist Ensemble (NI), Konvergence Ensemble (CZ), Franziska Schroeder (AT/NI), Carla Rees (UK), Zoë Conway, New Dublin Voices, Elizabeth Hilliard & David Bremner, and Nick Roth (IE).


Ryan is represented by the Contemporary Music Centre (www.cmc.ie).


Visit
www.ryanmolloy.ie
for information on other works, performances and recordings.
Irish 'art music' from the late twentieth century to the present;
Irish traditional music and its development in the late Twentieth Century;
Postmodern nationalist aesthetics in Irish art music;
Microinterval modality in older traditional Irish music;
New compositional styles allowing fuller incorporation of Irish traditional music in the contemporary medium;
The examination of identity in contemporary art and the response of contemporary performers to 'traditional' material;
The place of contemporary composition in modern society;
Cultural contexts of improvisation
I am interested in hearing from potential MA or PhD students or postdoctoral collaborators. If you have any queries or proposals, please contact me at
ryan.molloy@mu.ie.
Year
Publication
2017
Microinterval Modality In Irish Traditional Music - An Empirical Approach.
Ryan Molloy (2017) Microinterval Modality In Irish Traditional Music - An Empirical Approach. [Oral Presentation], Folk Music Analysis 2017, Málaga, ES [Details]
2019
A summary of recent performance and compositional practice in Traditional Irish Music.
Ryan Molloy (2019) A summary of recent performance and compositional practice in Traditional Irish Music. [Invited Lecture], Future Folk, Newnham College, Cambridge University , 05-SEP-19 - 07-SEP-19 [Details]
Year
Publication
2015
Traditional Irish Music in String Quartet Form: the fabric of 'Gealach Chríoch Lochlann'.
Ryan Molloy (2015) Traditional Irish Music in String Quartet Form: the fabric of 'Gealach Chríoch Lochlann'. Invited papers [Details]
Year
Publication
2013
A Survey of Recent Compositional Work.
Ryan Molloy (2013) A Survey of Recent Compositional Work. Invited Seminars [Details]
2017
Traditional Contemporary Music: Conflicts of Identity/Influence.
Ryan Molloy (2017) Traditional Contemporary Music: Conflicts of Identity/Influence. Invited Seminars [Details]
Year
Publication
2021
Sraith na Búille (The Boyle Suite).
Ryan Molloy (2021) Sraith na Búille (The Boyle Suite). Dublin: Composition [Details]
2021
Casúir 's Cnaipí.
Ryan Molloy (2021) Casúir 's Cnaipí. Dublin: Composition [Details]
2021
dlúthinneach.
Ryan Molloy (2021) dlúthinneach. Dublin: Composition [Details]
2020
Síoglór.
Ryan Molloy (2020) Síoglór. Dublin: Composition [Details]
2020
Arcady.
Ryan Molloy (2020) Arcady. Dublin: Composition [Details]
2020
Luasc.
Ryan Molloy (2020) Luasc. Dublin: Composition [Details]
2020
The Ballycommon Suite.
Ryan Molloy (2020) The Ballycommon Suite. Dublin: Composition [Details]
2019
Adeste Fideles Fanfare.
Ryan Molloy (2019) Adeste Fideles Fanfare. Dublin: Composition [Details]
2018
Tu Es Petrus.
Ryan Molloy (2018) Tu Es Petrus. CMC: Composition [Details]
2018
Béal.
Ryan Molloy (2018) Béal. Dublin: Composition [Details]
2019
Trí Amhrán.
Ryan Molloy (2019) Trí Amhrán. Dublin: Composition [Details]
2019
Gealán.
Ryan Molloy (2019) Gealán. Dublin: Composition [Details]
2018
Buaine na Gaoithe.
Ryan Molloy & Martin Dyar (2018) Buaine na Gaoithe. Composition [Details]
2018
Ogham.
Ryan Molloy (2018) Ogham. Composition [Details]
2018
Dúchann.
Ryan Molloy (2018) Dúchann. Composition [Details]
2018
The Mountains of Pomeroy.
Ryan Molloy (2018) The Mountains of Pomeroy. Composition [Details]
2018
Loinnir Laoise.
Ryan Molloy (2018) Loinnir Laoise. Composition [Details]
2017
Amhrán Fheilimidh.
Ryan Molloy (2017) Amhrán Fheilimidh. Dublin: Composition [Details]
2016
Be Thou My Vision.
Dr Ryan Molloy (2016) Be Thou My Vision. Dublin: Composition [Details]
2016
for Morton O'Leary.
Dr Ryan Molloy (2016) for Morton O'Leary. Dublin: Composition [Details]
2016
Violin Concerto.
Dr Ryan Molloy (2016) Violin Concerto. Dublin: Composition [Details]
2016
Gortnagarn (II).
Dr Ryan Molloy (2016) Gortnagarn (II). Dublin: Composition [Details]
2016
Death and the Post Office.
Dr Ryan Molloy (2016) Death and the Post Office. Dublin: Composition [Details]
2015
Meithealated Spirits.
Dr Ryan Molloy (2015) Meithealated Spirits. Dublin: Composition [Details]
2015
Irish Suite.
Dr Ryan Molloy (2015) Irish Suite. Dublin: Composition [Details]
2015
Innisfail.
Dr Ryan Molloy (2015) Innisfail. Dublin: Composition [Details]
2014
Clearances (III).
Dr Ryan Molloy (2014) Clearances (III). Dublin: Composition [Details]
2014
Bodhrán v.1.0.
Dr Ryan Molloy (2014) Bodhrán v.1.0. Dublin: Composition [Details]
2014
Seisiún.
Dr Ryan Molloy (2014) Seisiún. Composition [Details]
2014
Cantaireacht.
Dr Ryan Molloy (2014) Cantaireacht. Composition [Details]
2013
Concertino.
Dr Ryan Molloy (2013) Concertino. Composition [Details]
2013
Gealach Críoch Lochlann.
Dr Ryan Molloy (2013) Gealach Críoch Lochlann. Composition [Details]
2013
Salve Regina.
Dr Ryan Molloy (2013) Salve Regina. Composition [Details]
2012
Jolly, Slender Beggarman.
Dr Ryan Molloy (2012) Jolly, Slender Beggarman. Composition [Details]
2012
Between The Tunes.
Dr Ryan Molloy (2012) Between The Tunes. Composition [Details]
2012
Sliabh Geal gCua.
Dr Ryan Molloy (2012) Sliabh Geal gCua. Composition [Details]
2012
Innisfail.
Dr Ryan Molloy (2012) Innisfail. Composition [Details]
2012
For A Lone Piper.
Dr Ryan Molloy (2012) For A Lone Piper. Composition [Details]
2011
Séamsur III.
Dr Ryan Molloy (2011) Séamsur III. Composition [Details]
2011
Séamsur II.
Dr Ryan Molloy (2011) Séamsur II. Composition [Details]
2011
Gortnagarn.
Dr Ryan Molloy (2011) Gortnagarn. Composition [Details]
2011
Séamsur IV.
Dr Ryan Molloy (2011) Séamsur IV. Composition [Details]
2010
Third Epistle to Timothy.
Dr Ryan Molloy (2010) Third Epistle to Timothy. Composition [Details]
2010
Aisling Airt Mhic Cumhaigh.
Dr Ryan Molloy (2010) Aisling Airt Mhic Cumhaigh. Composition [Details]
2010
Séamsur I.
Dr Ryan Molloy (2010) Séamsur I. Composition [Details]
2009
An Seilgeoir.
Dr Ryan Molloy (2009) An Seilgeoir. Composition [Details]
2008
Sætre Brygge.
Dr Ryan Molloy (2008) Sætre Brygge. Composition [Details]
2008
Mise Éire.
Dr Ryan Molloy (2008) Mise Éire. Composition [Details]
Year
Publication
2015
Good Boy.
Dr Ryan Molloy (2015) Good Boy. Belfast: Media [Details]
Year
Publication
2021
Buaine na Gaoithe.
Ryan Molloy, Martin Dyar, The Damselfly Trio, Liz Pearse (2021) Buaine na Gaoithe. Sound recording [Details]
| | Year | Title | Awarding Body |
| --- | --- | --- | --- |
| | 2013 | BBC Performing Arts Fund Fellowship | |
| | 2010 | Winner - West Cork Music Composition Competition | |
| | 2009 | Highly Commended - Jerome Hynes Composition Competition | |
Professional Associations
| | Association | Function | From / To |
| --- | --- | --- | --- |
| | Association of Irish Composers | Member | 28-FEB-13 / |
| | Irish Composers Collective | Member | 12-MAR-10 / 30-APR-15 |
| | Year | Institution | Qualification | Subject |
| --- | --- | --- | --- | --- |
| | 2013 | Queen's University Belfast | PhD in Composition | |
| | 2006 | University of Oxford | MChem | |
| | 2009 | Queen's University Belfast | MA in Composition | |
| | Language | Reading | Writing | Speaking |
| --- | --- | --- | --- | --- |
| | French | Fluent | Fluent | Fluent |
| | Irish | Fluent | Fluent | Fluent |