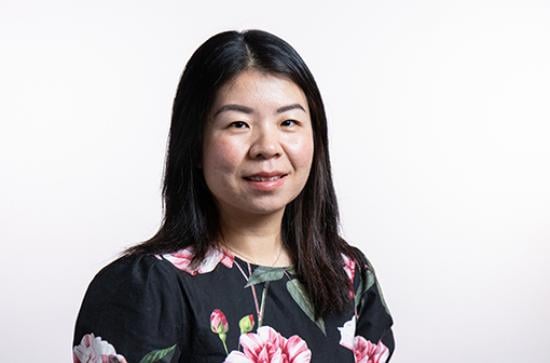 Lecturer / Assistant Professor
TSI Building
3rd Floor
343
(01) 474 7557
Ruifang Wang is a lecture in Management. Ruifang earned her PhD from University College Dublin, Michael Smurfit Graduate School of Business, where she also obtained an MSc in Project Management. She earned her BEng from Beijing Jiaotong University (China).

Before joining Maynooth Univeristy, Ruifang held appointments at University College Dublin lecturing in the Quinn School of Business. Prior to entering academia Ruifang worked as a Project Manager Assistant in China.

Ruifang's primary research focuses on the understudied role of middle managers in the strategy process and organizational innovation. This interest explores three key questions that are central to this burgeoning stream of literature: 1. What is the meaning of ambidexterity (combining exploration and exploitation) at a managerial level, and how is ambidexterity manifested in manager's day-to-day activities? 2. What are the origins, antecedents, and drivers of ambidexterity at a managerial level? 3. What impact, if any, does managerial ambidexterity have on a manager's career progress and an organisation's capacity to innovate. In addressing these questions, Ruifang uses longitudinal datasets of the managerial characteristics, strategic and networking behaviours, and career progress data to explore middle managers ability to engage in ambidextrous behaviours (combining exploration and exploitation activities) and their role based performance.
Ambidexterity, exploration and exploitation, middle management perspective
 
Year
Publication
2021
'The microfoundations of strategic entrepreneurship: a middle management perspective'
Wang R, Gibbons P and Heavey C (2021) 'The microfoundations of strategic entrepreneurship: a middle management perspective'. Journal of Enterprising Culture, 29 (1):1-20 [DOI] [Details]
2021
'Understanding managerial ambidexterity: a people–situation interaction approach'
Wang R.;Gibbons P. (2021) 'Understanding managerial ambidexterity: a people–situation interaction approach'. Journal Of Strategy And Management, 14 (2):170-186 [DOI] [Details]
 
Year
Publication
2021
'Strategic, regulating and enabling initiatives: conducive organisational changes'
Gibbons P and Wang R (2021) 'Strategic, regulating and enabling initiatives: conducive organisational changes' In: Distributed Leadership in Nursing and Healthcare: Theory, Evidence and Development. London UK: Open University Press. [Details]
2017
'A conceptual framework of middle managers' strategic role flexibility'
Wang R.;Gibbons P.;Heavey C. (2017) 'A conceptual framework of middle managers' strategic role flexibility' In: Handbook of Middle Management Strategy Process Research. [Details]
2017
'Planning and organising the change process'
Gibbons P and Wang R. (2017) 'Planning and organising the change process' In: Leadership and change for the health professional. London UK: Open University Press. [Details]
Year
Publication
2018
Technology-enabled assessment in large classes: learning from success and failure.
Ryazanova, O., Andreeva, T., Wang, R. (2018) Technology-enabled assessment in large classes: learning from success and failure. [Oral Presentation], International Management and Organisational Behaviour Teaching Society (IMOBTS) conference, Maynooth, Ireland [Details]
2018
Political skill and managerial ambidexterity: The pivotal role of goal orientation.
Wang R and Gibbons P. (2018) Political skill and managerial ambidexterity: The pivotal role of goal orientation. [Oral Presentation], Strategic Management Society (SMS) 38th Annual International Conference, Paris, France [Details]
2016
Managerial ambidexterity: A political skills perspective.
Wang R and Gibbons P. (2016) Managerial ambidexterity: A political skills perspective. [Oral Presentation], The 76th Annual Meeting of the Academy of Management (Strategy as Practice Division), Anaheim, California, USA [Details]
2016
A conceptual framework of middle managers' strategic role flexibility.
Wang R, Gibbons P and Heavey C. (2016) A conceptual framework of middle managers' strategic role flexibility. [Oral Presentation], 16th European Academy of Management, Paris, France [Details]
| | Year | Title | Awarding Body |
| --- | --- | --- | --- |
| | 2016 | Outstanding reviewer award | Academy of Management Annual Conference (Strategizing, Activities and Practices Interest Group) |
Professional Associations
| | Association | Function | From / To |
| --- | --- | --- | --- |
| | Research Methods Community of Strategic Management Society (SMS) | Representative-at-Large | 01-JAN-19 / 31-DEC-20 |
| | Academy of Management | Member | / |
| | Strategic Management Society | Member | / |
| | Irish Academy of Management | Member | / |