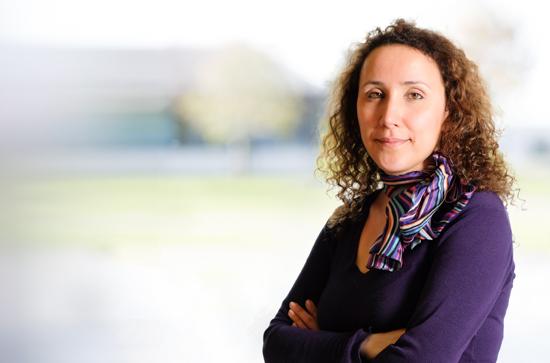 Lecturer; MA Co-coordinator
Iontas Building
Ground Floor
Office 0.19B
(01)
Rita joined the Department of English at Maynooth University as Lecturer in Postcolonial and Global Literatures, after being Lecturer in World Literature at Goldsmiths (University of London), and previously, Postdoctoral Research Fellow at the Orient Institut Beirut (Max Weber Foundation), Research Councils UK "Partnership for Conflict, Crime and Security" Postdoctoral Research Associate at the University of Kent, and visiting lecturer at UCD, having completed a PhD at the University of Nottingham, UK.

Rita's teaching and research interests include migrant and refugee literature and film, postcolonialism, Middle-Eastern and Mediterranean studies, modern Arab (including diasporic) literature and film, modern Turkish and Kurdish literature in translation, literary and cultural geography, the city in literature and film, social and spatial justice, human rights and humanitarianism, peacekeeping and peace-building, post-conflict memory studies, as well as James Joyce.

Among various other publications, Rita is the author of "Anticipating" the 2011 Arab Uprisings: Revolutionary Literatures and Political Geographies (Palgrave, 2013) and Monumental Space in the Post-Imperial Novel: An Interdisciplinary Study (Continuum, 2012; and in paperback, Bloomsbury Academic, 2013). Rita co-edited The Ethics of Representation in Literature, Art, and Journalism: Transnational Responses to the Siege of Beirut (Routledge, 2013) and James Joyce and the Nineteenth-Century French Novel (Rodopi, 2011). In 2014, Rita co-directed and co-produced the Research Councils UK-funded documentary film White Flags that focuses on peace-building through memory projects and the arts in post-war Beirut. Recent and forthcoming talks and publications include approaches to biopolitical and ecocritical intersections in asylum-seeking narratives, an interdisciplinary study of cultural imaginaries of mid-nineteenth-century Beirut as "city of the world", and various pieces on
"more-than-human" rights and experimental aesthetics (especially reconfigurations of magical realism) in migrant and refugee Arab literature. Her current book-length project is titled Global Arab Literary Geographies.
Rita is a
commissioning editor for the Arab, Middle Eastern, and North African (including diasporic) Literatures and Cultures volumes of the Literary Encyclopedia. From 2016 to 2019, she was a member of the Executive Council of the International Comparative Literature Association.
Year
Publication
2013
Monumental Space in the Post-Imperial Novel: An Interdisciplinary Study.
Rita Sakr (2013) Monumental Space in the Post-Imperial Novel: An Interdisciplinary Study. London: Bloomsbury Academic. [Details]
2013
Anticipating the 2011 Arab Uprisings: Revolutionary Literatures and Political Geographies.
Rita Sakr (2013) Anticipating the 2011 Arab Uprisings: Revolutionary Literatures and Political Geographies. Basingstoke: Palgrave Macmillan. [Details]
2012
Monumental Space in the Post-Imperial Novel: An Interdisciplinary Study.
Rita Sakr (2012) Monumental Space in the Post-Imperial Novel: An Interdisciplinary Study. London and New York: Continuum. [Details]
 
Year
Publication
2019
'Expanding the Space of Human Rights in Literature, Reclaiming Literature as a Human Right: Cockroach and Carnival'
Rita Sakr (2019) 'Expanding the Space of Human Rights in Literature, Reclaiming Literature as a Human Right: Cockroach and Carnival' In: Krzysztof Majer (eds). Beirut to Carnival City: Reading Rawi Hage (forthcoming). Amsterdam and New York: Brill/Rodopi. [Details]
2018
'Heterotopia and its Discontents: Exploring Spatial, Social, and Textual Liminality in Rawi Hage's Cockroach'
Rita Sakr (2018) 'Heterotopia and its Discontents: Exploring Spatial, Social, and Textual Liminality in Rawi Hage's Cockroach' In: Roxanne Rimstead and Domenic Beneventi (eds). Contested Spaces, Counter-narratives, and Culture from Below in Canada and Quebec. Toronto: Toronto University Press. [Details]
2013
'We Teach Life, Sir": States of Siege, Youth, and Filmed Testimony'
Rita Sakr and Caroline Rooney (2013) 'We Teach Life, Sir": States of Siege, Youth, and Filmed Testimony' In: Hilary Ann Footitt and Andrew Knapp (eds). Liberal Democracies at War: Conflict and Representation. London and New York: Bloomsbury Academic. [Details]
2013
'Interview with Robert Fisk'
Rita Sakr and Caroline Rooney (2013) 'Interview with Robert Fisk' In: Rita Sakr and Caroline Rooney (eds). The Ethics of REpresentation in Literature, Art and Journalism: Transnational Responses to the Siege of Beirut. London and New York: Routledge. [Details]
2013
'Interview with Mischa Hiller'
Rita Sakr and Caroline Rooney (2013) 'Interview with Mischa Hiller' In: Rita Sakr and Caroline Rooney (eds). The Ethics of REpresentation in Literature, Art and Journalism: Transnational Responses to the Siege of Beirut. London and New York: Routledge. [Details]
2013
'Interview with Mai Masri'
Rita Sakr and Caroline Rooney (2013) 'Interview with Mai Masri' In: Rita Sakr and Caroline Rooney (eds). The Ethics of REpresentation in Literature, Art and Journalism: Transnational Responses to the Siege of Beirut. London and New York: Routledge. [Details]
2013
'Introduction'
Rita Sakr and Caroline Rooney (2013) 'Introduction' In: Rita Sakr and Caroline Rooney (eds). The Ethics of Representation in Literature, Journalism and Art: Transnational Responses to the Siege of Beirut. London and New York: Routledge. [Details]
2013
'War is Surrealism Without Art: Representing the Unrepresentable in Mahmoud Darwish, Rawi Hage and Robert Fisk'
Rita Sakr (2013) 'War is Surrealism Without Art: Representing the Unrepresentable in Mahmoud Darwish, Rawi Hage and Robert Fisk' In: Rita Sakr and Caroline Rooney (eds). The Ethics of Representation in Literature, Journalism and Art: Transnational Responses to the Siege of Beirut. London and New York: Routledge. [Details]
2011
'"That's new […]That's copy: Slightly Rambunctious Females on the top of Some Column! in Zola's L'Assommoir and Joyce's Ulysses'
Rita Sakr (2011) '"That's new […]That's copy: Slightly Rambunctious Females on the top of Some Column! in Zola's L'Assommoir and Joyce's Ulysses' In: Rita Sakr and Finn Fordham (eds). Joyce and the Nineteenth-Century French Novel. Amsterdam and New York: Rodopi. [Details]
2011
'Joyce and the "pas mal de siècle"'
Rita Sakr and Finn Fordham (2011) 'Joyce and the "pas mal de siècle"' In: Rita Sakr and Finn Fordham (eds). Joyce and the Nineteenth-Century French Novel. Amsterdam and New York: Rodopi. [Details]
Year
Publication
2013
The Ethics of Representation in Literature, Journalism and Art: Transnational Responses to the Siege of Beirut
Rita Sakr and Caroline Rooney (Ed.). (2013) The Ethics of Representation in Literature, Journalism and Art: Transnational Responses to the Siege of Beirut London and New York: Routledge. [Details]
2011
Joyce and the Nineteenth-Century French Novel
Rita Sakr and Finn Fordham (Ed.). (2011) Joyce and the Nineteenth-Century French Novel Amsterdam and New York: Rodopi. [Details]
 
Year
Publication
2019
'Imagining Mid-Nineteenth-Century Beirut as a City of the World: Public Intellectuals, Photography, Cartography, and Historical Literature"'
Rita Sakr (2019) 'Imagining Mid-Nineteenth-Century Beirut as a City of the World: Public Intellectuals, Photography, Cartography, and Historical Literature"'. Journal of Urban Cultural Studies, 6 (1) [Details]
2019
'The More-Than-Human Refugee Journey: Hassan Blasim's Short Stories'
Rita Sakr (2019) 'The More-Than-Human Refugee Journey: Hassan Blasim's Short Stories'. Journal of Postcolonial Writing, 54 (6) [Details]
2011
'Between Terror and Taboo: Monumentalisation as the Matrix of History and Politics in Orhan Pamuk's The Black Book and Snow'
Rita Sakr (2011) 'Between Terror and Taboo: Monumentalisation as the Matrix of History and Politics in Orhan Pamuk's The Black Book and Snow'. British Journal of Middle Eastern Studies, 38 [Details]
2011
'Imaginative Migrations: An Interview [and an introductory essay] with the Lebanese-Canadian Writer Rawi Hage'
Rita Sakr (2011) 'Imaginative Migrations: An Interview [and an introductory essay] with the Lebanese-Canadian Writer Rawi Hage'. Journal of Postcolonial Writing, 47 (3) [Details]
2010
'Broken Pillars": The Counter-Monumental Texture of Ulysses'
Rita Sakr (2010) 'Broken Pillars": The Counter-Monumental Texture of Ulysses'. Dublin James Joyce Journal, 3 [Details]
2007
'Negotiating Post-War Lebanese Literature: A Conversation with Rashid al-Daif'
Rita Sakr (2007) 'Negotiating Post-War Lebanese Literature: A Conversation with Rashid al-Daif'. Journal of Postcolonial Writing, 43 (3) [Details]
Year
Publication
2012
'Writing the 2011 Arab Uprisings: Visions and Realities'
Rita Sakr (2012) 'Writing the 2011 Arab Uprisings: Visions and Realities' Frame: Journal of Literary Studies, . [Details]
2008
'Staging Social and Political Spaces: Living Theatre in Joyce's "The Dead"'
Rita Sakr (2008) 'Staging Social and Political Spaces: Living Theatre in Joyce's "The Dead"' Journal of the Short Story in English, . [Details]
Year
Publication
2019
Oral Presentation at Forms of Migration conference.
Rita Sakr (2019) Oral Presentation at Forms of Migration conference. [Oral Presentation], Hassan Blasim's Nightmare Realism" and the Re-imagining of the "Refugee Crisis", University of Graz, Austria [Details]
2018
Oral Presentation at 13th European Association for Modern Arabic Literature conference, Fiction and History: the Rebirth of the Historical Novel in Arabic.
Rita Sakr (2018) Oral Presentation at 13th European Association for Modern Arabic Literature conference, Fiction and History: the Rebirth of the Historical Novel in Arabic. [Oral Presentation], Re-imagining Nineteenth-Century Beirut in Rabee Jaber's Historical Fiction, Bayrūt Madīnat al-ʿĀlam, Universita degli studi di Napoli L'Orientale [Details]
2018
Oral Presentation at 26th International James Joyce Symposium.
Rita Sakr (2018) Oral Presentation at 26th International James Joyce Symposium. [Oral Presentation], Reconstructing "a Shout in the Street" in Pamuk's A Strangeness in My Mind, University of Antwerp [Details]
2018
Invited Lecture at the Centre for Cultural, Literary, and Postcolonial Studies, School of Oriental and African Studies (SOAS), University of London.
Rita Sakr (2018) Invited Lecture at the Centre for Cultural, Literary, and Postcolonial Studies, School of Oriental and African Studies (SOAS), University of London. [Invited Lecture], Imagining Mid-Nineteenth-Century Beirut as a "City of the World": Public Intellectuals, Photography, Cartography, and Historical Literature, SOAS, University of London [Details]
2017
Keynote address at Placing, Spacing, Displacing conference.
Rita Sakr (2017) Keynote address at Placing, Spacing, Displacing conference. [Keynote Address], Heterotopic Displacements in Migrant and Refugee Narratives, University of Malta [Details]
2015
Inivited Research Seminar.
Rita Sakr (2015) Inivited Research Seminar. [Invited Oral Presentation], A Cultural-Geographical Reflection on Migrant Routes in Mid-nineteenth-Century Beirut, Orient Institut Beirut [Details]
2014
Walls, Barricades, Borders, Gates: Political Negligence and the Twenty-First Century City (a conference co-organised with CCLPS, SOAS).
Rita Sakr (2014) Walls, Barricades, Borders, Gates: Political Negligence and the Twenty-First Century City (a conference co-organised with CCLPS, SOAS). [Conference Organising Committee Member], An interdisciplinary conference co-organised with CCLPS, SOAS Walls, Barricades, Borders, Gates: Political Negligence and the Twenty-First Century City, SOAS, University of London [Details]
2014
Oral presentation at Walls, Barricades, Borders, Gates: Political Negligence and the Twenty-First Century City.
Rita Sakr (2014) Oral presentation at Walls, Barricades, Borders, Gates: Political Negligence and the Twenty-First Century City. [Oral Presentation], Re-Transit Beirut: Diasporic, Refugee, and Other Spaces, SOAS, University of London [Details]
2013
Invited Oral Presentation at Civil Rights in a Global Context conference.
Rita Sakr (2013) Invited Oral Presentation at Civil Rights in a Global Context conference. [Invited Oral Presentation], Human Rights in Contemporary Arab Literature, UCD, Dublin [Details]
2013
Oral Presentation at British Society of Middle Eastern Studies Conference 2013.
Rita Sakr (2013) Oral Presentation at British Society of Middle Eastern Studies Conference 2013. [Oral Presentation], Syrian Prison Writings: An Archive of Human Rights Abuses, Popular Discontent, and Radicalisation, UCD, Dublin [Details]
2013
Oral Presentation at Identity and Conflict.
Rita Sakr (2013) Oral Presentation at Identity and Conflict. [Oral Presentation], Remapping the Revolutionary Middle East: Ahdaf Soueif's The Map of Love and Cairo: My City, Our Revolution, University of Balamand [Details]
2012
Trust-Building in Divided Beirut (co-organised conference).
Rita Sakr (2012) Trust-Building in Divided Beirut (co-organised conference). [Conference Organising Committee Member], An interdisciplinary conference, part of the Imagining the Common Ground project, and co-organised with May Maalouf at the Lebanese University, Lebanese University [Details]
2012
Oral Presentation at Days of Rage conference.
Rita Sakr (2012) Oral Presentation at Days of Rage conference. [Oral Presentation], Writing the Egyptian Revolution: The Literature and Journalism of Mohamed Salmawy and Alaa al-Aswany, University of Kent [Details]
2012
Media and the Arab Spring (co-organised conference).
Rita Sakr (2012) Media and the Arab Spring (co-organised conference). [Conference Organising Committee Member], An interdisciplinary conference co-organised with Liam Kennedy, Clinton Institute for American Studies, UCD [Details]
2012
Invited Lecture, School of English, University of Kent.
Rita Sakr (2012) Invited Lecture, School of English, University of Kent. [Invited Lecture], Orhan Pamuk and the Contested History of Post-Imperial Turkey, Canterbury, Kent [Details]
2012
Oral Presentation at Shifting Borders conference.
Rita Sakr (2012) Oral Presentation at Shifting Borders conference. [Oral Presentation], A New MENA?: Re-inventing the American Democratization Project in the Arab World,' Shifting Borders, American University of beirut [Details]
2012
Oral Presentation at British Society of Middle Eastern Studies Conference 2012.
Rita Sakr (2012) Oral Presentation at British Society of Middle Eastern Studies Conference 2012. [Oral Presentation], Imagining 2011: The Literatures of the Arab Uprisings, London School of Economics [Details]
2012
Plenary Lecture hosted by the Issam Fares Institute for Public Policy and International Affairs.
Rita Sakr (2012) Plenary Lecture hosted by the Issam Fares Institute for Public Policy and International Affairs. [Plenary Lecture], Irish Peacekeeping in Lebanon, American University of beirut [Details]
2012
Invited Lecture, School of English, Drama and Film, UCD.
Rita Sakr (2012) Invited Lecture, School of English, Drama and Film, UCD. [Invited Lecture], A History of Violence: Landscapes of Memory in Orhan Pamuk's Novels, UCD, Dublin [Details]
Year
Publication
2013
'Irish Peacekeeping in the United Nations Interim Force in Lebanon (UNIFIL): A Historical, Political, and Socio-Cultural Study.
Rita Sakr (2013) 'Irish Peacekeeping in the United Nations Interim Force in Lebanon (UNIFIL): A Historical, Political, and Socio-Cultural Study. Issam Fares Institute for Public Policy and International Affairs, American University of Beirut, Beirut. [Details]
Year
Publication
2017
Review of The Lebanese Post-Civil War Novel: Memory, Trauma, and Capital (in Contemporary Levant).
Rita Sakr (2017) Review of The Lebanese Post-Civil War Novel: Memory, Trauma, and Capital (in Contemporary Levant). Book Review [Details]
2014
James Joyce in the Nineteenth Century (in James Joyce Broadsheet).
Rita Sakr (2014) James Joyce in the Nineteenth Century (in James Joyce Broadsheet). Book Review [Details]
2014
Review of Architecture and Modern Literature (in James Joyce Quarterly).
Rita Sakr (2014) Review of Architecture and Modern Literature (in James Joyce Quarterly). Book Review [Details]
2013
Review of Transits: The Nomadic Geographies of Anglo-American Modernism (in James Joyce Quarterly).
Rita Sakr (2013) Review of Transits: The Nomadic Geographies of Anglo-American Modernism (in James Joyce Quarterly). Book Review [Details]
2013
Review of In the Country of Men and Anatomy of a Disappearance by Hisham Matar (in Wasafiri).
Rita Sakr (2013) Review of In the Country of Men and Anatomy of a Disappearance by Hisham Matar (in Wasafiri). Book Review [Details]
2013
Review of Rock the Casbah: Rage and Rebellion Across the Islamic World (in British Journal of Middle Eastern Studies).
Rita Sakr (2013) Review of Rock the Casbah: Rage and Rebellion Across the Islamic World (in British Journal of Middle Eastern Studies). Book Review [Details]
Year
Publication
2014
White Flags.
Rita Sakr and Caroline Rooney (2014) White Flags. Documentary [Details]
Year
Publication
2019
Hisham Matar (updated and expanded).
Rita Sakr (2019) Hisham Matar (updated and expanded). Encyclopedia Entry [Details]
2011
Rawi Hage.
Rita Sakr (2011) Rawi Hage. Encyclopedia Entry [Details]
2012
Hisham Matar.
Rita Sakr (2012) Hisham Matar. Encyclopedia Entry [Details]