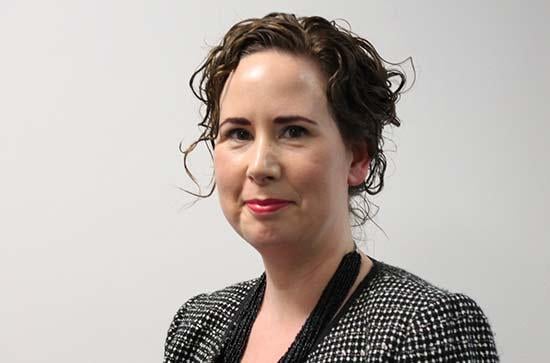 Lecturer / Assistant Professor
Rhetoric House
43
(01) 708 3375
Dr. Jennifer Redmond is Assistant Professor/ Lecturer in Twentieth Century Irish History in the Department of History at Maynooth University and formerly the Director of the MA in Irish History (2014-19). She was the Director of The Albert M. Greenfield Digital Center for the History of Women's Education at Bryn Mawr College. She also held a Council on Libraries and Information Resources (CLIR) Postdoctoral Fellowship with a joint appointment between Special Collections and the History Department between 2011 and 2013. Between 2009-2011 she was an IRCHSS Postdoctoral Research Fellow at the Department of History, Maynooth University, mentored by Professor Jacqueline Hill. She completed her undergraduate degree at University College Dublin and an M.Phil and PhD at the School of Histories and Humanities at Trinity College Dublin, the latter on the discourses surrounding Irish female migration to Britain during the first decades of Irish independence which was published by Liverpool University Press in 2018 as
Moving Histories.

Her research interests include migration, women's history, Irish social history and digital humanities. Dr Redmond is Chair of the Faculty of Arts, Celtic Studies and Philosophy Research Committee, the Maynooth University Decade of Commemorations Committee and is a member of the Social Research Ethics Committee for the University.
Jennifer is Vice Chair of the
Royal Irish Academic Historical Studies Committee
, a fellow of the
Mellon Centre for Migration Studies
(Queen's University Belfast) and a member of the executive committee of the
Irish Historical Society
She also sits on the Editorial Board for the leading international journal,
Women's History Review
. She was the President of the
Women's History Association of Ireland
(2014-2017). She is a former executive committee member of the
Church of Ireland Historical Society.
Dr Redmond is presently an external examiner for Mary Immaculate College (University of Limerick) and Dublin City University. Follow Jennifer on
Twitter @RedmondJennifer
Dr. Redmond normally teaches the following courses: HY254: Population Change in Post-Famine Ireland; HY276 Gender and History, HY219 Modern Ireland: Twentieth Century; HY395 The Irish in Twentieth Century Britain; HY697 Gender and History in Britain and Ireland; HY663 a research tutorial for first year PhD students and contributes to HY6007 (MA in Irish History) Debates and Controversies and IS201 Gender and Sexuality in Society and Culture, an elective stream available to second year undergraduates. She occasionally teaches HY218 Modern Ireland: 19th Century.
Dr. Redmond welcomes inquiries for research supervision for M.Litt or PhD candidates in any of the areas mentioned above.
Irish social history, migration, transnationalism, women's history, history of education, oral history, World War II, citizenship, gender
|   | Project | Role | Funding Body / Program | Description | Start Date | End Date | Award (€) |
| --- | --- | --- | --- | --- | --- | --- | --- |
| | Women's History in the Digital World 2017 | PI | Failte Ireland / Conference Ambassador | | 06-JUL-17 | 30-JUL-17 | 1706 |
| | Historical Perspectives on Irish Masculinities in the Revolutionary Era | PI | Irish Research Council (IRC) / New Foundations | | 01-MAR-16 | 30-NOV-16 | 4289.5 |
| | Regulating Citizenship: Irish Travel and Emigration Arrangements in the Second World War | PI | Royal Irish Academy / RIA / Postdoctoral Mobility Grants | | 01-MAY-11 | 31-MAY-11 | |
Year
Publication
2018
Moving Histories: Irish Women's Emigration to Britain from Independence to Republic.
Jennifer Redmond (2018) Moving Histories: Irish Women's Emigration to Britain from Independence to Republic. Liverpool: Liverpool University Press. [Details]
 
Year
Publication
2019
'Marriage and Migration'
Jennifer Redmond (2019) 'Marriage and Migration' In: Salvador Ryan (eds). Marriage and the Irish: A Miscellany. Dublin: Wordwell. [Details]
2017
'Migrants, medics, matrons: exploring the spectrum of Irish immigrants in the wartime British health sector'
Redmond, J (2017) 'Migrants, medics, matrons: exploring the spectrum of Irish immigrants in the wartime British health sector' In: MEDICINE, HEALTH AND IRISH EXPERIENCES OF CONFLICT, 1914-45. MANCHESTER: MANCHESTER UNIV PRESS. [Details]
2015
'Journeys toward a gentleman's education: International fellowships and Bryn Mawr College Students, 1900-1930'
Redmond J. (2015) 'Journeys toward a gentleman's education: International fellowships and Bryn Mawr College Students, 1900-1930' In: Women in Higher Education, 1850-1970: International Perspectives. [DOI] [Details]
2014
'The thermometer and the travel permit: Irish women in the medical profession in Britain during World War Two'
Redmond, J (2014) 'The thermometer and the travel permit: Irish women in the medical profession in Britain during World War Two' In: WOMEN AND IRISH DIASPORA IDENTITIES: THEORIES, CONCEPTS AND NEW PERSPECTIVES. MANCHESTER: MANCHESTER UNIV PRESS. [Details]
2015
''Safeguarding Irish Girls: Welfare Work, Female Emigrants and the Catholic Church, 1920s -1940s''
Dr Jennifer Redmond (2015) ''Safeguarding Irish Girls: Welfare Work, Female Emigrants and the Catholic Church, 1920s -1940s'' In: Women, Reform, and Resistance in Ireland, 1850-1950: Ordinary and Outcast. [Details]
2015
'The Politics of Emigrant Bodies: Irish Women's Sexual Practice in Question'
Dr Jennifer Redmond (2015) 'The Politics of Emigrant Bodies: Irish Women's Sexual Practice in Question' In: Sexual Politics in Modern Ireland. Dublin: Irish Academic Press. [Details]
2014
'On Leaving… In History, Theory and Reality'
Dr Jennifer Redmond (2014) 'On Leaving… In History, Theory and Reality' In: On Leaving. [Details]
2012
''In the Family Way and Away from the Family: Examining the Evidence in Irish Unmarried Mothers in Britain, 1920s -1940s''
Dr Jennifer Redmond (2012) ''In the Family Way and Away from the Family: Examining the Evidence in Irish Unmarried Mothers in Britain, 1920s -1940s'' In: 'She said she was in the family way': pregnancy and infancy in the Irish past. London: Institute of Historical Research. [Details]
2009
''Gender, Emigration and Diverging Discourses: Irish Female Emigration, 1922–48' '
Dr Jennifer Redmond (2009) ''Gender, Emigration and Diverging Discourses: Irish Female Emigration, 1922–48' ' In: Gender and Power in Ireland. Irish Academic Press. [Details]
Year
Publication
2019
Irish Women in the First World War Era Irish Women's Lives, 1914-18
Jennifer Redmond and Elaine Farrell (Ed.). (2019) Irish Women in the First World War Era Irish Women's Lives, 1914-18 London: Routledge. [Details]
2015
Sexual Politics in Modern Irish History
Sonja Tiernan, Sandra McAvoy and Mary McAuliffe (Ed.). (2015) Sexual Politics in Modern Irish History Dublin: Irish Academic Press. [Details]
 
Year
Publication
2006
''Imperfect Tools: The Role of Textbooks in Providing a Gender Balanced History Curriculum in Ireland''
Jennifer Redmond, Deirdre Raftery, Maryann Valiulis and Judith Harford (2006) ''Imperfect Tools: The Role of Textbooks in Providing a Gender Balanced History Curriculum in Ireland''. International Journal of Learning, 12 (10):179-186 [DOI] [Details]
2007
''What's coming up in the exam?' A survey of teachers and the delivery of a gender-balanced curriculum'
Jennifer Redmond, Deirdre Raftery, Maryann Valiulis and Judith Harford (2007) ''What's coming up in the exam?' A survey of teachers and the delivery of a gender-balanced curriculum'. IRISH EDUCATION STUDIES JOURNAL, 26 (1):107-117 [DOI] [full-text] [Details]
2019
''I am amazed at how easily we accepted it': the marriage ban, teaching and ideologies of womanhood in post-Independence Ireland*'
Harford, J;Redmond, J (2019) ''I am amazed at how easily we accepted it': the marriage ban, teaching and ideologies of womanhood in post-Independence Ireland*'. Gender and Education, [DOI] [full-text] [Details]
2018
'Special Issue: Irish Women and the First World War Era'
Jennifer Redmond and Elaine Farrell (2018) 'Special Issue: Irish Women and the First World War Era'. Women's History Review, 27 (3) [Details]
2018
'War Within and Without: Irish women in the First World War era'
Jennifer Redmond and Elaine Farrell (2018) 'War Within and Without: Irish women in the First World War era'. Women's History Review, [DOI] [Details]
2016
'Immigrants, Aliens, Evacuees: Exploring the History of Irish Children in Britain during the Second World War'
Jennifer Redmond (2016) 'Immigrants, Aliens, Evacuees: Exploring the History of Irish Children in Britain during the Second World War'. Journal of the History of Childhood and Youth, 9 (2):295-308 [full-text] [Details]
2011
'The Largest Remaining Reserve of Manpower: Historical Myopia, Irish Women Workers and World War Two'
Dr Jennifer Redmond (2011) 'The Largest Remaining Reserve of Manpower: Historical Myopia, Irish Women Workers and World War Two'. SAOTHAR (JOURNAL OF THE IRISH LABOUR HISTORY SOCIETY), Volume 36 :61-72 [full-text] [Details]
2010
'One man one job: The marriage ban and the employment of women teachers in irish primary schools'
Redmond J.;Harford J. (2010) 'One man one job: The marriage ban and the employment of women teachers in irish primary schools'. Paedagogica historica, 46 (5):639-654 [DOI] [full-text] [Details]
2008
'Sinful Singleness? Discourses on Irish Womens Emigration to England, 1922-1948'
Dr Jennifer Redmond (2008) 'Sinful Singleness? Discourses on Irish Womens Emigration to England, 1922-1948'. WOMENS HISTORY REVIEW, 17 :455-476 [full-text] [Details]
Year
Publication
2016
Keynote.
Jennifer Redmond (2016) Keynote. [Oral Presentation], Dublin Postgraduate History Conference, Trinity College Dublin [Details]
2016
'Irish Children and the Second World War: Invisible Evacuees?'.
Jennifer Redmond (2016) 'Irish Children and the Second World War: Invisible Evacuees?'. [Oral Presentation], Mixing It Workshop, University of Huddersfield [Details]
2016
on 'Migration, Violence and the Irish Revolution: Escapees, Returnees or Other?'.
Jennifer Redmond (2016) on 'Migration, Violence and the Irish Revolution: Escapees, Returnees or Other?'. [Oral Presentation], 'Conflict, Migration and Identity in Modern Ireland: Global and transnational perspectives',, Carlow College [Details]
2016
'Social Media and the Historian'.
Jennifer Redmond (2016) 'Social Media and the Historian'. [Oral Presentation], Teaching and Social Media, Mary Immaculate College, Limerick [Details]
2014
'Reconsidering the Irish Diaspora in the Second World War: Evacuation, the Emergency and Emigrants'.
Jennifer Redmond (2014) 'Reconsidering the Irish Diaspora in the Second World War: Evacuation, the Emergency and Emigrants'. [Oral Presentation], Department of History seminar series, University of Limerick [Details]
2016
'Emigrants and the Irish Revolution, 1912-26'.
Jennifer Redmond (2016) 'Emigrants and the Irish Revolution, 1912-26'. [Oral Presentation], Fifteenth Annual Irish Migration Studies Lecture, Mellon Centre for Migration Studies,, Ulster American Folkpark, Omagh [Details]
2015
on 'Sexual Politics and emigrant bodies in twentieth-century Ireland'.
Jennifer Redmond (2015) on 'Sexual Politics and emigrant bodies in twentieth-century Ireland'. [Oral Presentation], Dublin Festival of History, Terenure Library, Dublin [Details]
2015
'The Marriage Bar in Irish History'.
Jennifer Redmond (2015) 'The Marriage Bar in Irish History'. [Oral Presentation], The Dublin Lectures,, The Little Museum Dublin [Details]
Year
Publication
2004
Gender Perspectives in the Delivery and Assessment of Junior Cycle History.
Jennifer Redmond, Maryann Valiulis, Deirdre Raftery and Judith Harford (2004) Gender Perspectives in the Delivery and Assessment of Junior Cycle History. Dublin, Dublin. [Details]
2007
Interdisciplinary Report on Prostitution and Trafficking in Ireland.
Jennifer Redmond, Maryann Valiulis, Ivana Bacik, Margeurite Woods (2007) Interdisciplinary Report on Prostitution and Trafficking in Ireland. Irish Human Rights Commission, Dublin. [Details]
2008
Women and Ambition in the Irish Civil Service.
Jennifer Redmond, Maryann Valiulis and Deidre O'Donnell (2008) Women and Ambition in the Irish Civil Service. Department of Justice, Dublin. [Details]
2006
Literature Review on Issues of Work Life Balance, Workplace Culture and Maternity/Childcare Issues.
Jennifer Redmond, Eileen Drew, Maryann Valiulis (2006) Literature Review on Issues of Work Life Balance, Workplace Culture and Maternity/Childcare Issues. Crisis Pregnancy Agency, Dublin. [Details]
Year
Publication
2013
A Bryn Mawr Tale.
Jennifer Redmond (2013) A Bryn Mawr Tale. Audiovisual material [DOI] [Details]
Year
Publication
2019
Women in 1919.
Jennifer Redmond (2019) Women in 1919. Article [Details]
Year
Publication
2013
Maids, Porters and the Hidden World of Work at Bryn Mawr College: Celebrating Stories for Black History Month.
Jennifer Redmond (2013) Maids, Porters and the Hidden World of Work at Bryn Mawr College: Celebrating Stories for Black History Month. Blog [Details]
2013
Thoughts on feminism, digital humanities and women's history.
Jennifer Redmond (2013) Thoughts on feminism, digital humanities and women's history. Blog [DOI] [Details]
2012
M. Carey Thomas and Mary Garrett – lives in letters.
Jennifer Redmond (2012) M. Carey Thomas and Mary Garrett – lives in letters. Blog [Details]
2012
Gender, Education and Embodiment.
Jennifer Redmond (2012) Gender, Education and Embodiment. Blog [Details]
Year
Publication
2020
Youth and Popular Culture in 1950s Ireland.
Redmond, J (2020) Youth and Popular Culture in 1950s Ireland. ABINGDON: Book Review [DOI] [Details]
2017
Women's Voices in Ireland: Women's Magazines in the 1950s and 60s.
Redmond, J (2017) Women's Voices in Ireland: Women's Magazines in the 1950s and 60s. HOBOKEN: Book Review [DOI] [Details]
2016
The Global Dimensions of Irish Identity: Race, Nation, and the Popular Press, 1840-1880.
Redmond, J (2016) The Global Dimensions of Irish Identity: Race, Nation, and the Popular Press, 1840-1880. TORONTO: Book Review [Details]
2015
READING THE IRISH WOMAN: STUDIES IN CULTURAL ENCOUNTER AND EXCHANGE, 1714-1960.
Redmond, J (2015) READING THE IRISH WOMAN: STUDIES IN CULTURAL ENCOUNTER AND EXCHANGE, 1714-1960. CAMBRIDGE: Book Review [DOI] [Details]
2015
Irish nationalist women, 1900-1918.
Redmond, J (2015) Irish nationalist women, 1900-1918. ABINGDON: Book Review [DOI] [Details]
2014
Being Mary? Irish Catholic Immigrant Women and Home and Community Building in Harold Hill Essex 1947-1970.
Redmond, J (2014) Being Mary? Irish Catholic Immigrant Women and Home and Community Building in Harold Hill Essex 1947-1970. WASHINGTON: Book Review [Details]
2011
Have women made a difference?: Women in Irish universities, 1850-2010.
Redmond, J (2011) Have women made a difference?: Women in Irish universities, 1850-2010. ABINGDON: Book Review [DOI] [Details]
2011
ROSAMOND JACOB: THIRD PERSON SINGULAR.
Redmond, J (2011) ROSAMOND JACOB: THIRD PERSON SINGULAR. DUBLIN: Book Review [Details]
2010
A history of apprenticeship nurse training in Ireland.
Redmond, J (2010) A history of apprenticeship nurse training in Ireland. ABINGDON: Book Review [Details]
2009
The Women's Suffrage Movement in Britain and Ireland: a regional survey.
Redmond, J (2009) The Women's Suffrage Movement in Britain and Ireland: a regional survey. ABINGDON: Book Review [Details]
2009
Singled Out: How Two Million British Women Survived without Men after the First World War.
Redmond, J (2009) Singled Out: How Two Million British Women Survived without Men after the First World War. CHICAGO: Book Review [Details]
Year
Publication
2018
War Within and Without: Irish women in the First World War era.
Redmond, J;Farrell, E (2018) War Within and Without: Irish women in the First World War era. ABINGDON: Editorial [DOI] [Details]
Year
Publication
2015
Exploring the lives of 'Outsider Women'.
Dr Jennifer Redmond (2015) Exploring the lives of 'Outsider Women'. Electronic Publication [Details]
2013
Taking Her Place: Women's Journey through Education from the Private to the Public Sphere.
Jennifer Redmond and Evan McGonagill (2013) Taking Her Place: Women's Journey through Education from the Private to the Public Sphere. Electronic Publication [Details]
2013
THE SUMMER SCHOOL FOR WOMEN WORKERS: DIVERSITY, CLASS AND EDUCATION.
Jennifer Redmond (2013) THE SUMMER SCHOOL FOR WOMEN WORKERS: DIVERSITY, CLASS AND EDUCATION. Electronic Publication [Details]
Year
Publication
2015
Video introducing the 'Outsider Women' 3U digital exhibit.
Dr Jennifer Redmond (2015) Video introducing the 'Outsider Women' 3U digital exhibit. Recording [Details]
| | Year | Title | Awarding Body |
| --- | --- | --- | --- |
| | 2019 | Eoin O'Mahony Bursary in Irish History | Royal Irish Academy |
| | 2011 | Royal Irish Academy Mobility Grant | Royal Irish Academy |
Professional Associations
| | Association | Function | From / To |
| --- | --- | --- | --- |
| | Women's History Association of Ireland | President | 12-APR-14 / 30-APR-16 |
| | Irish Historical Society | Executive Committee Member | 01-SEP-18 / |
| | Church of Ireland Historical Society | Member of Executive Committee | 01-NOV-15 / 01-JUL-20 |
| | Committee | Function | From / To |
| --- | --- | --- | --- |
| | Faculty of Arts and Humanities Research Committee | Secretary | 2015 / |
| | Maynooth University Decade of Commemorations Committee | Member | 2016 / 2016 |
| | Year | Institution | Qualification | Subject |
| --- | --- | --- | --- | --- |
| | 2009 | Trinity College Dublin | PhD | |
| | 2003 | Trinity College Dublin | M.Phil | |
| | 2000 | University College Dublin | BA (Hons) | |