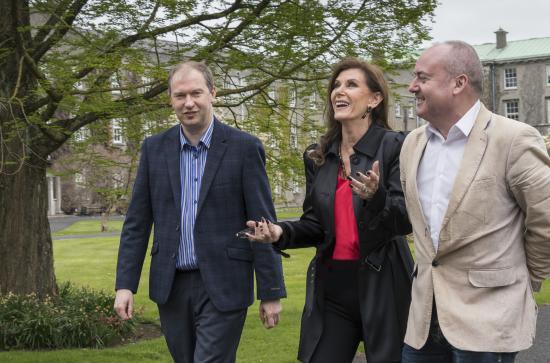 Tuesday, April 11, 2017 - 11:45
On 11 April, Maynooth University becomes the home of the Eurovision Song Contest for just one day. Addressed by Eurovision legend, Linda Martin, The Eurovision Song Contest in a Changing World: Culture, Geography and Politics conference brings together academics and fans of Eurovision alike to examine what makes it special and what, if anything, it says about the modern European landscape.
Speaking before the event Professor John O'Brennan of the Maynooth Centre for European and Eurasian Studies said: "There is no other event in popular culture that so unites and divides opinion as the Eurovision Song Contest. In Central and Eastern Europe participation in Eurovision is viewed as an affirmation of European identity - 'we have arrived,' 'we are accepted,' 'we are European' - while in other countries closer to home the event is viewed with a jaundiced eye. Whether viewed as a pop culture phenomenon or a vehicle for resurgent and atavistic nationalism, Eurovision continues to capture the imagination like no other event of its kind."
Dr Adrian Kavanagh of the Department of Geography in Maynooth put the event in context saying: "Since the first contest took place in Lugano in Switzerland in 1956, the Eurovision Song Contest has grown in size, scale and popularity, with the live final being watched by an estimated 200 million viewers each year and by many million more viewers through online platforms.
"While the contest seeks to be non-political, political issues have arisen throughout the contest's history, with the extent of these perhaps increasing in intensity following the expansion of the contest in the late 1990s and 2000s. The Eurovision Song Contest voting patterns are probably the one aspect of the contest to be particularly portrayed as being political in scope, but they also reflect other factors, such as culture and common music markets."
The Eurovision Song Contest in a Changing World: Culture, Geography and Politics is hosted by the Department of Geography and the Centre for European and Eurasian Studies.