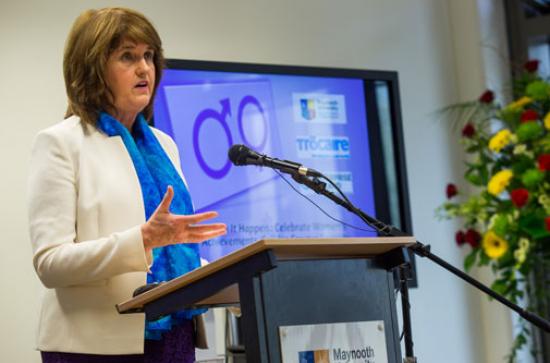 Friday, March 6, 2015 - 00:00
Maynooth University, Enterprise Ireland and Trócaire joined forces today to celebrate International Women's Day with a collaborative event, Make It Happen: Celebrate Women's Achievements, Call for Greater Equality, featuring a range of speakers from politics, industry, academia, social and international development. Guest of honour was Tánaiste and Minister for Social Protection, Joan Burton TD.
Addressing the event, Professor Philip Nolan, President of Maynooth University said: "It is important today to have so many individuals with diverse perspectives and insights here to not only demonstrate support for gender equality across academic, business, social and economic environments, but to discuss how to move an equality agenda forward. There is much we need to do to address gender inequality in society, and this event is designed to reflect and inspire action. We are particularly delighted that An Tánaiste Joan Burton, is in attendance and supporting our event today."
Discussing Trócaire's work in the area of equality, Caoimhe de Barra, Director of its International Division, said: "Gender inequality is a major obstacle towards overcoming poverty in the developing world. Women are disproportionately affected by poverty and are often excluded from decision-making processes at local and national level. Throughout the countries in which Trócaire works, we advocate for laws that protect women and respect their rights and dignity. We help women to achieve their basic needs and to earn a living. We also work to build women's leadership and support their equal participation in all levels of decision-making. Supporting women is vital in attempts to bring dignity, hope and justice to communities in the developing world. In 2013/14, Trócaire supported gender programmes in six countries overseas, with an investment of €2.3m. These programmes are estimated to have directly benefited 78,000 people."
Jean O'Sullivan, Manager of Female Entrepreneurship at Enterprise Ireland, said that equality between women and men is not only a question of fairness, but also an economic objective. "Looking across Europe, men are twice as likely as women to be the creator of a new business. Female led enterprises had accounted for just 7% of the new High Potential Start-Up (HPSU) businesses in which Enterprise Ireland invested up to 2011. We made a conscious decision in 2012 to implement an integrated strategy to encourage more women to start innovative businesses with high growth potential. Enterprise Ireland is addressing the under-representation of female entrepreneurs with dedicated competitive funds to support female led businesses through personal development and networking opportunities."
Other speakers included two excellent role models for women in the STEM (Science, Technology, Engineering, Maths) disciplines: Dr Shirley O'Dea, Director and Chief Scientific Officer of Profector Life Sciences and Senior Lecturer in Biology at Maynooth University, and Giustina Mizonni, Global Development Lead at the CoderDojo Foundation, a social entrepreneurship project which teaches young children IT coding. CoderDojo Girls have implemented specific initiatives to attract and retain young girls to IT, addressing unconscious bias at an early age.
This is the third year that Maynooth University has hosted an event in support of International Women's Day. Maynooth University is committed to addressing gender equality, supported by its Gender Equality Strategy and Action Plan 2014-2016, which outlines specific policy, practice and training initiatives to attract, retain, and progress women in the University.

For further information about the work of Trócaire see www.trocaire.org
Pictured at the event (l-r); Dr Shirley O'Dea, Maynooth University and Profector Life Sciences; Caoimhe De Barra, Trócaire; Jean O'Sullivan, Enterprise Ireland; Tánaiste Joan Burton TD; Catrina Sheridan, Trócaire, Rosaleen McCarthy, Maynooth University.