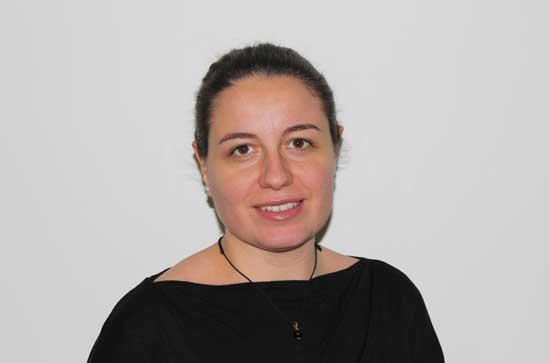 Irish Research Council Postdoctoral Fellow
About
Francesca Placanica, Classical Singer, has a wide background as a soloist in diverse vocal and instrumental ensembles. The winner of International Solo Voice Competition 'Seghizzi' in 2007 (Gorizia, Italy) in the Category 'George Gershwin,' she has performed in concert halls and theatres in Europe, USA, Canada.

A Master's of Music graduate of Southern Methodist University, Dallas TX, in Voice Performance from University of Newcastle upon Tyne (UK), and Conservatory of Music of Vibo Valentia (Italy) and University of Calabria, she was inducted as a member of the American Honor Society PKL for Outstanding Achievements in Music in 2007.
After debuting at the Teatro Rendano, Cosenza (Italy) in the principal roles of various Operas and musicals for children (I cantori di Brema (G. Panariello), Chorus; Brundibàr (H.Krása), Pepicék; Mangiaresti (G. Giannini), Narratore), for the Meadows Opera Production Dallas, she played Jenny Diver in Die Dreigroschenoper by Kurt Weill at the Greer Garson Theatre (2006) and created the role of The Witch in 2007 world premiere of The Story of Rapunzel by Simon Sargon in the Margot Jones Theatre. In the same venue, in the programme A Night of Scenes she played Ottavia in the Coronation of Poppea. After moving back to Europe in 2008, she was cast as Despina in Così fan tutte at the Nuffield Theatre in Southampton, and in June 2011 as Qen in the West End showcase Seventh Time Around, Soho Theatre, London. In the UK, work includes: Soprano soloist in Haydn's Lord Nelson Mass, performed in St. Olave's Church in York and St John's Church in Newcastle upon Tyne with the Durham Castle Chapel Choir (2005); Soprano soloist in the New Vocal Ensemble of University of Newcastle upon Tyne for madrigals and duets by Monteverdi and Italian early Baroque composers under the direction of her vocal and academic tutor Richard Wistreich. She collaborated with early music ensembles led by internationally established performers Liz Kenny and Erin Headley since her first year in Southampton, where she is currently based. Involved in numerous projects as a soloist, she has performed recitals in major concert venues in the South of England, such as the Turner Sims Concert Hall, Southampton City Art Gallery and St. Michael's Church, and debuted as a chamber music soloist at Lauderdale House in London in October 2011.

Francesca has a long-time experience as a vocal technique teacher, coaching amateurs and professionals in private academies and choirs, in particular at the Meadows School of Arts, SMU Dallas (Assistant Lecturer for Italian Diction for Singers), the University Choir of University of Calabria and the St. Andrew's Presbyterian Church Choir in Dallas (Vocal Technique Coach), and lately as a diction and vocal consultant for the recording Atalante (Destino Classics), a project directed by Erin Headley, which won Recording of the Year 2011 on the MusicWeb International.

As a scholar, her PhD thesis 'Saverio Mercadante and France (1823-1836)' was part of an AHRC-funded project, Franco-Italian Cultural Transfer in Opera and Songs (1800-1850) (FICTOS), directed by Professor Mark Everist and Dr Francesco Izzo at University of Southampton. The focus of the thesis is on the French reception of, and music criticism related to, the work of Saverio Mercadante (1795-1870). Drawing on contemporary French music reviews, her thesis studies their impact on the reception of Mercadante's early operas in France in the 1820s and 1830s, the years prior, and indeed preparatory, to his mature works. She has delivered papers on the subject at prestigious international conferences, and two thesis-related articles have already been published: 'Mercadante in Paris (1835–6): The Critical View', appears in the Revue Belge de Musicologie (Volume 66, 2012). A second publication, the dossier de presse on Mercadante's I briganti (1836), is appearing in the online database of 'Francophone Music Criticism, 1789–1914'.
In addition to her PhD study, Francesca has carried out research on the avant-garde American singer Cathy Berberian (1925-1983) and her creative approach to performance. She examines the role of Berberian in avant-garde vocal music, exploring unpublished primary sources preserved in the Cathy Berberian Los Angeles Archive (CBLA), a private collection maintained by Cristina Berio (Luciano Berio and Berberian's daughter). She co-edited an anthology on Berberian, entitled Cathy Berberian: Pioneer of Contemporary Vocality (Ashgate, 2013). In particular, her chapter in the anthology, 'Cathy Berberian's Legacy: La Nuova Vocalità nell'opera contemporanea (1966)', explores Berberian's ground-breaking performance philosophy as summarised in her essay 'La Nuova Vocalità nell'opera contemporanea', for which Francesca provided the first extant English translation and commentary. In November 2012, the University of Oslo invited her to be a keynote speaker at a symposium on Performing Modernism held by the Musical Modernism Research Group (MORG) at the Department of Musicology. This invitation was followed by a proposal to join the contributors' board of the volume Transformations of Musical Modernism, edited by Erling Guldbrandsen and Julian Johnson (Cambridge University Press, under consideration). Her chapter, '"Unwrapping" the Voice: Cathy Berberian's and John Cage's Aria (1958)' draws on a paper she delivered at the Annual Conference of the American Musicological Society held in Philadelphia in 2009.
Francesca's current artistic research (OWAMM) proposes to explore twentieth-century stage music through a practice-led approach, with a particular focus on monodrama for female solo performers. Apart from better-known works such as Schoenberg's Erwartung (1924) and Poulenc's La voix humaine (1959), no study has so far been undertaken of the genre of one-character opera, its development and its continuity with other genres. She has recently delivered papers on the subject at numerous international conferences (Alternative Modernisms, Cardiff, 15-18 May 2013; Rethinking Poulenc, Keele (proposal accepted), 21-23 June 2013; Music Since 1900, Liverpool Hope University, 12-15 September 2013 (Lecture-Recital); The Limits of Control, Ghent (BE) Orpheus Centre for Advanced Studies and Research in Music, 26-27 February 2014). She is due to present a Lecture-Recital at Cambridge University (Centre for Musical Performance as a Creative Practice) in July 2014.
PUBLICATIONS
2014 Karantonis, Pamela, Francesca Placanica, Anna Sivuoja, Peter Verstraete (eds.) Cathy Berberian: Pioneer of Contemporary Vocality. London: Ashgate, 2013 (ISBN 978-1-4094-6983-4).
2014 "Cathy Berberian's Legacy: La nuova vocalità nell'opera contemporanea (1966)". In Cathy Berberian: Pioneer of Contemporary Vocality. Ed. by Pamela Karantonis, Francesca Placanica Anna Sivuoja, Peter Verstraete. London: Ashgate, 2013.
2013 21 biographical entries; Cambridge Verdi Encyclopedia, ed. by Roberta Montemorra Marvin. Cambridge University Press, due.
2012 'Mercadante in Paris (1835-36): The Critical View'. Revue Belge de Musicologie, Special Issue on Conference Proceedings of the Francophone Music Criticism Colloquium, Brussels (Université Libre, 16-18 December 2010) (66) 2012: 151-66.
Nov 2011 Review of D'une scène à l'autre: L'opéra italien en Europe. Ed. by Damien Colas, and Alessandro Di Profio. Vol. 1: Les Pérégrinations d'un genre and Vol. 2: La Musique à l'épreuve du théâtre. pp. 532. (Wavre: Mardaga, 2009), Music & Letters 92 (4): 643–646.
Feb 2004 Contribution to: Tesori musicali, Catalogue of the Discographic Archive of Centro Jazz Calabria. Cosenza: Centro Jazz Calabria, 2004.
2001 'Caulonia: Salve Regina, Canto ad organo', in Organi e Organisti in Calabria Rossano (CS): Associazione Musicale "Il Cerchio," 2001.
UNDER CONSIDERATION '"Unwrapping" the Voice: Cathy Berberian's and John Cage's Aria (1958)'. In Transformations of Musical Modernism. Ed. by Erling E. Guldbrandsen and Julian Johnson, Cambridge University Press, 2015.
UNDER CONSIDERATION Dossier de Presse, 'Mercadante, I briganti (1836)'. Francophone Music Criticism Online Database, ed. by Mark Everist and Katharine Ellis.
PROGRAMME NOTES
2008-2009 Concert Series, Spring of Harmony, St. Andrew's Presbyterian Church, Dallas TX
2006-2008 Meadows Symphony Orchestra Season, Meadows School of Arts, SMU, Dallas TX