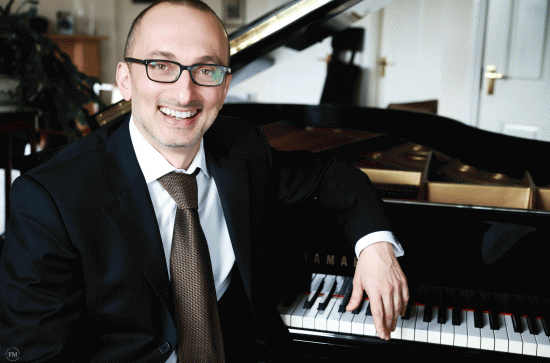 Lecturer
Logic House
134
(01) 7086716
Antonio Cascelli is a musicologist and performer specialising in piano accompaniment. His main research interest is in the history of music theory, with particular focus on analysis, theory, metaphor and performance. Antonio studied piano in Rome with the pianist Elena Matteucci, member of the acclaimed Italian Quartetto Michelangelo and obtained the Piano Diploma in 1990. He gained his degree in Literature and Philosophy at the University of Rome "La Sapienza" in 1997. In 1998 he started studying at the University of Southampton, where he first gained a Masters in Musicology with a dissertation on Claudio Monteverdi, and subsequently completed a PhD on Schenker's unpublished analyses of the music of Chopin. During his PhD Antonio was awarded a grant from the University of Southampton and from the journal Music Analysis to pursue further PhD research at the New York Public Library. Before joining the National University of Ireland, Maynooth in September 2008 as Lecturer in Performance Studies, Antonio worked part-time at the University of Southampton (2004-06), where he also held an Early Career Teaching Fellowship in 2006-07. In 2007-08 he held a post as Lecturer in Music at the University of Hull. He taught Baroque, Classical and Romantic music history, as well as modules on music analysis, harmony and counterpoint, Schenkerian analysis and ensemble performance. Antonio collaborates with Radio Vaticana in Rome, Italy, for which he has recorded programmes on Schenkerian Analysis, English Art Songs, the Fitzwilliam Virginal Book, and Chopin. Research: Antonio has presented papers at international conferences, including the annual Conference of the Renaissance Society of America (New York, 2014; Washington, 2012), the 15th Baroque Music Conference (Southampton, 2012) the Medieval and Renaissance Conference (Birmingham, 2014; Nottingham, 2012; Certaldo, Italy, 2013), the Fourth International Schenker Symposium in New York (2006) and the Seventh and the Eighth International Academic Conferences organized by the Fryderyk Chopin Institute (Warsaw, 2007 and 2008), the Anniversary Chopin Congress in Warsaw (2010), and the 16th Biennial Conference on Nineteenth-Century Music at the University of Southampton (2010). He has published articles and reviews in
Cambridge Opera Journal,
Early Music
,
Ad Parnassum
,
Studi Musicali
,
Nuova Rivista Musicale Italiana
,
Music & Letters
,
JSM
. His most recent publications include articles on Claudio Monteverdi's
Combattimento di Tancredi e Clorinda
(
Cambridge Opera Journal
29/2, 2017
);
the importance of Chopin's music in the development of Schenker's analytical thought (
Essays from the Fourth International Schenker Symposium
, Vol. 2, Eds. L. Poundie Burstein, Lynne Rogers and Karen M. Bottge, Hildesheim: Georg Olms Verlag, 2013) and an article on architectural metaphors in Vincenzo Galilei's
Dialogo della Musica Antica et della Moderna
in
The Routledge Companion to Music and Visual Culture
, eds. Tim Shephard and Anne Leonard, New York, Routlegde, 2014. His book on Schenker and Chopin is being published by the Libreria Musicale Italiana (LIM, 2018, forthcoming).
He is coordinating the Medieval and Renaissance Music Conference (MedRen2018) in Maynooth. As perfomer, Antonio is active as accompanist, collaborating with singer Niamh Murray, Eamonn Mulhall, Dr Francesca Placanica, and cellist Dr Alison Hood He is in the board of GATM (Gruppo di Analisi e Teoria Musicale.
www.gatm.it
) and is Assistant Editor of Rivista di Analisi e Teoria Musicale (RATM).
His main research interest is in the history of music theory, with particular focus on analysis, theory, metaphor and performance.
Year
Publication
2018
Schenker's Chopin. Files from the Oster Collection.
Antonio Cascelli (2018) Schenker's Chopin. Files from the Oster Collection. Lucca: LIM. [Details]
 
Year
Publication
2017
'Place, Performance and Identity in Monteverdi's Combattimento di Tancredi e Clorinda'
Antonio Cascelli (2017) 'Place, Performance and Identity in Monteverdi's Combattimento di Tancredi e Clorinda'. Cambridge Opera Journal, :152-188 [Details]
2007
'Analisi schenkeriana in prospettiva metaforica attraverso I Preludi no. 1, 2 , e 15, Op. 28 di Chopin'
Dr Antonio Cascelli (2007) 'Analisi schenkeriana in prospettiva metaforica attraverso I Preludi no. 1, 2 , e 15, Op. 28 di Chopin'. Studi Musicali, 1 :161-189 [Details]
2005
'Noche Oscura: linguaggio della crisis, crisi del linguaggio'
Dr Antonio Cascelli (2005) 'Noche Oscura: linguaggio della crisis, crisi del linguaggio'. Nuova Rivista Musicale Italiana, 4 :506-516 [Details]
2003
'Heinrich Schenker, Chopin's Berceuse Op. 57, and the Rhetoric of Variations'
Dr Antonio Cascelli (2003) 'Heinrich Schenker, Chopin's Berceuse Op. 57, and the Rhetoric of Variations'. AD PARNASSUM, II :51-79 [Details]
 
Year
Publication
2014
'Temporality in Chopin's Prelude Op. 28, No. 5'
Dr Antonio Cascelli (2014) 'Temporality in Chopin's Prelude Op. 28, No. 5' In: Irish Music Analysis (Irish Music Studies, No. 11). Dublin: Four Courts Press. [Details]
2014
'Visual Metaphors in Music Treatises: Metaphor as Experience in Vincenzo Galilei's Dialogo della Musica Antica e della Moderna'
Dr Antonio Cascelli (2014) 'Visual Metaphors in Music Treatises: Metaphor as Experience in Vincenzo Galilei's Dialogo della Musica Antica e della Moderna' In: The Routledge Companion to Music and Visual Culture. New York and London: Routledge. [Details]
2013
'Chopin's Music in the Development of Schenker's Analytical Thought'
Dr Antonio Cascelli (2013) 'Chopin's Music in the Development of Schenker's Analytical Thought' In: Essays from the Fourth International Schenker Symposium Volume 2. Hildesheim, Zurich, New York: Georg Olms Verlag. [Details]
2012
'Busoni and Chopin: the 'junge Klassizität''
Dr Antonio Cascelli (2012) 'Busoni and Chopin: the 'junge Klassizität'' In: After CHopin. The Influence of Chopins' Music on European Composers up to the First World War. Warsaw: Narodowy Instytut Fryderyka Chopina. [Details]
2010
'A Prelude as Postlude: A look at Schenker's graph of the last Movement of the Sonata Op. 35'
Dr Antonio Cascelli (2010) 'A Prelude as Postlude: A look at Schenker's graph of the last Movement of the Sonata Op. 35' In: Choopin 1810-2010 : Ideas, Interpretations, Influence [forthcoming]. Warsaw: Narodowy Instytut Fryderyka Chopina. [Details]
2008
'Chopin as salon composer: Schenker's reception of Chopin'
Dr Antonio Cascelli (2008) 'Chopin as salon composer: Schenker's reception of Chopin' In: Chopin's Musical Worlds - The 1840s. Warsaw: Narodowy Instytut Fryderyka Chopina. [Details]
Year
Publication
2014
Annual Conference of the Renaissance of Soceity of America.
(2014) Annual Conference of the Renaissance of Soceity of America. [Oral Presentation], Dissonance as metaphor in L'ottuso's Nuova Pratica and the audience for the emerging operatic genre, New York [Details]
2013
Medieval Renaissance Conference.
(2013) Medieval Renaissance Conference. [Oral Presentation], Metaphor as experience: an example from Galilei's Il dialogo della Musica Antica e della Moderna, Certaldo - Italy [Details]
2012
Annual Conference of the Renaissance Society of America.
(2012) Annual Conference of the Renaissance Society of America. [Oral Presentation], Tremendum fascinosum and tremendum horrendum in music settings of Tasso's Combattimento di Tancredi, Washington D.C [Details]
2012

(2012) [Oral Presentation], Venice and Monteverdi's Combattimento di Tancredi e Clorinda, Royal Irish Academy of Music [Details]
2012
15th Biennial International Conference on Baroque Music.
(2012) 15th Biennial International Conference on Baroque Music. [Oral Presentation], Venice and Monteverdi's Combattimento di Tancredi e Clorinda, University of Southampton, UK [Details]
2012
Medieval and Renaissance Music Conference.
(2012) Medieval and Renaissance Music Conference. [Oral Presentation], Era l'anima mia: a response to Cruda Amarilli and O Mirtillo, University of Nottingham, UK [Details]
2010
III International Congress at the Chopin Institute.
(2010) III International Congress at the Chopin Institute. [Oral Presentation], A prelude as a Postlude; Schenker's analyis of the last movement of Chopin' Sonata Op. 35, Warsaw [Details]
2009
Seminar in Analysis and Composition.
(2009) Seminar in Analysis and Composition. [Oral Presentation], Schenkerian Analysis: Linear Progression, Metaphor and Social Practice, UCD [Details]
2008
VIII International Academic Conference Organised by the Chopin Institute in Poland.
(2008) VIII International Academic Conference Organised by the Chopin Institute in Poland. [Oral Presentation], Chopin and Busoni, Warsaw [Details]
2007
Seventh International Academic Conference.
(2007) Seventh International Academic Conference. [Oral Presentation], Chopin as salon composer; Schenker's Interpretation of Chopin, Warsaw [Details]
2007
6th European Music Analysis Conference.
(2007) 6th European Music Analysis Conference. [Oral Presentation], Text, Music, Montage in Monteverdis madrigals Cruda Amarilli and O Mirtillo, Freiburg [Details]
2006
Fourth International Schenker Symposium.
(2006) Fourth International Schenker Symposium. [Oral Presentation], Chopin's Music in the Development of Schenker's Analytical Thought, New York - Mannes College [Details]
2005
Postgraduate Research Seminar.
(2005) Postgraduate Research Seminar. [Oral Presentation], Analisi: metafor e interpretazione in prospettiva schenkeriana, University of Tor Vergata - Rome [Details]
2005
International Conference on Music Analysis.
(2005) International Conference on Music Analysis. [Oral Presentation], Flexible Urlinien: a reading of Schenker's graph for the last movement of CHopin's Sonata Op. 35, Dublin - UCD [Details]
2004
Convegno Internazionale di Studi. Petrassi. L'Arte, il Tempo, le Idee.
(2004) Convegno Internazionale di Studi. Petrassi. L'Arte, il Tempo, le Idee. [Oral Presentation], Noche Oscura: Linguaggio della crisis, crisi del linguaggio, Rome - Accademia Nazionale di Santa Cecilia [Details]
2004
13th International Conference on Nineteenth-Century Music.
(2004) 13th International Conference on Nineteenth-Century Music. [Oral Presentation], Schenker and the inclusion of CHopin among the canon of German composers, University of Durham. UK [Details]
2004
Research Seminar.
(2004) Research Seminar. [Oral Presentation], Schenker and the construction of Chopin as German composer, University of Southampton, UK [Details]
2003
Music Analysis Conference.
(2003) Music Analysis Conference. [Oral Presentation], Metaphor and Synthesis in Schenker's analysis of CHopin's Scherzo OP. 31, Hull University, UK [Details]
2002
VI Colloquio di Musicologia del Saggiatore Musicale.
(2002) VI Colloquio di Musicologia del Saggiatore Musicale. [Public presentations], Heinrich Schenker e lo Scherzo Op. 31 di Chopin, University of Bologna, Italy [Details]
2002
Research Seminar - Department of Architecture.
(2002) Research Seminar - Department of Architecture. [Public presentations], La bascuta del melodramma e lo sviluppo dello spazio teatrale, University of Rome La Sapienza [Details]
Year
Publication
2014
Chopin and his Critics: An Anthology (Up to World War I).
Cascelli, A (2014) Chopin and his Critics: An Anthology (Up to World War I). NEW YORK: Book Review [DOI] [Details]
2013
Mauro Calcagno, From Madrigal to opera: Monteverdi's Staging of the Self (Berkeley and Los Angeles: University of California Press, 2012).
Dr Antonio Cascelli (2013) Mauro Calcagno, From Madrigal to opera: Monteverdi's Staging of the Self (Berkeley and Los Angeles: University of California Press, 2012). Book Review [Details]
2009
SchenkerGuide: A Brief Handbook and a Website for Schenkerian Analysis.
Cascelli, A (2009) SchenkerGuide: A Brief Handbook and a Website for Schenkerian Analysis. MALDEN: Book Review [DOI] [Details]
2009
Tom Pankhurst, Schenker Guide. A brief Handbook and Website for Schenkerian Analysis (New York and Londond: Routledge, 2008).
Dr Antonio Cascelli (2009) Tom Pankhurst, Schenker Guide. A brief Handbook and Website for Schenkerian Analysis (New York and Londond: Routledge, 2008). Book Review [Details]
2009
Nicholas Cook, The Schenker Project. Culture, Race, and Music Theory in Fin-de-siècle Vienna (2007).
Cascelli, Antonio (2009) Nicholas Cook, The Schenker Project. Culture, Race, and Music Theory in Fin-de-siècle Vienna (2007). Book Review [DOI] [Details]
2007
Claudio Monteverdi, Il ritorno d'Ulisse in patria, ed. Alan Curtis (London: Novello, 2002).
Dr Antonio Cascelli (2007) Claudio Monteverdi, Il ritorno d'Ulisse in patria, ed. Alan Curtis (London: Novello, 2002). Book Review [Details]
2006
Fryderyl Chopin , The Complete Chopin - A new Critical Edition, Preludes Op. 28, Op. 45, ed. Jean AJacques Eigeldinger (Londond, Frankfurt, Leipzig, New York: Edition Peters, EP7532).
Dr Antonio Cascelli (2006) Fryderyl Chopin , The Complete Chopin - A new Critical Edition, Preludes Op. 28, Op. 45, ed. Jean AJacques Eigeldinger (Londond, Frankfurt, Leipzig, New York: Edition Peters, EP7532). Book Review [Details]
Year
Publication
2017
Monteverdi and the parola scenica in performance.
Antonio Cascelli (2017) Monteverdi and the parola scenica in performance. Reviews [Details]
Year
Publication
1999
Dissertation on Claudio Monteverdi.
Cascelli, A. (1999) Dissertation on Claudio Monteverdi. University of Southampton: Thesis [Details]
Year
Publication
2013
Claudio Monteverdi's Combattimento di tancredi e Clorinda.
Music Department (2013) Claudio Monteverdi's Combattimento di tancredi e Clorinda. Conference Hosted [Details]
2010
Chopin's Symposium.
Music Department (2010) Chopin's Symposium. Conference Hosted [Details]
Year
Publication
2010
Chopin e la Francia.
Dr Antonio Cascelli (2010) Chopin e la Francia. Other [Details]
2008
The Fitzwilliam Virginal Book.
Dr Antonio Cascelli (2008) The Fitzwilliam Virginal Book. Other [Details]
2007
Schenker e dintorni.
Dr Antonio Cascelli (2007) Schenker e dintorni. Other [Details]
2007
The English Art Song.
Dr Antonio Cascelli (2007) The English Art Song. Other [Details]
| | Year | Institution | Qualification | Subject |
| --- | --- | --- | --- | --- |
| | 1997 | Universita' La Sapienza | Laurea in Lettere e Filosopfia - Degree in Literature/Philosophy | |
| | 1990 | Conservatoire of Music | Piano Diploma | |
| | 1999 | University of Southamtpon | Master of Arts | |
| | 2004 | University of Southampton | PhD | |
| | 2005 | University of Southampton | Postgraduate Certificate | |