Virtual Labs and VR outreach activities at Cork Carnival of Science-11th-12th June2022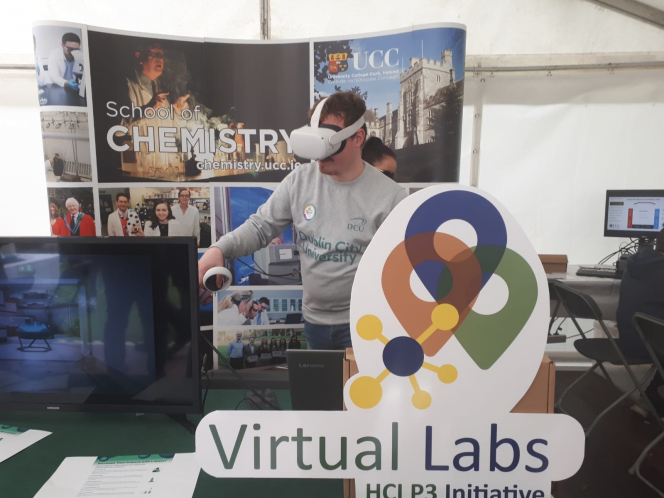 Mr Martin Nolan (Dublin City University)
Showcase for the Virtual Labs Project at Cork Carnival of Science-11th-12th June2022.
Martin Nolan at Dublin City University, Dr Brian Murphy at Technological University of the Shannon , Prof Denise Rooney Head of Chemistry Department Maynooth , Prof Frances Heaney at Maynooth University, and Dr Eric Moore at University College Cork showcasing the Virtual Labs developments in chemistry learning at Cork Carnival of Science.
14/6/2022
Project Live Expo-Experiential Learning Office at Maynooth University
Mr Kevin Nolan (Climate Response Ireland) and members of the Chemistry team involved in the Virtual Labs HCl P3 Initiative at Maynooth University (From left to right: Dr Steffi Thomas, Professor Carmel Breslin, Mr Kevin Nolan, and Professor Denise Rooney)
The virtual labs team at Maynooth University togather with Climate Response Ireland celebarted the achievements of Project Live Expo on Wednesday 01 June 2022.
1/6/2022
EdTech 2022 UCC, 26-27 May 2022
Prof Denise Rooney (Head of Chemistry Dep Maynooth and Project Lead) is presenting
the virtual labs progress to date at Edtech conference, 26th May 2022.
26/5/2022
First face to face showcase for the Virtual Labs Project
The first face to face showcase for the Virtual Labs Project took place on February 26th, 2022 on Maynooth Campus. We are partners with Technological University of the Shannon: Midlands Midwest, Dublin City University, University College Cork, Dundalk Institute of Technology WuXi Biologics Avectas Analog Devices Alltech Henkel Agilent Technologies Ulysses Neuroscience Limited Pfizer Merck Thermo Fisher Scientific Abbott Mindconnex Learning Ltd The Janssen Pharmaceutical Companies of Johnson & Johnson Regeneron and funded by Higher Education Authority for using virtual labs as a teaching tool.
26/2/2022
National Forum VIT&L Week blended workshop event in UCC-Thursday 11th November 2021
At a National Forum VIT&L Week blended workshop event in UCC, Professor Denise Rooney, PI of the HCI funded Virtual Labs Project, and Head of Chemistry Department at Maynooth University reported on this ambitious and timely initiative to develop an innovative approach to teach students in the experimental sciences.
Valuing Ireland's Teaching and Learning (VIT&L)
The Virtual Labs Team at UCC (led by Dr Eric Moore) will facilitate a workshop on virtual laboratories in higher education on Thursday 11th November 2021 from 4-6pm. VIT&L Week is co-ordinated by the National Forum, in partnership with students and those who teach, lead and support learning across the Irish higher education community.
1/11/2021