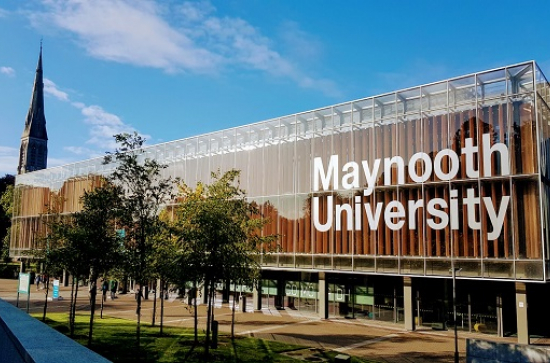 Monday, October 18, 2021 - 09:00
to
Friday, October 22, 2021 - 17:00
Online
MU's Research Week 2021 takes place on the week of 18 October and coincides with Open Access Week. The Library is delighted to co-ordinate with the University on preparing a programme of talks and exhibitions. All talks are online and will be recorded where possible. These talks are also be listed in the overall Research Week programme of the University available at https://www.maynoothuniversity.ie/research-week/events

Programme
Tuesday, 19 October 11:00 - 11:30
Dermot Lynott, Assistant Professor, Maynooth University, Department of Psychology
Title: Enhancing Knowledge Through Transparency and Openness
Description:
Following some widespread failures to successfully replicate empirical findings in various disciplines, the social and biomedical sciences have had some bad press lately. Here I will look at some of the problems that have come to the fore in recent years, consider how increasing transparency in our research processes can help improve the quality and robustness of our work, and look at how local open scholarship networks can also make a big contribution.
Eventbrite: https://bit.ly/MUEnhancing
Tuesday, 19 October 12:00 -13:00
Ciarán Quinn, Research Support Librarian, MU Library
Title : Using Reference Management Tools to enhance your research output.
Description:
An important component of Academic Integrity is the correct citation and acknowledgement of works used in your research when disseminating your research findings. Accurate citation in keeping with the norms of your discipline and avoiding plagiarism are an essential part of research integrity. To aid you in this process MU provides access to the Desktop and Online versions of the EndNote Reference Management Tool. Reference Management Tools allow you to import & store references (including the PDF of Articles), generate bibliographies in many different referencing styles, and create in-text citations or footnotes in your papers. You can also annotate PDF's, keep notes, and engage in collaborations with other researchers which will improve publication visibility and impact. This talk will bring you through the set-up process and explain the basic functionality of EndNote. At the end of the session, you will be able to set up your own account, populate it with references, sort them into subject groups, and generate bibliographies and in text citations/footnotes from your references.
Eventbrite: https://bit.ly/MUUsing
Tuesday 19, October 16:00 - 17:00
Ciarán Quinn, Research Support Librarian, MU Library
Title: Publishing Open Access: The Options
Description:
Open access (OA) refers to the practice of providing online access to information (generally peer reviewed research articles or data) that is free of charge to the end-user and reusable. Open access - H2020 Online Manual (europa.eu).
This seminar will look at:
• What do we mean by Open Access and is it beneficial to the researcher?
• What the routes into Open Access, how to identify Open Access journals, the issue of predatory journals?
• Open Access and Funders requirements, is there a cost to publishing Open Access?
• The concept of journal prestige and Open Access
• Open Journal Publishing
Eventbrite: https://bit.ly/MUPublishing
Thursday, 21 October 12:00 - 12:45
Hugh Murphy, Head of Collections and Content, MU Library
Ruth O'Hara, Collections and Content, MU Library
Title: Open Access Publishing in MU
Description:
This presentation will look at the importance and benefits of publishing open access. It will detail the extensive number of transformative agreements that are available to the academic community in Maynooth as well as some alternative routes to publishing open access.
Eventbrite: https://bit.ly/MUOpenAccess
Thursday, 21 October 2021 13.00 - 13.50

Title: From Pitch to Publication
Description:
In this lunchtime session, hosted by Maynooth University Library, as part of University Research Week, Claire Sewell author of "The No-Nonsense Guide to Research Support and Scholarly Communication" and Dr Claire McGuinness author of "The Academic Teaching Librarian's Handbook', will share their recent experiences of the writing and publishing process. Each will speak for fifteen minutes, followed by questions and discussion. This event will be of particular interest to library staff who are interested in writing a book.
This event is free but booking is essential.
Claire Sewell is Research Support Librarian for the Physical Sciences at the University of Cambridge where she oversees training and support for the research community across disciplines. She is currently serving as President Elect for School Library Association (SLA) Europe and is an Associate Editor of New Review of Academic Librarianship (NRAL). She recently published her first book "The No-Nonsense Guide to Research Support and Scholarly Communication" (Facet Publishing). Claire McGuinness is Assistant Professor and Deputy Head of School at the School of Information and Communication Studies, UCD. She has taught multiple information and digital literacy modules, and currently leads several courses on UCD's MLIS and BSc Social Sciences programmes. "The Academic Teaching Librarian's Handbook' (Facet) 'is her third book, following 'Becoming Confident Teachers: A Guide for Academic Librarians' in 2011, and 'Digital Detectives' co-authored with Crystal Fulton in 2016.
Eventbrite: https://bit.ly/FromPitch
Friday, 22 October 11:00 - 11:30
Title: "E-Legal Deposit Briefing"
Presenters:
Dr Christoph Schmidt-Supprian, Acting Keeper (Collection Management), The Library of Trinity College Dublin, the University of Dublin Honora Faul, Assistant Keeper (Published Collections), National Library of Ireland
Description:
Irish Legislation extending legal deposit to digital publications was commenced in December 2019 - Copyright and Other Intellectual Property Law Provisions Act 2019: Amendment of section 198 of Principal Act. The National Library and the other Irish Copyright Libraries, including Maynooth University Library, have since been entitled to collect copies of digital publications from Irish publishers free of charge, just like they are doing with print publications. But so far none have done so, at least not systematically. In this briefing, the presenters will consider the implications of the new Copyright Act 2019, outline the current landscape of digital publications in Ireland, point to some related initiatives in the National Library and in the Library of Trinity College Dublin, and finally explore some options for how systematic collection of digital legal deposit publications could be implemented.
Eventbrite: https://bit.ly/e_legal

Exhibition:
Library Virtual Exhibition of new books by staff of Maynooth University and St. Patrick's College, Maynooth
This exhibition covers books published during the last three years. Topics are wide ranging and include literature, music, politics, poetry, the changing role of women in Irish and other societies, conflicts nationally and internationally, faith and spirituality, music, marriage, maps and data mining and the COVID Pandemic. The exhibition gives a flavour of our rich publishing output. The books included are available from the University Library.
The exhibition is available at https://bit.ly/MUSPCMnewbooks
If you wish to have a new book highlighted in forthcoming exhibitions please contact Elaine.bean@mu.ie