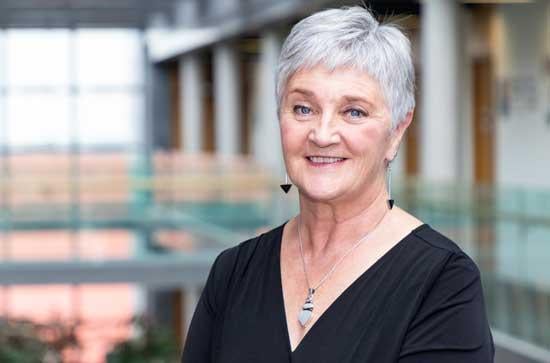 Biography
Having worked for two decades as a campaigner and policy analyst in a number of national social justice NGO's including terms on NESF, NESC and various national policy forums. I returned to academic research in 2002 and graduated with PhD in Politics from the Department of Law and Government, Dublin City University in 2006.

In 2007 I joined the Department of Sociology in Maynooth University and worked to deliver the BA Politics undergraduate programme. I was appointed Professor in 2020 and Head of Department in 2021. My research interests include eco social policy, participation income, gender and social security, globalisation and welfare states, and power and civil society. I co-edited The Irish Welfare state in the 21st Century Challenges and Changes (Basingstoke, Palgrave, 2016) and Policy Analysis in Ireland (Policy Press, 2021) and four special issues. I have published widely in leading international journals including Community Development Journal, Policy and Politics, Policy and Society , Gender, Work and Organisation, Critical Social Policy, Social Policy and Administration, Social Policy and Society, and New Political Economy, as well as Irish journals including Administration, Irish Political Studies and Irish Journal of Sociology.

An elected member of Dublin City Council (2003-2008), I am an active advocate for social justice, eco social welfare and gender equality. Committed to engaged research I have worked with various civil society actors including NWCI, SIPTU, FORSA, INOU and Focus Ireland, as well as various government departments and statutory agencies. Previously a member of the National Expert Advisory Group and Tax and Social Welfare (2011-2014) and Irish Human Rights and Equality Commission (2013-2017), in 2019 I was appointed to the Council of State.

Research Interests
Political sociology, globalisation, welfare states, social security, procurement, activation, gender, poverty, politics of distribution power, civil society

PI on ACA PES IRC Coalesce funded two year research project A Collaborative Approach to Public Employment Services, mapping the public employment eco-system, developing a guidance model for working with those most distant, developing supporting metrics and implementation tools. Working in collaboration with statutory actors (DEASP) and civil society actors (ILDN, INOU, LESN). Post Doc Dr Nuala Whelan

PI on CommSoc IRC funded 9 month research project examining impact of commissioning and procurement on civil society services, community development and advocacy. working in collaboration with Community Work Ireland. RA Dr Michelle Maher

Forsa - More Power To You: Assessment of Public Services and Local Government- completed 2018

Work Package leader and Management Committee member of RE-InVEST, funded under H2020 Euro 3 'European Societies after the Crisis'. The project comprises 19 stakeholder organisations in twelve countries through a participative approach to provide a stronger intellectual foundation to the European Union Social Investment Package, Feb 2015 - April 2019 Post Doc, Rory Hearne, Dr Nuala Whelan

Member of Cost Action IS1409 Gender and health impacts of policies extending working life in western countries. 2016-2018

Integrated Delivery Social Services 12 country comparative research project on integrated services for reintegration of minimum income recipients 2017-2018

Rosa Luxembourg Stiftung Europe 8 country case study on Feminist Approaches against Austerity Regimes 2017-2018
Teaching Interests

Teaching
Undergraduate PO103 Political Institutions, PO152 Political Institutions, P0202 Active Citizenship: Shadowing Power P0304 State and Society PO302 Irish Public Policy PO301 International Public Policy
P0209 Political Parties, Electoral Systems and Corruption PO352 Globalisation and Welfare States PO303 Thesis Support
Masters SO609 Labour Market Policy SO608 Work Futures SO605A Power and Inequality SO621 Thinking about Crisis NIR615 Governance (Space & Society)

My pedagogical approach is informed by Kolb's (1984) cycle of active learning, reflection, theorizing, and experimentation, and values of equalitIRC PhD Scholarship y and inclusiveness. I aim to promote intellectual curiosity and prioritise integrating contemporary research into teaching and giving opportunity to critically assess the relationship between politics as theory and practice. I make creative use of external learning opportunities, invite guest speakers, make active use of VLE 'moodle' and offer different styles of group work and utilise digital learning devices. I was awarded the 2015 Political Science Association of Ireland Teaching and Learning Award and nominated by my department to participate within the Maynooth University process for the national Teaching Expert Award.


PhD supervision

Joe Moran The construction of precarity in Ireland 2010 (2017),
Michelle Maher The Politics of Pensions (2017) IRC PhD Scholarship
Co Supervisor Nuala Whelan Evaluating the Effectiveness and Implementation of New Labour Market Programmes in an Irish context IRC Employment Based PhD Scholarship (2018)
Philip Finn 'Governmentality of unemployment' : Welfare conditionality and strategies of resistance IRC PhD Scholarship (2019)
Pablo Rojas No Time to Waste: Rethinking labour market policies as a strategy for the integration of migrant families in Ireland IRC Employment Based PhD Scholarship (2019)