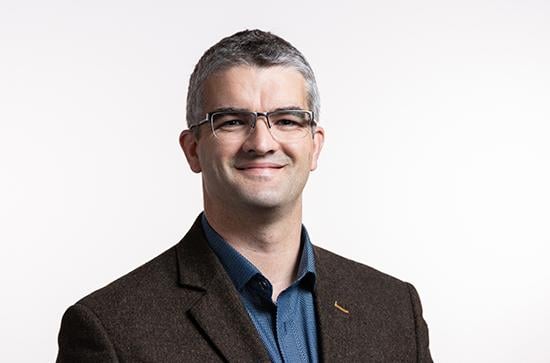 Dr Eóin McNamee is a graduate of Maynooth University (B.Sc. 2003) and Trinity College Dublin (M.Sc. 2004, PhD 2008) and carried out postdoctoral training at the University of Colorado - Anschutz Medical Campus. He joined the faculty at the school of Medicine at UC (Instructor: 2011; Assistant Professor: 2013) as a Crohn's & Colitis foundation of American Research Fellow and later a Career Development awardee. He was recruited to Maynooth University in 2018 and is the Principle Investigator of the Mucosal Immunology Research Lab and a member of the Kathleen Lonsdale Institute for Human Health Research.

Dr McNamee leads the Mucosal Immunology Research Laboratory in the Institute of Immunology at Maynooth University.

The human immune system has evolved as a network of specialized sites, strategically located to orchestrate immune-surveillance and autonomously respond to infections and cancers. This intricate system of tissues and cells plays a major role in the homeostasis of every organ system and maintains physiologic equilibrium. However, when this homeostasis is perturbed by injury, infection or inflammation, chronic autoimmunity and lifelong disease can manifest. Autoimmune diseases are now a global burden of enormous proportion, with many having limited treatments and no cure. The goal of our research program is to understand the pathophysiology of autoimmune and immune-mediated diseases with a focus on identifying novel therapeutic targets.

The laboratory has a strong focus on the inflammatory bowel diseases (IBD; namely Crohn's disease and Ulcerative Colitis) and we target critical cytokine, chemokine and microRNA networks to understand how a healthy immune responses are maintained at the intestinal mucosal barrier and what processes over-ride this during disease or infection. This multidisciplinary research has maintained a strong translational focus by collaborating with clinician colleagues and industrial biopharma partners, routinely investigating novel experimental therapeutics in preclinical models of IBD.
 
Year
Publication
2020
'Muc5ac Expression Protects the Colonic Barrier in Experimental Colitis'
Olli K.E.;Rapp C.;O'Connell L.;Collins C.B.;McNamee E.N.;Jensen O.;Jedlicka P.;Allison K.C.;Goldberg M.S.;Gerich M.E.;Frank D.N.;Ir D.;Robertson C.E.;Evans C.M.;Aherne C.M. (2020) 'Muc5ac Expression Protects the Colonic Barrier in Experimental Colitis'. Inflammatory Bowel Diseases, 26 (9):1353-1367 [DOI] [full-text] [Details]
2019
'Epithelial HIF-1α/claudin-1 axis regulates barrier dysfunction in eosinophilic esophagitis'
Masterson JC;Biette KA;Hammer JA;Nguyen N;Capocelli KE;Saeedi BJ;Harris RF;Fernando SD;Hosford LB;Kelly CJ;Campbell EL;Ehrentraut SF;Ahmed FN;Nakagawa H;Lee JJ;McNamee EN;Glover LE;Colgan SP;Furuta GT; (2019) 'Epithelial HIF-1α/claudin-1 axis regulates barrier dysfunction in eosinophilic esophagitis'. Journal of Clinical Investigation, 129 (8) [DOI] [full-text] [Details]
2017
'Myeloid-derived miR-223 regulates intestinal inflammation via repression of the NLRP3 inflammasome'
Neudecker, V;Haneklaus, M;Jensen, O;Khailova, L;Masterson, JC;Tye, H;Biette, K;Jedlicka, P;Brodsky, KS;Gerich, ME;Mack, M;Robertson, AAB;Cooper, MA;Furuta, GT;Dinarello, CA;O'Neill, LA;Eltzschig, HK;Masters, SL;McNamee, EN (2017) 'Myeloid-derived miR-223 regulates intestinal inflammation via repression of the NLRP3 inflammasome'. Journal of Experimental Medicine, 214 :1737-1752 [DOI] [full-text] [Details]
2019
'Neutrophil-derived microRNAs put the (DNA) breaks of intestinal mucosal healing'
Eoin N. McNamee (2019) 'Neutrophil-derived microRNAs put the (DNA) breaks of intestinal mucosal healing'. Journal of Clinical Investigation, 129 (2):xxxx-yyyy [DOI] [full-text] [Details]
2018
'Cellular Plasticity of Defa4Cre-Expressing Paneth Cells in Response to Notch Activation and Intestinal Injury'
Jennifer C. Jones , Constance D. Brindley , Nicholas H. Elder , Martin G. Myers Jr. , Michael W. Rajala , Christopher M. Dekaney , Eoin N. McNamee , Mark R. Frey , Noah F. Shroyer , Peter J. Dempsey (2018) 'Cellular Plasticity of Defa4Cre-Expressing Paneth Cells in Response to Notch Activation and Intestinal Injury'. American Journal of Gastroenterology, [DOI] [full-text] [Details]
2017
'NK cells regulate CXCR2+ neutrophil recruitment during acute lung injury'
Hoegl S;Ehrentraut H;Brodsky KS;Victorino F;Golden-Mason L;Eltzschig HK;McNamee EN; (2017) 'NK cells regulate CXCR2+ neutrophil recruitment during acute lung injury'. Journal Of Leukocyte Biology, 101 (2) [DOI] [full-text] [Details]
2017
'Defective Lymphatics in Crohn's Disease: Tertiary Lymphoid Follicles Plug the Gap'
McNamee EN;Rivera-Nieves J; (2017) 'Defective Lymphatics in Crohn's Disease: Tertiary Lymphoid Follicles Plug the Gap'. Journal of Gastroenterology, 152 (4) [DOI] [full-text] [Details]
2016
'Ectopic Tertiary Lymphoid Tissue in Inflammatory Bowel Disease: Protective or Provocateur?'
McNamee EN;Rivera-Nieves J; (2016) 'Ectopic Tertiary Lymphoid Tissue in Inflammatory Bowel Disease: Protective or Provocateur?'. Frontiers in Immunology, 7 [DOI] [full-text] [Details]
2016
'Clenbuterol activates the central IL-1 system via the β2-adrenoceptor without provoking inflammatory response related behaviours in rats'
Ryan KM;Griffin ÉW;Ryan KJ;Tanveer R;Vanattou-Saifoudine N;McNamee EN;Fallon E;Heffernan S;Harkin A;Connor TJ; (2016) 'Clenbuterol activates the central IL-1 system via the β2-adrenoceptor without provoking inflammatory response related behaviours in rats'. Brain, Behavior, and Immunity, 56 [DOI] [full-text] [Details]
2016
'G2A Signaling Dampens Colitic Inflammation via Production of IFN-γ'
Frasch SC;McNamee EN;Kominsky D;Jedlicka P;Jakubzick C;Zemski Berry K;Mack M;Furuta GT;Lee JJ;Henson PM;Colgan SP;Bratton DL; (2016) 'G2A Signaling Dampens Colitic Inflammation via Production of IFN-γ'. Journal of Immunology, 197 (4) [DOI] [full-text] [Details]
2016
'Purinergic Signaling During Immune Cell Trafficking'
Ferrari D;McNamee EN;Idzko M;Gambari R;Eltzschig HK; (2016) 'Purinergic Signaling During Immune Cell Trafficking'. Trends in Immunology, 37 (6) [DOI] [full-text] [Details]
2015
'Aging-associated inflammation promotes selection for adaptive oncogenic events in B cell progenitors'
Henry CJ;Casás-Selves M;Kim J;Zaberezhnyy V;Aghili L;Daniel AE;Jimenez L;Azam T;McNamee EN;Clambey ET;Klawitter J;Serkova NJ;Tan AC;Dinarello CA;DeGregori J; (2015) 'Aging-associated inflammation promotes selection for adaptive oncogenic events in B cell progenitors'. Journal of Clinical Investigation, 125 (12) [DOI] [full-text] [Details]
2015
'Chemokine receptor CCR7 regulates the intestinal TH1/TH17/Treg balance during Crohn's-like murine ileitis'
McNamee EN;Masterson JC;Veny M;Collins CB;Jedlicka P;Byrne FR;Ng GY;Rivera-Nieves J; (2015) 'Chemokine receptor CCR7 regulates the intestinal TH1/TH17/Treg balance during Crohn's-like murine ileitis'. Journal Of Leukocyte Biology, 97 (6) [DOI] [full-text] [Details]
2015
'Eosinophils and IL-33 Perpetuate Chronic Inflammation and Fibrosis in a Pediatric Population with Stricturing Crohn's Ileitis'
Masterson JC;Capocelli KE;Hosford L;Biette K;McNamee EN;de Zoeten EF;Harris R;Fernando SD;Jedlicka P;Protheroe C;Lee JJ;Furuta GT; (2015) 'Eosinophils and IL-33 Perpetuate Chronic Inflammation and Fibrosis in a Pediatric Population with Stricturing Crohn's Ileitis'. Inflammatory Bowel Diseases, 21 (10) [DOI] [full-text] [Details]
2015
'Tissue-Resident NK Cells Mediate Ischemic Kidney Injury and Are Not Depleted by Anti-Asialo-GM1 Antibody'
Victorino F;Sojka DK;Brodsky KS;McNamee EN;Masterson JC;Homann D;Yokoyama WM;Eltzschig HK;Clambey ET; (2015) 'Tissue-Resident NK Cells Mediate Ischemic Kidney Injury and Are Not Depleted by Anti-Asialo-GM1 Antibody'. Journal of Immunology, 195 (10) [DOI] [full-text] [Details]
2015
'Epithelial-specific A2B adenosine receptor signaling protects the colonic epithelial barrier during acute colitis'
Aherne CM;Saeedi B;Collins CB;Masterson JC;McNamee EN;Perrenoud L;Rapp CR;Curtis VF;Bayless A;Fletcher A;Glover LE;Evans CM;Jedlicka P;Furuta GT;de Zoeten EF;Colgan SP;Eltzschig HK; (2015) 'Epithelial-specific A2B adenosine receptor signaling protects the colonic epithelial barrier during acute colitis'. Mucosal Immunology, 8 (6) [DOI] [full-text] [Details]
2015
'Eosinophil-mediated signalling attenuates inflammatory responses in experimental colitis'
Masterson JC;McNamee EN;Fillon SA;Hosford L;Harris R;Fernando SD;Jedlicka P;Iwamoto R;Jacobsen E;Protheroe C;Eltzschig HK;Colgan SP;Arita M;Lee JJ;Furuta GT; (2015) 'Eosinophil-mediated signalling attenuates inflammatory responses in experimental colitis'. Gut, 64 (8) [DOI] [full-text] [Details]
2014
'Local hypersensitivity reaction in transgenic mice with squamous epithelial IL-5 overexpression provides a novel model of eosinophilic oesophagitis'
Masterson JC;McNamee EN;Hosford L;Capocelli KE;Ruybal J;Fillon SA;Doyle AD;Eltzschig HK;Rustgi AK;Protheroe CA;Lee NA;Lee JJ;Furuta GT; (2014) 'Local hypersensitivity reaction in transgenic mice with squamous epithelial IL-5 overexpression provides a novel model of eosinophilic oesophagitis'. Gut, 63 (1) [DOI] [full-text] [Details]
2014
'Contribution of epithelial innate immunity to systemic protection afforded by prolyl hydroxylase inhibition in murine colitis'
Keely S;Campbell EL;Baird AW;Hansbro PM;Shalwitz RA;Kotsakis A;McNamee EN;Eltzschig HK;Kominsky DJ;Colgan SP; (2014) 'Contribution of epithelial innate immunity to systemic protection afforded by prolyl hydroxylase inhibition in murine colitis'. Mucosal Immunology, 7 (1) [DOI] [full-text] [Details]
2014
'Transmigrating neutrophils shape the mucosal microenvironment through localized oxygen depletion to influence resolution of inflammation'
Campbell EL;Bruyninckx WJ;Kelly CJ;Glover LE;McNamee EN;Bowers BE;Bayless AJ;Scully M;Saeedi BJ;Golden-Mason L;Ehrentraut SF;Curtis VF;Burgess A;Garvey JF;Sorensen A;Nemenoff R;Jedlicka P;Taylor CT;Kominsky DJ;Colgan SP; (2014) 'Transmigrating neutrophils shape the mucosal microenvironment through localized oxygen depletion to influence resolution of inflammation'. Immunity, 40 (1) [DOI] [full-text] [Details]
2013
'CD73+ regulatory T cells contribute to adenosine-mediated resolution of acute lung injury'
Ehrentraut H;Clambey ET;McNamee EN;Brodsky KS;Ehrentraut SF;Poth JM;Riegel AK;Westrich JA;Colgan SP;Eltzschig HK; (2013) 'CD73+ regulatory T cells contribute to adenosine-mediated resolution of acute lung injury'. FASEB Journal, 27 (6) [DOI] [full-text] [Details]
2013
'Hypoxia and hypoxia-inducible factors as regulators of T cell development, differentiation, and function'
McNamee EN;Korns Johnson D;Homann D;Clambey ET; (2013) 'Hypoxia and hypoxia-inducible factors as regulators of T cell development, differentiation, and function'. Immunologic Research, 55 (1-3) [DOI] [full-text] [Details]
2013
'Detrimental role of the airway mucin Muc5ac during ventilator-induced lung injury'
Koeppen M;McNamee EN;Brodsky KS;Aherne CM;Faigle M;Downey GP;Colgan SP;Evans CM;Schwartz DA;Eltzschig HK; (2013) 'Detrimental role of the airway mucin Muc5ac during ventilator-induced lung injury'. Mucosal Immunology, 6 (4) [DOI] [full-text] [Details]
2013
'Stimulation of central β2-adrenoceptors suppresses NFκB activity in rat brain: a role for IκB'
Ryan KJ;Griffin É;Yssel JD;Ryan KM;McNamee EN;Harkin A;Connor TJ; (2013) 'Stimulation of central β2-adrenoceptors suppresses NFκB activity in rat brain: a role for IκB'. Neurochemistry International, 63 (5) [DOI] [full-text] [Details]
2013
'Lactobacillus rhamnosus GG improves outcome in experimental pseudomonas aeruginosa pneumonia: potential role of regulatory T cells'
Khailova L;Baird CH;Rush AA;McNamee EN;Wischmeyer PE; (2013) 'Lactobacillus rhamnosus GG improves outcome in experimental pseudomonas aeruginosa pneumonia: potential role of regulatory T cells'. Shock (Augusta, Ga.), 40 (6) [DOI] [full-text] [Details]
2013
'Ectopic lymphoid tissue alters the chemokine gradient, increases lymphocyte retention and exacerbates murine ileitis'
McNamee EN;Masterson JC;Jedlicka P;Collins CB;Williams IR;Rivera-Nieves J; (2013) 'Ectopic lymphoid tissue alters the chemokine gradient, increases lymphocyte retention and exacerbates murine ileitis'. Gut, 62 (1) [DOI] [full-text] [Details]
2013
'Alpha-1-antitrypsin therapy ameliorates acute colitis and chronic murine ileitis'
Collins CB;Aherne CM;Ehrentraut SF;Gerich ME;McNamee EN;McManus MC;Lebsack MD;Jedlicka P;Azam T;de Zoeten EF;Dinarello CA;Rivera-Nieves J; (2013) 'Alpha-1-antitrypsin therapy ameliorates acute colitis and chronic murine ileitis'. Inflammatory Bowel Diseases, 19 (9) [DOI] [full-text] [Details]
2012
'Hypoxia-inducible factor-1 alpha-dependent induction of FoxP3 drives regulatory T-cell abundance and function during inflammatory hypoxia of the mucosa'
Clambey ET;McNamee EN;Westrich JA;Glover LE;Campbell EL;Jedlicka P;de Zoeten EF;Cambier JC;Stenmark KR;Colgan SP;Eltzschig HK; (2012) 'Hypoxia-inducible factor-1 alpha-dependent induction of FoxP3 drives regulatory T-cell abundance and function during inflammatory hypoxia of the mucosa'. Proceedings of the National Academy of Sciences of the United States of America, 109 (41) [DOI] [full-text] [Details]
2012
'Flt3 ligand expands CD103⁺ dendritic cells and FoxP3⁺ T regulatory cells, and attenuates Crohn's-like murine ileitis'
Collins CB;Aherne CM;McNamee EN;Lebsack MD;Eltzschig H;Jedlicka P;Rivera-Nieves J; (2012) 'Flt3 ligand expands CD103⁺ dendritic cells and FoxP3⁺ T regulatory cells, and attenuates Crohn's-like murine ileitis'. Gut, 61 (8) [DOI] [full-text] [Details]
2011
'CCR3 Blockade Attenuates Eosinophilic Ileitis and Associated Remodeling'
Masterson JC;McNamee EN;Jedlicka P;Fillon S;Ruybal J;Hosford L;Rivera-Nieves J;Lee JJ;Furuta GT; (2011) 'CCR3 Blockade Attenuates Eosinophilic Ileitis and Associated Remodeling'. American Journal of Pathology, 179 (5) [DOI] [full-text] [Details]
2011
'The chemokine receptor CCR9 is required for the T-cell-mediated regulation of chronic ileitis in mice'
Wermers JD;McNamee EN;Wurbel MA;Jedlicka P;Rivera-Nieves J; (2011) 'The chemokine receptor CCR9 is required for the T-cell-mediated regulation of chronic ileitis in mice'. Journal of Gastroenterology, 140 (5) [DOI] [full-text] [Details]
2011
'Interleukin 37 expression protects mice from colitis'
McNamee EN;Masterson JC;Jedlicka P;McManus M;Grenz A;Collins CB;Nold MF;Nold-Petry C;Bufler P;Dinarello CA;Rivera-Nieves J; (2011) 'Interleukin 37 expression protects mice from colitis'. Proceedings of the National Academy of Sciences of the United States of America, 108 (40) [DOI] [full-text] [Details]
2010
'Novel model of TH2-polarized chronic ileitis: the SAMP1 mouse'
McNamee EN;Wermers JD;Masterson JC;Collins CB;Lebsack MD;Fillon S;Robinson ZD;Grenawalt J;Lee JJ;Jedlicka P;Furuta GT;Rivera-Nieves J; (2010) 'Novel model of TH2-polarized chronic ileitis: the SAMP1 mouse'. Inflammatory Bowel Diseases, 16 (5) [DOI] [full-text] [Details]
2010
'Cell-specific inhibition of p38alpha as a therapeutic strategy for inflammatory bowel disease'
McNamee EN;Collins CB;Lebsack MD;Rivera-Nieves J; (2010) 'Cell-specific inhibition of p38alpha as a therapeutic strategy for inflammatory bowel disease'. Journal of Gastroenterology, 138 (4) [DOI] [full-text] [Details]
2010
'Chemokine decoy receptor D6 in inflammatory bowel disease (IBD) and IBD-associated colon cancer'
Collins CB;McNamee EN;Wermers JD;Lebsack MD;Rivera-Nieves J; (2010) 'Chemokine decoy receptor D6 in inflammatory bowel disease (IBD) and IBD-associated colon cancer'. Gut, 59 (2) [DOI] [full-text] [Details]
2010
'Noradrenaline acting at beta-adrenoceptors induces expression of IL-1beta and its negative regulators IL-1ra and IL-1RII, and drives an overall anti-inflammatory phenotype in rat cortex'
McNamee EN;Griffin EW;Ryan KM;Ryan KJ;Heffernan S;Harkin A;Connor TJ; (2010) 'Noradrenaline acting at beta-adrenoceptors induces expression of IL-1beta and its negative regulators IL-1ra and IL-1RII, and drives an overall anti-inflammatory phenotype in rat cortex'. Neuropharmacology, 59 (1-2) [DOI] [full-text] [Details]
2010
'Noradrenaline induces IL-1ra and IL-1 type II receptor expression in primary glial cells and protects against IL-1beta-induced neurotoxicity'
McNamee EN;Ryan KM;Kilroy D;Connor TJ; (2010) 'Noradrenaline induces IL-1ra and IL-1 type II receptor expression in primary glial cells and protects against IL-1beta-induced neurotoxicity'. European Journal of Pharmacology, 626 (2-3) [DOI] [full-text] [Details]
| | Year | Title | Awarding Body |
| --- | --- | --- | --- |
| | 2019 | SFI President of Ireland Future Research Leader Award | Science Foundation Ireland |
| | 2017 | Principal Investigator Award (R01) | National Institutes of Health, USA (NIDDK) |
| | 2016 | Senior Research Award | Crohn's & Colitis Foundation of America |
| | 2013 | Career Development Award | Crohn's & Colitis Foundation of America |
| | 2011 | Research Fellowship Award | Crohn's & Colitis Foundation of America - |
| | 2008 | scholar award (Travel) | PsychoNeuroImmunology Research Society (PNIRS) |
| | 2007 | Trinity College Trust postgraduate award | Trinity College Dublin |
Professional Associations
| | Association | Function | From / To |
| --- | --- | --- | --- |
| | American Association of Immunologists | Member | / |
| | Society for Mucosal Immunology | Member | / |
| | Irish Society for Immunology | Member | / |