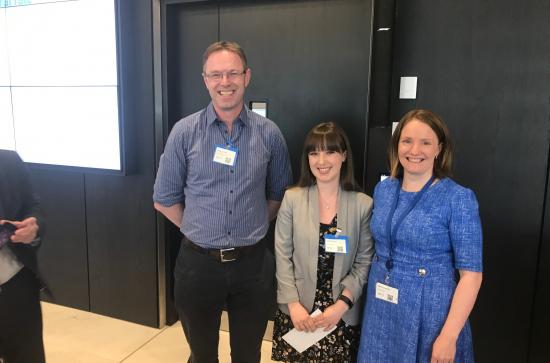 Tuesday, May 15, 2018 - 10:30
Maynooth University Labour Economist, Prof. Donal O'Neill and co-author Niamh Holton (Central Statistics Office) have been awarded the prestigious 2018 inaugural Brendan Walsh Prize for Economic and Social Research.
The prize has been instituted in honour of the memory of Professor Brendan Walsh and his long and distinguished career in Irish economics and is awarded by the council of Economic and Social Studies for the best paper published in the Economic and Social Review.
Donal and Niamh were awarded the honour for their paper "The Changing Nature of Irish Wage Inequality from Boom to Bust" which analyses the changing nature of wage inequality in Ireland, from the height of an economic boom, through a very deep recession, to the start of a recovery. The paper finds that while wage inequality increased towards the height of the boom, driven largely by rising returns to skill, the economic crisis of 2008-2013 was accompanied by a significant reduction in wage dispersion. Although the improving characteristics of the workforce increased wages for all workers over this period, this was offset by falling returns to these skills. Only workers in the lowest decile were unaffected by declining returns, resulting in a reduction in wage inequality during the recession. The analysis highlights the important role played by the National Minimum Wage in this process.
Much of the work for this paper was carried out while Niamh was completing her MA Economics at Maynooth University and is a testament to the quality of the graduate economics programs offered by Maynooth.
The paper is available online here.
The prize follows the recent success of another Maynooth Labour Economist, Dr. Aedín Doris, in receiving the 2017 Miriam Hederman O'Brien Prize, awarded by the Foundation for Fiscal Studies in recognition of outstanding contributors to matters relating to fiscal, economic and social policy. That both the Miriam Hederman O'Brien Prize and the Brendan Walsh prize were awarded this year to members of the Maynooth University Labour Economics Group, reflects the excellence of the research conducted by the Labour Economics Group in Maynooth and the key role this group has played in shaping social and economic policy in Ireland.