Dr Stuart Stamp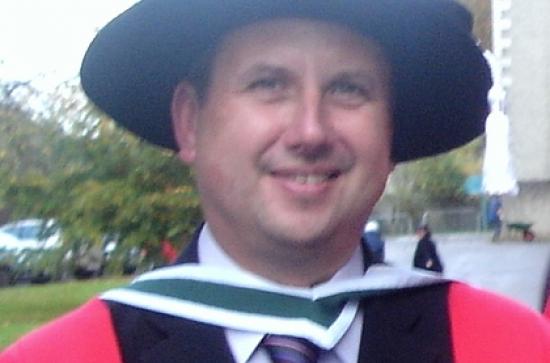 MABS and Citizens Advice Bureau
PhD 2009, Applied Social Studies
Given that Stuart was a mature student from Liverpool and married with two teenage children he was not the typical Maynooth University graduate! Having completed his primary degree in Law in Birmingham in 1984, he worked in the Citizens Advice Bureau for eight years in the UK helping people experiencing financial difficulties to try and deal with them.

Marriage brought Stuart to Ireland in 1992 and he was fortunate to be employed to do similar work by one of the five pilot Money Advice and Budgeting Services (MABS) in Limerick. The MABS service has greatly expanded and there are now 53 such services nationwide.
After years of casework, Stuart moved into training and supporting people doing the casework and into policy work. Stuart explains "it struck me more and more over the years that in contrast to other European countries, little research on debt problems was being undertaken in Ireland. I decided that I might have a contribution to make here as a result of my work experience, but that I didn't have the research skills to do so. I therefore returned to education to complete a Masters Degree atDCU and this gave me the taste for more!"

So in September 2004, Stuart enrolled as a PhD student with the Department of Applied Social Studies at Maynooth University under the supervision of Prof Séamus Ó Cinnéide and he acknowledges the help of IRCHSS funding and study facilities provided by NIRSA. He spent the next four years undergoing the highs and lows of doctoral research and finally submitted his thesis "Personal Debt, Poverty and Public Policy in Ireland" and graduated in 2009.
Stuart continues to work for MABS and is also on the Board of the Citizen's Advice Bureau.