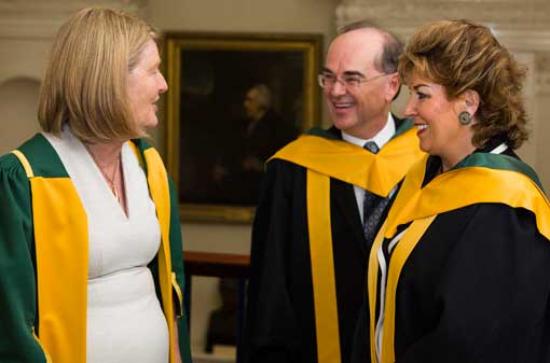 Friday, May 30, 2014 - 00:00
Geraldine Byrne Nason was admitted as a Member of the Royal Irish Academy continuing a 229 year Academy tradition of recognising outstanding achievement.

Geraldine Byrne Nason is Secretary General at the Department of the Taoiseach and one of Ireland's most distinguished diplomats and civil servants. She graduated from Maynooth University with a BA in English and Irish in 1980 and completed a MA in English in 1981. Her career has spanned numerous political administrations, government departments, the OECD, the UN and representation at the EU. She has been formally responsible for co-ordinating European policy; supports the work of the Economic Management Council; and has been acknowledged by government as 'a pivotal figure in the fiscal treaty referendum campaign and throughout Ireland's [2013] EU presidency'.

At the ceremony admitting the new members, Professor Mary E. Daly, President of the Royal Irish Academy said: 'There is a major onus on researchers to ensure that Europe remains a world leader in the twentieth first century. But the emphasis on research that yields a return, in the form of patents, company formation or new drugs, tends to deny researchers the necessary breathing-space, the time to reflect, to allow for the wrong turns, the brilliant idea that collapses, or the unexpected lines of inquiry that might ultimately deliver something different to the original proposal, but something that is much more exciting. When the Royal Irish Academy elects members, it does so, on the basis of a candidate's publications and research record – the sole criterion is quality. This research may help in the treatment of disease, or it may enhance our understanding of a past civilisation. Members of the Academy should not shirk from their responsibility to tell people that basic research is important and that government support for fundamental research is a hallmark of a civilised society'.

Maynooth University honoured Ms Byrne Nason in 2010 when she received the President's Alumni Award.
Caption: Professor Mary Daly, RIA President; Prof Aidan Raftery, Honorary Member , RIA and Geraldine Byrne Nason, Alumnus Maynooth University.