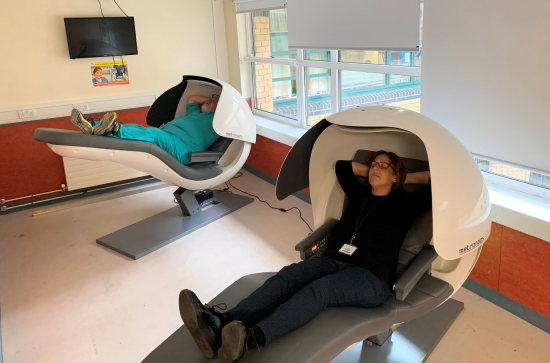 Monday, April 6, 2020 - 11:15
Irish Version
Who knew in 2017 that the winning idea for the University Library's #IfStudentsDidLibraries campaign—bringing a napping or "Energy Pod" to the library to give study-worn students the change to re-charge their batteries—would three years later become a respite opportunity for hard-working health care workers on the frontlines of a pandemic.
Earlier this week, a Tallaght Hospital worker who had heard about the pods reached out to a MU contact he knew, Professor David Prendergast of the Department of Anthropology. David immediately contacted Librarian Cathal McCauley, who, of course, said yes. To handle the transport, the University teamed up with Amazon Web Services, which volunteered to cover the delivery costs.
Working with the ever-responsive Director of Campus and Commercial Services Michael Rafter and his dedicated crew, the pods were dismantled, transported, reassembled and in use in Tallaght less than 24 hours later.
Huge kudos to the Library, everyone involved, and a special mention to the then-first-year student Brian Crinion who came up with the idea while studying for a BSc in Robotics and Intelligent Devices.

Tugann Leabharlann OMN faighneoga codlata ar iasacht go hOspidéal Thamhlachta
Ba iontach an smaoineamh é a tháinig ar an bhfód mar chuid de fheachtas #IfStudentsDidLibraries a rith Leabharlann Ollscoil Mhá Nuad sa bhliain 2017 faighneoga codlata nó "Faighneoga Fuinnimh" a chur ar fáil do mhic léinn brúite síos ag an staidéar ionas go bhféadfaidís iad féin a thabhairt ar ais chun na beatha. Cé a chreidfeadh ag an staid sin go dtabharfaidís an deis chun a scíth a ligint do chúramóirí sláinte trí bliana ar aghaidh agus iad ag obair sa bhearna bhaoil i gcroílár paindéime?
Níos luaithe an tseachtain seo, chuaigh oibritheoir in Ospidéal Thamhlachta, a raibh cur amach aige ar na faighneoga codlata, i dteagmháil le ball foirne Ollscoil Mha Nuad ar a aithne, an tOllamh David Prendergast ó Roinn na hAntraipeolaíochta. Chuaigh David i dteagmháil leis an Leabharlannaí Cathal McCauley láithreach a ghlac leis an iarratas, ar ndóigh. Ó thaobh an iompair de, d'oibrigh an Ollscoil i gcomhpháirt le Amazon Web Services, dream a thug na costaisí seachadta orthu féin cé nár iarradh a leithéid orthu.
Mar gheall ar obair ón Stiúrthóir ar Sheirbhísí Campais agus Tráchtála Michael Rafter, a bhí chomh toilteanach is a bhí sé riamh, agus óna fhoireann dhícheallach, baineadh na faighneoga anuas, cuireadh ar aghaidh go Tamhlacht iad agus cuireadh le chéile arís iad taobh istigh de cheithre uair fichead.
Comhghairdeas ó chroí leis an Leabharlann agus le chuile dhuine a ghlac páirt sa tionscnamh seo, agus ní mór Brian Crinion a lua ach go háirithe toisc gur cheap sé na faighneoga codlata seo ar an gcéad lá riamh fad is a bhí sé sa chéad bhliain ag déanamh staidéir ar Bhaitsiléir Eolaíochta sa Róbataic agus sna Gléasanna Cliste.