Friday, March 6, 2020 - 11:00
Maynooth University last night awarded Laura Madden the President's Medal at a special event to mark International Women's Day. President of Maynooth University, Professor Philip Nolan, paid tribute to Ms Madden for bravely coming forward to speak of her personal trauma despite the threat of retribution.

Originally from Monaghan, Ms Madden was one of the first women to speak on the record to New York Times reporters Jodi Kantor and Megan Twohey about the sexual predation of Hollywood producer Harvey Weinstein. The bravery of the women who told their stories triggered an avalanche of public testimonies under the hashtag #MeToo, spawning a wider global movement.
Accepting the President's Medal, Ms Madden said: "I am so honoured to be invited to Maynooth University to receive this award. It's been an immensely difficult journey over the years and to finally be able to share my experience and feel the collective support of women and men from all walks of life has been transformative.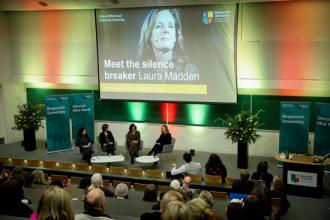 "Something I have learnt since going public with my story is that you cannot fix a problem you cannot see. By shining a light on the collective experiences of women, a global reckoning has begun. I'm so grateful to Maynooth University and Professor Philip Nolan for giving me a platform alongside these amazing women, Professor Linda Connolly and Professor Anne O'Brien, and for being so dedicated to keeping a difficult subject in the spotlight."
"Maynooth University is extremely proud to award the 2020 President's Medal to Laura Madden," said Maynooth University President, Prof Philip Nolan. "Ms Madden is an extraordinary woman who bravely decided to speak about her trauma despite facing a tremendous headwind of pressure, power, and potential retribution. Her display of courage helped shed light on industries in which overwhelming imbalances of power are exploited to perpetrate and cover up acts of violence. She, along with other women who came forward, ignited a broader global movement, inspiring women around the world to publicly share their stories under the hashtag #MeToo.
"At Maynooth University, human rights, equality and justice are at the core of our research, our curriculum, and our ethos as an institution. We are grateful to Laura Madden for accepting this award and sharing the insights from her lived experience with our community, and are pleased to be able honour her."
As part of this special International Women's Day event at Maynooth University, RTÉ broadcaster Audrey Carville hosted a panel discussion with Ms Madden, Professor Linda Connolly, Director of Maynooth University Social Sciences Institute (MUSSI) who is a leading scholar on women's experiences with trauma in Irish history, and Dr Anne O'Brien from the Department of Media Studies at Maynooth University and author of Women, Inequality and Media Work.