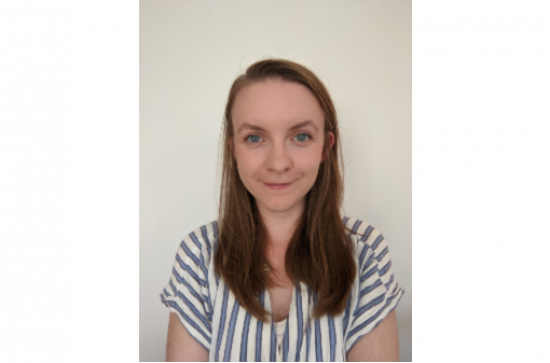 Assistant Lecturer
Callan Building
first
F4 Mezzanine
Biography
Ailbhe completed her undergraduate degree in Genetics at Trinity College Dublin and went on to complete a PhD studying mammalian epigenetic regulation in developing red blood cells at the Roslin Institute in the University of Edinburgh. She has since gained postdoctoral experience working on plant epigenetic regulation in the Turck lab at the Max Planck Institute of Plant Breeding Research in Cologne, and also working on the role of the ubiquitin system in Parkinson's disease and immune oncology in the Urbé/Clague labs at the University of Liverpool.

Ailbhe was awarded a Marie Skłodowska-Curie Postdoctoral Fellowship and began working in Dr. Emmanuelle Graciet's Plant Biochemistry lab at Maynooth University in 2021. Ailbhe is now continuing this research and working as an Assistant Lecturer in the Biology Department.
Research Interests
Ailbhe is currently interested in the roles epigenetic regulation may play in acute and developmental hypoxia responses in model plants and crop species.

Peer Reviewed Journal
| | Year | Publication |
| --- | --- | --- |
| | 2023 | Miricescu, A.; Brazel, A.J.; Beegan, J.; Wellmer, F.; Graciet, E. (2023) 'Transcriptional analysis in multiple barley varieties identifies signatures of waterlogging response'. Plant Direct, 7 . [Link] [DOI] [Full-Text] |
| | 2023 | Hannah Elcocks; Ailbhe J Brazel; Katy R McCarron; Manuel Kaulich; Koraljka Husnjak; Heather Mortiboys; Michael J Clague; Sylvie Urbé (2023) 'FBXL4 ubiquitin ligase deficiency promotes mitophagy by elevating NIX levels'. EMBO Journal, . [DOI] |
| | 2023 | Brazel, A.J.; Graciet, E. (2023) 'Complexity of Abiotic Stress Stimuli: Mimicking Hypoxic Conditions Experimentally on the Basis of Naturally Occurring Environments'. Methods in molecular biology (Clifton, N.J.), 2642 . [Link] [DOI] |
| | 2019 | Ailbhe J Brazel; Diarmuid S Ó'Maoiléidigh (2019) 'Photosynthetic activity of reproductive organs'. Journal of Experimental Botany, . [DOI] |
| | 2015 | Ailbhe J Brazel; Douglas Vernimmen (2015) 'The complexity of epigenetic diseases'. Pathology, . [DOI] |
Article
| | Year | Publication |
| --- | --- | --- |
| | 2017 | Marco De Gobbi; Ailbhe J. Brazel; Jacqueline A. Sharpe; Jacqueline A. Sloane-Stanley; Andrew J Smith; William G Wood; Douglas Vernimmen (2017) Enhancer deletion generates cellular phenotypic diversity due to bimodal gene expression. [Article] [DOI] |
Other Publication
| | Year | Publication |
| --- | --- | --- |
| | 2022 | Rusilowicz-Jones, E.V.; Brazel, A.J.; Frigenti, F.; Urbé, S.; Clague, M.J. (2022) Membrane compartmentalisation of the ubiquitin system. [Link] [DOI] [Full-Text] |
Certain data included herein are derived from the © Web of Science (2023) of Clarivate. All rights reserved.