International Office Marketing & Promotional Activities Autumn 2019
MU International Office are actively promoting and marketing Maynooth University throughout the Autumn semester, developing partnerships and meeting potential students and their advisors at fairs and conferences.

Networking with European Partners
Fiona Reynolds, Jodi Killackey & Patricia Hayden from the International Office attended the 31st Annual European Association for International Education (EAIE) Conference and Exhibition in Helsinki, Finland in September. It was the largest EAIE conference to date with 6,200 higher education professionals from 95 countries. The conference offered a great opportunity for International Office staff to meet university partners from within Europe, Asia and USA as well as to participate in workshops, presentations and training.

EAIE Conference and Exhibition in Helsinki, Finland
Promotion & Marketing in North American
Pauline Di Girolamo from the MU International Office attended the NACAC's 75th Annual National Conference in Louisville, Kentucky in September. This event presented an opportunity for the International Office to network with US high school counselling and admission professionals, who support US high school students potentially interested in undertaking an undergraduate degree programme at Maynooth University.

In addition Pauline attended the NACAC National College Student Fairs in Louisville, Kentucky and Indianapolis, Indiana. There she engaged with US high school students exploring interest in studying an undergraduate degree programme at Maynooth University. Pauline visited the University of Kentucky and University of Indianapolis (MU partner universities) and visited four high schools in Lexington, Kildare's Sister City, meeting with the high school counsellors there who advise prospective undergraduate students, their students and the Executive Director of Lexington Sister Cities, Kay Sargent.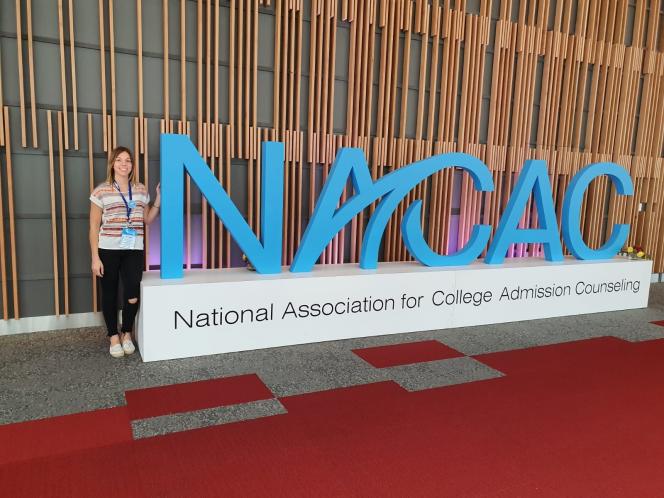 Pauline Di Girolamo, International Office, at NACAC Conference in Louisville, Kentucky, USA

Our Study Abroad & Short-Term Programmes International Officers, Jodi Killackey and Ben Finnegan have been busy meeting partner universities and study abroad providers in North America also this semester. They visited the University of New Mexico who currently send students to the MU International Summer School (MUISS) and after meeting now expect to solidify a formal agreement, which will lead to an increase in UNM students studying at MU for a semester and on short-term-programmes.

They visited Texas Tech University who are a key partner and have been instrumental in the success of the MUISS. The IO have recently extended this partnership to include semester students at MU. Furthermore, in 2020, the International Office is launching an Engineering & Computer Science Summer School and Texas Tech will be a key partner for this programme.

In Austin, Texas, Jodi and Ben visited the offices of API and ISA (Study Abroad Programme providers). MU are working closely with API on several new programmes, including a freshman Spring semester programme. ISA send students to the MUISS and semester study abroad programme. Jodi and Ben met with key staff members there to discuss future collaboration and present on Maynooth University to staff who promote Maynooth programmes to their students.

Jodi Killackey & Ben Finnegan at A&T Football Stadium, Texas Tech University, USA

In Canada Jodi and Ben visited York University and the University of Toronto (a key MU partner for short-term programmes and faculty-led programmes) where they attended several student fairs, met with university professionals and met with a MU student currently studying abroad in Canada on exchange.
Education Fairs & Agent Fairs in India
In October Deirdre Dunne & Pauline Di Girolamo travelled to India with Education Ireland to promote and market MU to potential postgraduate students. They had a demanding schedule attending Education in Ireland (part of Enterprise Ireland) fairs and agent fairs in Delhi, Pune, Mumbai, Bangalore, Chennai & Coimbatore. Each year increasing numbers of Indian students have been choosing to study in Ireland and are selecting Maynooth University as their first choice. It is important for the students to have the opportunity to talk directly to university representatives in India and be supported in the application process. The International Office visits India several times a year with the next visit planned for February 2020.
Deirdre Dunne, International Office advises students about MU in Coimbatore, India

China Education Expo 2019
Helen Kirrane from the International Office visited Beijing and Shanghai in October on a MU promotional trip to China. Helen represented MU at the China Education Expo 2019 (CEE), an exhibition tour hosted by China Education Association for International Exchange (CEAIE) which has taken place every Autumn in Beijing, Shanghai and some other cities since 2000. It's acclaimed as the leading event for overseas universities to expand their presence in the world's potentially largest recruitment market. Helen also met with existing MU agents in these cities to discuss the development of new universities links and partnerships via these agents. In addition, she met with the MU Chinese Studies students studying abroad in both Shanghai and Beijing for the 2019-2020 academic year.
Naomy Liu, Maynooth University China representative at CEE fair in Beijing