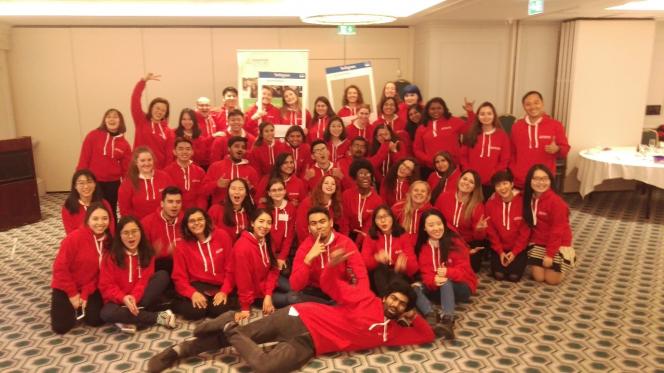 Over the past number of years Education in Ireland (EI) have run a fantastic initiative for international students, which enables them to showcase their experience in Ireland, as well as being a representative of both their Irish university and home country.
EI's 'Student Ambassador Programme' is aimed at raising awareness of the quality of Irish education, and assisting and encouraging interested students from overseas as they embark on their search for the right university or college.
Each third-level institution in Ireland may nominate students to the programme who, if selected, will become an official EI Ambassador for the academic year. All nominees are required to complete an application, which is then reviewed by officials in EI.
This year, Maynooth is honoured to have two students selected as EI Ambassadors. Throughout the year, students are tasked with a variety of duties including organising events for students, meeting with international visitors and giving tours of the campus. Another important aspect of their role includes writing online blogs about their experience, which are then published across various media platforms. These blogs aim to share the experience of international students from all over the world as they talk about studying and living in Ireland.
Ambassadors receive high-level training from EI on how best to harness effective online communication skills such as writing for blogs, film and audio for digital content and the use and impact of social media.
Ambassadors who take part in this prestigious, government-recognised programme receive a certificate from EI at the end of the academic year, which marks their valued contribution to promoting Irish higher education. A reception is usually held in Farmleigh House where officials from the Irish Government join international embassy officials in congratulating and thanking the student ambassadors for their contributions and work throughout the year.
The two students representing MU this year are:
Name: Zumredah Al-AliBasha
Home Country: Iraq
MU Programme: BA Psychology
Bio: Zumredah is an Iraqi student who is studying Psychology through Arts. She was born in Libya and then moved across the Middle-East until her family finally settled in the United Arab Emirates. Zumredah completed her education in Dubai where she learned in an American curriculum system. She decided to study Psychology because of her interest and curiosity in people and human behaviour. Zumredah wants to become the source of motivation and desire for travelling, learning about new cultures, and overcoming the fear of homesickness or cultural shock for fellow international students.

Name: Melody Rose Lee
Home Country: USA
MU Programme: MSc in Immunology and Global Health
Bio: Melody is an international postgraduate student studying an MSc in Immunology and Global Health. Melody wants to ensure that more American postgraduate students share their experiences of living and studying in Ireland.She hopes to offer prospective postgraduate students a more personalised view of what it's like to continue your education in a new country.