Maynooth University develops customised programmes for Japanese students
In recent years, the Maynooth University International Office has developed a number of specialised programmes for Japanese students who travel to the university from Tokyo and the city of Nagoya.
Nihon University Economics Programme about to begin for the third consecutive year
Back in 2013, Prof. Rowena Pecchenino and Dr. Fabrice Rousseau in the Maynooth University Department of Economics, Finance and Accounting, began working together with the International Office on the development of a one-year visiting undergraduate programme for a group of 15-30 Japanese students from Nihon University College of Economics.

Students with their English Language tutor Graham Heaslip, Maynooth University.
This study abroad programme began in March 2015 aligning with the Japanese academic year. The students initially undertake five months of English language classes on campus alongside organised afternoon and weekend cultural trips within Ireland. During the summer months, the students also take an introductory Economics module within the International Summer School and then in September, they register for one semester with the Economics department. The programme's third group of students arrived mid-March 2017.
Maynooth University's relationship with Nihon University's College of Economics (CENU) continues to strengthen and currently discussions regarding the possibility of a future dual degree between our two institutions are under way.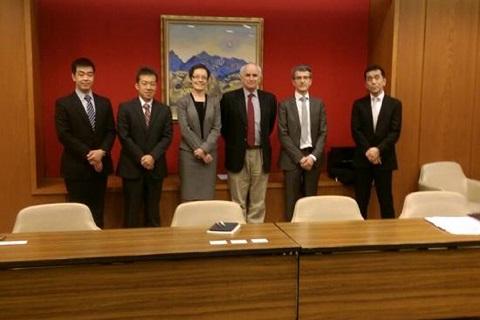 Tatsuro Hirooka, Masato Hirano, Claire Doran, Brian Donnellan, Fabrice Rousseau and Hiroaki Namiki at Nihon University, Tokyo November 2016.
Nagoya University of Foreign Studies Summer Programme
In 2015 discussions with Nagoya University of Foreign Studies (NUFS) began around the development of a short-term English language and Irish cultural summer school. The programme ran for the first time in August 2016 when over 30 students arrived from Nagoya and participated in a three-week programme on campus. Students from NUFS take English language classes four mornings per week and one Irish culture class taught by the Maynooth University Centre for Irish Cultural Heritage. They also participate in a schedule of trips and activities of historical and cultural significance, organised by the International Office. The students come with a professor from NUFS and they live with host families in Maynooth and surrounding areas.
Tokyo Institute of Technology Design Summer School
A one week short-term programme in Design Thinking and Design Science, currently in development by the International Office, IVI and Department of Design Innovation in collaboration with the Tokyo Institute of Technology is due to be piloted in early September 2017. Vice President and Dean of International Affairs, Prof. Brian Donnellan, has long standing research links with Tokyo Institute of Technology and wishes to further expand this research relationship into new areas including a short-term programme aimed at postgraduate Japanese and Irish students. Tokyo Institute of Technology was ranked in the top 90 in the world in the Times Higher Education Rankings in 2016 and 56th in the world in the QS World University Rankings.