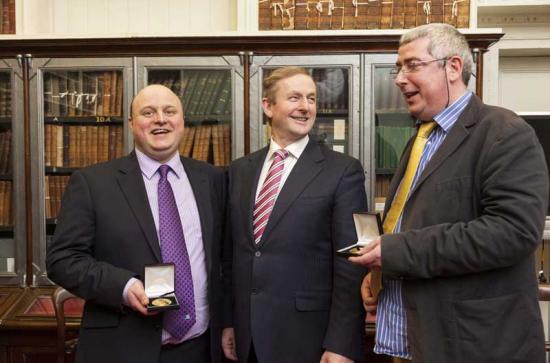 Thursday, February 20, 2014 - 00:00
Taoiseach Enda Kenny has presented the Royal Irish Academy Gold Medal to Maynooth University Geographer, Professor Rob Kitchin, in recognition of his outstanding contribution to the Social Sciences.

Professor Colin O'Dowd, NUI Galway, was also presented with a Gold Medal for the Environmental and Geosciences.
Each medal is a testament to a lifetime of passionate commitment to the highest standards in scholarship and they are a well-deserved recognition of scientific excellence.
In presenting the medals the Taoiseach congratulated the medallists on their many achievements and paid tribute to the RIA for providing a platform to celebrate academia and the role it plays in our society and economy, saying: "Education and innovation are central to the Government's ambition of achieving economic recovery and the creation of jobs. The education and training system is a critical part of our recovery and growth. That is why, among the wide range of measures to boost job creation and improve the environment for business, R&D forms a central pillar of our Action Plan for Jobs."
Professor Rob Kitchin's research in space and mapping has been hugely influential across the social sciences, especially with respect to understanding the relationship between technology, society and space. In 2012 Professor Kitchin received a European Research Council Advanced Grant, to investigate the development of smart cities.

Speaking about the award Professor Philip Nolan, President of Maynooth University, said "The academic community at Maynooth is immensely proud to see Professor Rob Kitchin's important and valuable work recognised by this exceptionally prestigious award. His work is exemplary, and shows how fundamental research in the social and spatial sciences has direct relevance to our daily lives and public policy. Through scholarly work and public commentary, he has helped us understand our world and how we live in it, and how we might best respond to our current crises to create a better society."

After being awarded the Royal Irish Academy Gold Medal in Social Sciences Professor Rob Kitchin said "I'm delighted and honoured to be receiving the Gold Medal from the Royal Irish Academy. The Medal is certainly the high point of my career to date given that it denotes significant contributions to the social sciences in Ireland and beyond."

Guests at the ceremony included members of the Irish higher education system, funding agencies, the British and Greek ambassadors to Ireland and friends and family of the medallists.

The Royal Irish Academy Gold Medals are awarded to two outstanding academics each year and are recognised as a truly national expression of celebration for scholarly achievement. The medals are sponsored by The Higher Education Authority.

Previous Gold Medal winners include:

| | | |
| --- | --- | --- |
| 2005 | Professor John Dillon | Professor Michael Coey |
| 2006 | Professor Peter Neary | Professor James Dooge |
| 2007 | Dr John Fuller Atkins | Dr John Fuller Atkins |
| 2008 | Professor David Livingstone | Professor Charles Hepworth Holland |
| 2010 | Professor Cormac Ó Gráda | Professor Samson Shatashvili |
| 2011 | Professor John O Scalan | Professor John O Scalan |
| 2012 | Professor Dermot Moran | Professor Dermot Moran |
Photocaption:Taoiseach Enda Kenny at the Royal Irish Academy where he awarded gold medals to Prof Rob Kitchin (left) and Prof Colin O'Dowd. Photograph: Aidan Crawley​
ENDS