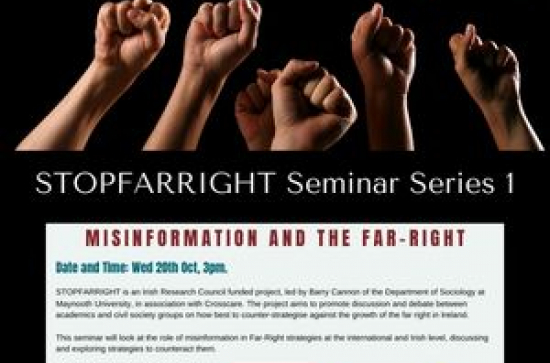 Wednesday, October 20, 2021 -

15:00

to

16:30
Online
STOPFARRIGHT is an Irish Research Council funded project, led by Barry Cannon of the Department of Sociology at Maynooth University, in association with Crosscare. The project aims to promote discussion and debate between academics and civil society groups on how best to counter-strategise against the growth of the far right in Ireland. As part of its activities, STOPFARRIGHT is holding a series of online seminars with leading Irish and International academics and civil society members working on the theme of resisting the Far Right. We are delighted to announce the first of these seminars on the theme of Far-Right Misinformation

This seminar will look at the role of misinformation in Far-Right strategies at the international and Irish level, discussing and exploring strategies to counteract them.

Seminar Participants:
Eileen Culloty, Dublin City University. Eileen is co-author with Jane Suiter of Disinformation and Manipulation in Digital Media (2021). She is also participating in an EU H2020 funded project on countering disinformation.

Aoife Gallagher, Institute for Strategic Dialogue. Aoife's research focuses on the intersection between far-right extremism, disinformation and conspiracy theories. She has co-authored a report on Irish far-right activity on Telegram, with her colleague at ISD Ciaran O'Connor.

Owen Worth, University of Limerick. Owen has published extensively on the theme of the Far Right, including his most recent book Morbid Symptoms: The Global Rise of the Far Right (2019).

Seminar Moderator: Joseph Munnelly, Maynooth University. Joe is research assistant to the STOPFARRIGHT project. He is completing his PhD at UCD's Centre for Humanitarian Action on the social integration of refugees in Ireland.
This event is supported by MU Social Sciences Institute and MU Sociology
For more information on STOPFARRIGHT please contact Barry Cannon (barry.cannon@mu.ie) or Joseph Munnelly (joseph.munnelly@mu.ie).