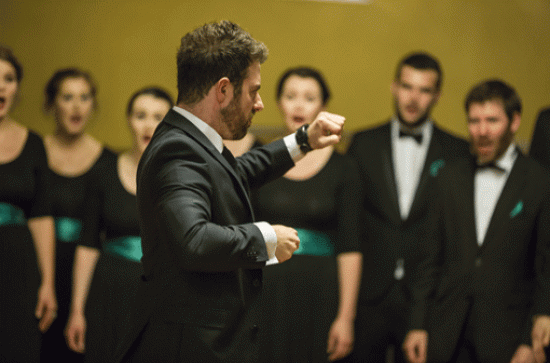 Wednesday, March 16, 2016 - 17:45
The Maynooth University Chamber Choir, which made history last July when it became the first Irish choir to lift the coveted Pavarotti Trophy as "Choir of the World" at the Llangollen International Musical Eisteddfod in Wales, performed yesterday in the historic St Patrick's Cathedral in New York. The choir captivated its audience in the iconic cathedral at the heart of 5th avenue with a performance that constituted one of the highlights of its three-week World Tour. This tour will see them perform in eight cities, including New York, Boston, Tucson, and Denver in the United States and Shanghai, Changzhou, and Guangzhou in China.

Set amidst the commotion of one of the world's busiest streets, St Patrick's Cathedral has a special significance in the story of New York City. It was founded by the first Archbishop of New York, John Joseph Hughes, who was born and raised in Co. Tyrone. Construction was completed in 1879. The funeral masses for Babe Ruth, Robert F. Kennedy, and Andy Warhol were held there. Pope Francis attended a service during his visit to New York at the end of last year.

The choir also performed at New York City Hall as part of New York City Council Irish Heritage and Cultural Celebration. The choir's moving rendition of "Danny Boy" – a song with great significance for the Irish community in America— hit a special chord on the night with footage later circulating on social media.

The 36-member choir, which is comprised of students from across Maynooth University, had previously kicked off its World Tour with an incredibly well received concert at St. Patrick's Cathedral in Dublin on Saturday, 5th March, 2016.

With their dates in New York completed, the choir will now visit Boston where a highlight will be a special performance for the Irish Consulate at a special St Patrick's Day event at Fenway Park – the legendary baseball stadium and home of the Boston Red Sox.

The choir will then play a series of concerts in China before returning to the United States to conclude the tour. These final dates will include a performance at the Easter Sunrise Service on the rim of the Grand Canyon in Arizona on Sunday, March 27th. This annual event dates back to 1935 with more than 1,000 people expected in attendance.

Choir Director Michael Dawson noted: "Since winning 'Choir of the World' in Llangollen, we have had many invitations to perform internationally, and we are incredibly excited to have the opportunity to perform in these iconic international venues. It is a tremendous opportunity for us to share our music with a wider audience and represent Ireland on the international stage."

Maynooth University President Philip Nolan said: "I am truly delighted for Michael Dawson and the Maynooth University Chamber Choir. Listening to them perform it all seems very effortless, but there is a tremendous amount of hard work and dedication that goes into it, as well as remarkable talent. They are wonderful ambassadors for the University and for Ireland. Maynooth University has a rich tradition of fostering talent across the arts, and our Department of Music, of which Michael is a product, is a thriving centre with over 550 students currently benefiting from the exceptional resources and teaching that is offered there."

As well as winning the "Choir of the World" in Llangollen last year, the Maynooth University Chamber Choir was awarded two Gold Diplomas at the international Canta en Primavera choral festival in Malaga. The choir released its first CD, Lorica, in autumn 2015.
Schedule: Maynooth University Chamber Choir World Tour 2016
| | |
| --- | --- |
| Saturday, March 5, 2016 | Dublin - St Patrick's Cathedral - 7.30pm |
| Monday, March 14, 2016 | New York - Trinity Wall Street Church Concert – 2:00 pm (open to public) |
| Tuesday, March 15, 2016 | New York - St. Patrick's Cathedral Concert - 4.00pm (open to public) |
| Wednesday, March 16, 2016 | Boston - Tufts University Exchange 3:00 pm (Student Choirs) |
| Thursday, March 17, 2016 | Boston - Irish American Partnership St. Patrick's Day Breakfast |
| Thursday, March 17, 2016 | Boston – Charitable Irish Society 279th St. Patrick's Day Dinner |
| Friday, March 18, 2016 | Boston - Irish Consulate St. Patrick's Day Celebration @ Fenway Park |
| Monday, March 21, 2016 | Shanghai - Shanghai Normal University |
| Tuesday, March 22, 2016 | Changzhou - Changzhou University |
| Wednesday, March 23, 2016 | Guangzhou - Public Performance |
| Friday, March 25, 2016 | Tucson, Ariz. - University of Arizona - Public Performance |
| Sunday, March 27, 2016 | Arizona - Grand Canyon National Park - Sunrise Service – 6.10 am |
| Tuesday, March 29, 2016 | Denver, Colo. - University of Denver Student Workshop |
| Tuesday, March 29, 2016 | Denver, Colo. - Regis University Public Performance |
*All times local