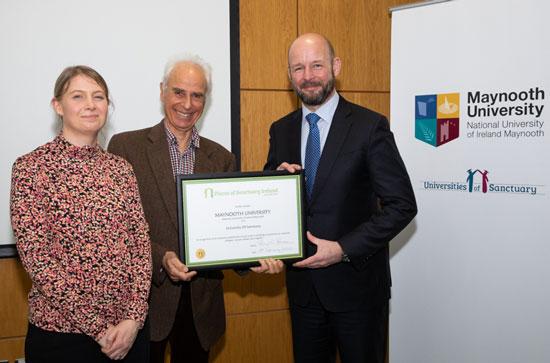 Thursday, February 20, 2020 - 09:30
Maynooth University has been officially designated as a University of Sanctuary in recognition of its initiatives to promote a culture of welcome for refugees, asylums seekers and other migrants into the community.
The University marked its designation by bringing together poets, students, academics, journalists and civil society actors to discuss the meaning of Ireland as a true place of sanctuary.
The event heard readings by contributors to Correspondences: an anthology to call for an end to direct Provision, an original collection of writing, photography and art by those in direct provision, edited by Jessica Traynor and Stephen Rea.
A panel discussion followed, with poets Marwa Zamir, Claire Hennessy and Jessica Traynor; and current and former MU students Warsame Ali Garaare and Zoryana Psyhk.
The panel discussed their experiences of Ireland as a place of sanctuary, the system of direct provision and its compatibility with the concept of sanctuary. They also examined the role of universities in promoting the inclusion of international protection applicants and refugees.
Accepting the Sanctuary Award on behalf of Maynooth University, Professor Philip Nolan, President of Maynooth University said: "We are delighted to accept this designation, which recognises the ongoing commitment of staff and students to creating an inclusive and welcoming space at Maynooth for those who seek sanctuary in Ireland. This event gives us an opportunity to celebrate joining the University of Sanctuary Ireland family, but also to reflect on the role of universities in broader discussions around migration and equality."
Sanctuary universities have a demonstrated commitment to welcoming asylum seekers and refugees onto their campus through initiatives including bursary and scholarship schemes, and adopting strategies to integrate them into their community.
The Sanctuary Award is an initiative of University of Sanctuary Ireland (UoSI) to encourage and celebrate the good practice of universities, colleges and institutes welcoming refugees, asylum seekers and other migrants into their university communities and fostering a culture of inclusion for all those seeking sanctuary. The Award aims to spread this culture of welcome across the institutions of higher education all over the island.