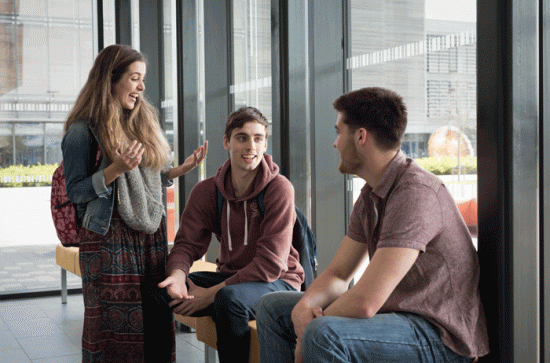 Wednesday, April 5, 2017 - 15:00
Maynooth University has today been recognised as one of the leading new universities in the world with Times Higher Education (THE) ranking it #49 in its latest Young University Rankings. The ranking is the highest position ever achieved by Maynooth, and is the highest position achieved by an Irish university ever.
The success follows on from Maynooth's extremely strong performances in other recent THE rankings, including being named among the top 400 universities in the world, the top 200 European universities, and being recognised as one of the top 200 universities with strongest international connections and perspective in the world.
The Young University Rankings, previously the "Top 150 Under 50," are based on a range of criteria including research income achieved, reputation for teaching, numbers of PhDs awarded, the number and quality of scholarly papers and citations from staff and numbers of international staff and students. Maynooth jumped 18 places (from #68) since last year and is ranked as the number one young university in Ireland. The top-ranked new university is École Polytechnique Fédérale De Lausanne in Switzerland. The announcement comes as Maynooth University prepares to celebrate the 20th anniversary of its foundation in June this year.
Commenting on the new ranking, Maynooth University President, Professor Philip Nolan, said: "This is a huge endorsement of the University's strategy to see Maynooth performing so strongly in terms of its perception by its international peers. It is just 20 years since Maynooth University was established as an independent institution by the Universities Act of 1997, and this is a huge endorsement of the hard work, research impact, and exceptional teaching on the part of the entire university community.
"Maynooth University has tremendous momentum as an institution, and our success has been built upon a willingness to challenge the norms and assumptions of higher education in Ireland. Our researchers are confronting some of the most difficult problems facing society today; we are a progressive force in addressing the pressures of the points race, offering a unique proposition to undergraduate and post graduate students in Ireland; and we have grown into a global university with more than 1,500 international students from more than 85 countries. I think this achievement signals how well-placed we are to build on our success for years to come as a leading international university rooted in and serving the needs of changing country and changing world," added Professor Nolan.
Discussing Maynooth University's success, Phil Baty, Times Higher Education World University Rankings Editor, said: "Congratulations to Maynooth University for making the top 50 in the 2017 list of the world's leading young universities – and taking the number one position in Ireland. The Times Higher Education Young University Rankings use the same exacting and tough 13 performance indicators as the traditional THE World University Rankings, covering teaching, research, knowledge transfer and international outlook, so making the world top 50 is an exceptional achievement."
"Maynooth has particular strength in its "international outlook" - ensuring it attracts global talent and collaborates in research with universities across the world. This has helped it achieve a strong score also for its global research impact too," added Baty.
Tracing its origins to the foundation of the Royal College of St Patrick in 1795, Maynooth University was formally established as an autonomous university in 1997. Maynooth is Ireland's fastest growing university with more than 11,000 students, including almost 1,600 taught postgraduate and professional students and over 400 research students.The University has a network of more than 70,000 alumni around the globe.
Ollscoil Mhá Nuad ar cheann de na 50 Ollscoil Óg is fearr ar domhan, an ollscoil óg is fearr in Éirinn
Tacaíonn an fógra seo ón Times Higher Education (THE) leis na torthaí maithe atá bainte amach ag an Ollscoil cheana féin sa rangú domhanda
20 bliain ar an bhfód á ceiliúradh ag Ollscoil Mhá Nuad i mbliana
5 Aibreán 2017: Bhain Ollscoil Mhá Nuad aitheantas amach inniu mar cheann de na hollscoileanna nua is fearr ar domhan agus an 49ú háit bainte amach aici sa rangú is déanaí atá déanta ag Times Higher Education (THE) ar ollscoileanna óga. Seo an rangú is airde atá bainte amach ag Ollscoil Mhá Nuad go dtí seo, agus is é an rangú is airde é atá bainte amach ag aon ollscoil in Éirinn i mbliana.
Tagann an dea-scéal seo tar éis d'Ollscoil Mhá Nuad áiteanna suntasacha a bhaint amach i rangú eile de chuid THE lé déanaí; tá Ollscoil Mhá Nuad i measc an 500 ollscoil is fearr ar domhan, tá sí i measc an 200 ollscoil is fearr san Eoraip agus tá sí ar cheann de na hollscoileanna a bhfuil ceangail láidre agus dearcadh idirnáisiúnta láidir acu go domhanda.
Bunaítear Rangú na nOllscoileana Óga, nó "An Chéad 150 Faoi 50' mar a tugadh orthu roimhe seo, ar réimse critéar lena n-áirítear ioncam a bailíodh ó thaighde, an clú atá ar theagasc, líon na ndochtúireachtaí a bronnadh, líon agus caighdeán na bpáipéar scolártha agus na ndeismireachtaí ó bhaill foirne, agus líon na mball foirne idirnáisiúnta agus líon na mac léinn idirnáisiúnta. Bhog Ollscoil Mhá Nuad 18 n-áit chun tosaigh ón áit ina raibh sí an bhliain seo caite agus anois, is í an ollscoil óg is fearr in Éirinn í de réir an rangaithe. Is í École Polytechnique Fédérale De Lausanne san Eilvéis an ollscoil nua is fearr de réir an rangaithe. Tagann an scéal seo agus Ollscoil Mhá Nuad ag ullmhú le ceiliúradh a dhéanamh i mí an Mheithimh ar fhiche bliain a bunaithe.
Ag labhairt faoin rangú nua, dúirt Uachtarán Ollscoil Mhá Nuad, an tOllamh Pilib Ó Nualláin: "Ardmholadh ar straitéis na hOllscoile atá ann go bhfuil ag éirí chomh maith sin le hOllscoil Mhá Nuad maidir leis an dearcadh atá ag a piaraí ina leith. Níl ann ach fiche bliain ó bunaíodh Ollscoil Mhá Nuad mar institiúid neamhspleách faoi Acht na nOllscoileanna, 1997 agus is moladh mór an t-aitheantas seo don obair dhian, do thionchar an taighde, agus don teagasc den scoth atá déanta ag pobal na hOllscoile ina iomláine.
"Tá Ollscoil Mhá Nuad ag dul chun cinn go seoigh faoi láthair mar institiúid agus tá an rath atá orainn bunaithe ar ár dtoilteanas aghaidh a thabhairt ar noirm agus ar bharúlacha i leith an ardoideachais in Éirinn. Tá aghaidh á tabhairt ag ár dtaighdeoirí ar chuid de na fadhbanna is dúshlánaí atá roimh an tsochaí sa lá atá inniu ann; is fórsa forchéimnitheach muid atá ag obair le haghaidh ar thabhairt ar an mbrú a bhaineann le rás na bpointí. Cuirimid rogha uathúil ar fáil do mhic léinn fochéime agus do mhic léinn iarchéime in Éirinn. Is ollscoil dhomhanda í an ollscoil anois le breis agus 1,500 mac léinn idirnáisiúnta ó bhreis agus 85 thír. Ceapaim go léiríonn an t-éacht seo go bhfuilimid réidh le cur leis an rath seo sna blianta atá romhainn mar ollscoil idirnáisiúnta atá bunaithe ar agus ag freastal ar na riachtanais atá ag an tír agus ag an domhan agus iad ag athrú," arsa an tOllamh Ó Nualláin.
Ag labhairt faoin rath atá ar Ollscoil Mhá Nuad sa rangú, dúirt Phil Baty, eagarthóir Rangú Ollscoile Times Higher Education: "Comhghairdeas le hOllscoil Mhá Nuad as áit a bhaint amach sna chéad chaoga ollscoil ar liosta 2017 de na hollscoileanna óga is fearr ar domhan – agus as an gcéad áit in Éirinn a bhaint amach. Baineann Rangú Ollscoileanna Óga Times Higher Education úsáid as na trí cinn déag chéanna de tháscairí feidhmíochta agus a úsáidtear sa Rangú traidisiúnta ar Ollscoileanna an Domhain. Tá na táscairí sin dian agus éilitheach agus cuirtear teagasc, taighde, aistriú eolais agus dearcadh idirnáisiúnta san áireamh iontu. Mar sin, éacht suntasach atá ann áit a bhaint amach sna chéad 50 ollscoil sa rangú sin."
"Maidir lena dearcadh idirnáisiúnta, tá láidreacht ar leith ag Ollscoil Mhá Nuad sa réimse seo – éiríonn leis an Ollscoil tallann a mhealladh ó áiteanna ar fud an domhain agus comhoibriú a dhéanamh ar thaighde le hollscoileanna ar fud na cruinne. Chabhraigh sin léi chun scór ard a bhaint amach i dtaca le tionchar domhanda a cuid taighde chomh maith," arsa Baty.
Téann oidhreacht na hOllscoile siar go bunú Choláiste Ríoga Naomh Pádraig sa bhliain 1795 ach bunaíodh Ollscoil Mhá Nuad go foirmiúil mar ollscoil féinrialaitheach sa bhliain 1997. Is í Ollscoil Mhá Nuad an ollscoil is gasta fás in Éirinn. Tá breis agus 11,000 mac léinn ag freastal uirthi, lena n-áirítear 1,600 mac léinn a bhfuil iarchéim teagaisc ar bun acu nó ar mic léinn proifisiúnta iad, agus breis agus 400 mac léinn taighde. Tá líonra de bhreis agus 70,000 alumnus ag an Ollscoil ar fud na cruinne.