Monday, October 9, 2023 - 12:45
Five hundred visitors, including many young children, came to the TSI building for Maynooth University's Space Week 2023 event. 'Exploring the cosmos' was hosted by the Departments of Theoretical and Experimental Physics and featured four speakers at the cutting edge of astrophysical research and their explorations into the vastness of space.
The speakers covered everything from new images from the James Webb Space Telescope to the search for the darkest phenomena in the universe: black holes, dark matter and dark energy and research at MU that is developing deeper understandings of the sun, the stars, the solar system and much more. The night's images were of special interest to younger members of the audience, who attended with their parents.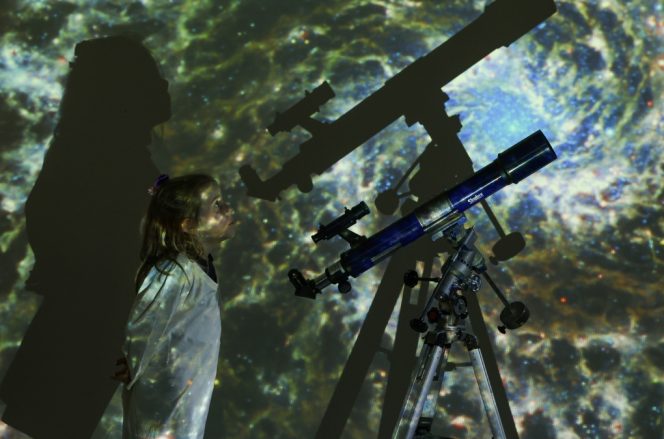 Pictured at the Space Week 2023 event in the Technology, Society and Innovation Building, Maynooth University, is 5 year old Aoibh Kavanagh from Kilcock, Co. Kildare.
Dr John Regan, of the Department of Theoretical Physics, took the audience on a trip to one of the most exotic objects in our Universe - black holes - how they are formed, how we can detect them, and the future of black hole hunting using gravitational wave observatories. There was a Q&A discussing the strange effects at the edge of a black hole, like time slowing down and what might happen to you if you crossed the event horizon into one.
PhD student Aoibhinn Gallagher, of the Department of Theoretical Physics, spoke about dark matter and dark energy, taking a journey through the history of our universe, and the discipline of cosmology, to arrive at answers as to what these strange phenomena might be. She discussed how real life science at Maynooth University, including her own PhD, aims to shed light on dark matter.
Dr Neil Trappe, of the Department of Experimental Physics, offered a glimpse into how Maynooth scientists are developing new telescopes using a form of light that is invisible to the human eye. These far infrared telescopes reveal new information and help us answer difficult questions, such as how the Sun and our Solar System was formed; how stars are born and how they die; life elsewhere in the Universe, and how did the Universe come into existence.
Dr Patrick Kavanagh, also from the Department of Experimental Physics, provided an overview of the James Webb Space Telescope, presenting some of the highlights from its first year of operation, and his own involvement in taking images with the telescope, one of which made the cover of the highly prestigious Nature journal. Patrick discussed some of Webb's most stunning images; its contribution to scientific knowledge such as the deepening our understanding of the atmospheres around other stars; new views of stellar birth and death; the skeletal structure of galaxies, and how we can peer into the cosmic past in search of the first stars and galaxies.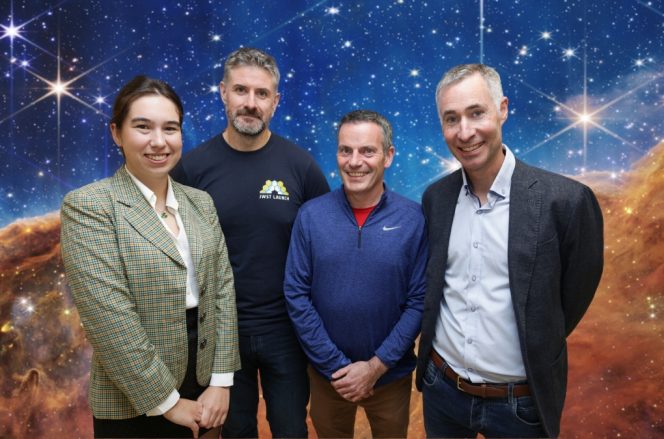 Space Week 2023 presenters: Aoibhinn Gallager, Dr Patrick Kavanagh, Dr Neil Trappe and Dr John Regan
Event organiser Dr John Regan said: "We are delighted to have had nearly 500 people attend this sold-out event. It demonstrates the real interest in space related research among the general public and it was great to be able to showcase world class astrophysics research undertaken at Maynooth. I would particularly like to thank my colleagues in the Departments of Theoretical and Experimental Physics who answered some very tricky questions from the next generation of scientists, and who we hope to have been inspired to follow us into physics."
Some images from Space Week 2023 event