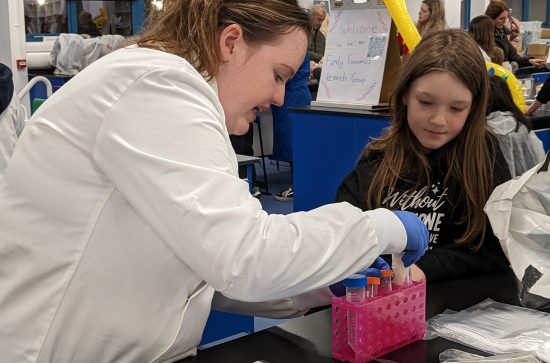 Thursday, November 24, 2022 - 16:00
As part of the MU programme of events for Science Week 2022, 2,000 people of all ages, gathered at a number of sites across North Campus to take part in Science Night.
Organised by departments across the Faculty of Science and Engineering the event brought science and engineering skills to all in our community through hands on experiments, demonstrations and educational games.
Some of the highlights of the night included CSI Maynooth with Dr David Fitzpatrick, where participants were tasked to solve a crime, explore the world of forensics, and practice their problem-solving skills. Alongside this were a huge range of hands on experiments in our Biology labs, that covered everything from food testing to plant identification. MU engineers and computer scientists brought back the very popular robot football and robot demonstrations, highlighting some of cutting edge research in this area, alongside our sustainability research with demonstrations of wave energy research and much more.
Most importantly the event gave visitors the opportunity to meet and ask questions of our volunteers, both staff and students, who are actively pursuing careers or education as scientists and engineers.