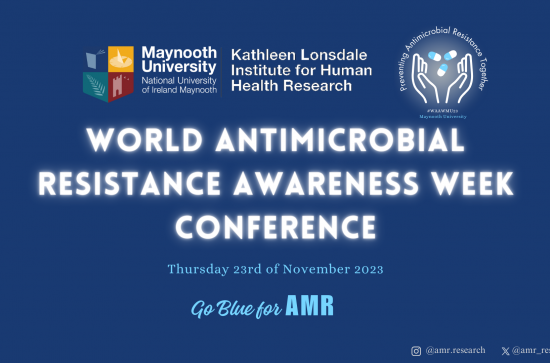 Thursday, November 23, 2023 - 09:00
Maynooth University
Abstract submissions are open and will close 10 November 23.
a. This is open to anyone who works in the area of AMR in any capacity.
b. Link to abstract submissions can be found here.
Event registration is open and will close 16 November 23.
a. Registration fee of EUR20, this includes refreshments and lunch.
b. Link to registration can be found here.
Session topics will include AMR from a One Health perspective (humans, animals, environment), Human Behaviour/Psychology and AMR policy.
The event is expected to run from 9:00AM to 5:00PM.
All enquiries can be sent to amr.researchlab@gmail.com, please make sure to include WAAWMU23 in the subject title.
We also encourage attendees to Go Blue for AMR (wear blue on November 23rd).