Eimear Bourke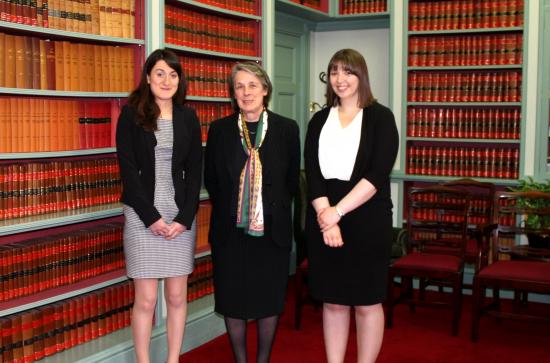 Trainee Solicitor
McCann Fitzgerald
2013
My journey as a Law student at Maynooth University School of Law and Criminology began in September 2009. Apprehensive and a little unsure what to expect, I need not have worried. Studying at Maynooth University was one of the most fulfilling and rewarding experiences of my life. It may be a young law school but it is an ambitious one, where a strong focus is placed on interaction and personal development.

Law classes in Maynooth University are unique in nature. Their small size means that a student can be called upon at anytime to answer a question or to explain a case to their classmates. While daunting at first, the Socratic method of teaching did more than merely ensure I was well prepared, it strengthened my confidence and laid the foundations which I know will make me a better, more engaged future lawyer. As a Law and English student my extra-curricular activity of choice was The Golden Thread, a student-run legal newspaper. This gave me the chance to have some of my legal writing published while building on my teamwork. I truly enjoyed the editing process and helping younger students with their legal writing.

Maynooth University encourages study abroad. I spent a year in Mannheim as an Erasmus student, where I studied modules ranging from Competition Law to International Criminal Law. Studying with students from all over the world was an invaluable and challenging experience.

The Maynooth University School of Law and Criminology staff were always superb and there is a relaxed atmosphere where you can call into any lecturer for a chat or assistance on a project. The School of Law and Criminology ensured my summers were kept busy and I was given the opportunity to intern in the commercial world (Dillon Eustace) as well as the criminal one (The Criminal Courts of Justice). I feel privileged at just 22 years of age to have worked with High Court judges, partners of leading law firms and to have taken part in a project organised by Chief Justice Denham herself. I credit all my achievements and experience gained to the dedicated staff at Maynooth University School of Law and Criminology.

Currently I am sitting FE1 examinations and on the path to becoming a solicitor, having already obtained a training contract with one of Ireland's leading law firms, McCann FitzGerald.