Aoife Barron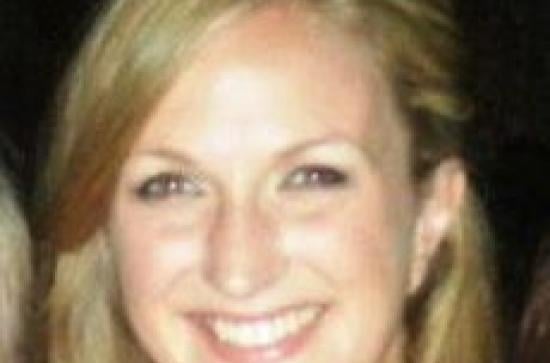 Senior QC Microbiologist
Ireland
Science, research and development
2007
​Aoife was in the first cohort of students in the BSc in Biological Sciences degree. She is very proud of her First Class Honours Degree.
(Career Story submitted June 2012)
In June 2007, about 2 weeks after I finished my final exams in Maynooth University, I applied to Wyeth Biopharma in Grange Castle, following a visit to their open day not long before. I was successful in the application, and I started what was initially a 4-month contract, but ended up staying for a year and a half. I worked in Quality Control (QC), which is the department that performs a series of checks on the company's final product before it is released to the market. I worked mainly in Environmental Monitoring, which involved monitoring the Production Facilities for microbial growth, to ensure the product being made was not at risk of being contaminated. It was quite a basic job but I learned a lot about the industry, the processes and the regulations that a Pharma plant like Wyeth needs to adhere to. I went in as a naïve college graduate and came out a year and a half later with some good Pharma knowledge and some valuable skills and experience.
I applied directly to Pfizer, after I saw an advert in one of the national papers, I was called for interview and following a lengthy interview process lasting nearly 2 months, I was awarded a job as one of 5 QC Microbiologists in the Shanbally Pfizer site. I worked in the site for 3 years, in what was the most challenging, yet rewarding role in my career to date. Being a start-up site, I was responsible, along with the other lab analysts, for setting up the Micro lab from scratch, selecting pieces of equipment, overseeing their installation, their qualification and executing verification protocols to ensure the lab and its equipment was working to specification before testing of the site's product commenced. As my previous role was not that varied, I was thrown into the deep end and had to learn a lot of things on-the-job. I gained so much experience in 3 short years; Qualification, Validation, Testing, performing Identifications on microbial growth, Investigating and I had hands-on interaction with all departments on site, being involved in Troubleshooting, Training Representation, First Aid and Safety Representation.
For the last 4 months of my time in Shanbally, I was awarded a placement in the Production Department, where I got hands-on experience learning the ropes in Upstream Biopharmaceutical Manufacturing- things like cell culture, cell culture expansion and working with bioreactors, both small and large-scale. Unfortunately, due to the movement of production of the product to a facility in the US, the Shanbally site was closed and sold to another Pharma company, so my time there came to a premature end. I progressed to another Pfizer site in Loughbeg, where I interviewed for a job as QC Specialist (Micro). I was awarded a 6 month secondment and I am still employed here, almost a year later. It is similar to my previous role. I am responsible for testing of Water Samples, Finished Product Samples and performing any necessary Investigations, Continuous Improvements, and liaising with other departments on a regular basis.
Working in an industrial lab involves lots of skills and attributes on top of technical knowledge such as good team-working, troubleshooting, flexibility and adaptability, adherence to regulations, standard procedures and quick learning. Employers will want to see that you can adapt well to the lab environment and often it is a person's ability to work well in a team and on their own initiative that will stand out.
As Pharma companies are so highly regulated, all colleagues have to be fully trained on their tasks by an experienced colleague, so if you don't have lots of experience in a test it's ok as they will have to train you from scratch anyway. You just have to be able to show that you're a good learner and that you can put your educational background to good use. But as an undergraduate, if you have any industry placement, this will serve you very well in the future.
I find the interaction with people of other departments and how we can learn from each other the most interesting part of my job. The day-to-day work in a lab and the regular testing can get a bit monotonous after a while, and it's good to have a bit of variety in your work. As a microbiology colleague, other departments can consult me on any issues within their departments relating to product quality, for example, if they're concerned that there may be contamination in the production process, they might ask me for advice on how to deal with the issue.
I am also responsible for training colleagues in other departments on how to conduct particular tasks in an aseptic manner. For example, samples of water and samples of the product have to be taken by manufacturing colleagues and submitted to the micro lab for testing. But it is important to insure that those people taking the samples are trained sufficiently so that they know how to take a sample without potentially contaminating the sample themselves, thus leading to false positive results. I have also trained other colleagues on how to complete documentation correctly and how to make sure that data is recorded accurately.
Training other colleagues is beneficial not only to those learning, but also to me as I train others, so that the knowledge and standards is fresh in my head and theirs too. Knowing that your work makes a difference within the plant and beyond is a great motivator and makes you want to continue to work hard at your job.
Challenges can include "getting stuck in a rut" as the saying goes; sometimes I feel that I want to broaden my skill-set and get experience in other jobs and tasks as the daily testing can get a bit boring after a while if you have nothing else to pique your interest. Your fellow colleagues can also make a big difference to whether or not you like your job too. Sometimes conflicts between colleagues and clashes of personality can be challenging in your day to day job but "dealing with conflict" is a very common interview question, so remember that conflicts with your co-workers are sometimes inevitable and have to be dealt with in a professional and mature way. Interviewers are always interested to see how you dealt with a conflict situation and how you portray yourself in that situation can make the difference in you getting hired or not!
The Pharmaceutical industry seems to have a lot of positions available. Some companies, including the one I work for have seen many redundancies and site closures, but there are lots of other companies that are thriving and will always be looking for staff. If you're interested in a job in Pharma, it's a good idea to keep up to speed with the industry in general, for example, there are groups on www.linkedin.com that you can join that focus on the pharma industry and they send out regular emails with updates on what companies are leading the way with new "wonder-drugs" etc, so it's a good way of finding out what companies are expanding and may be looking for staff in the future. If you're a bit unsure as to how to approach the market, I would highly recommend registering with a recruitment agency and not relying solely on job search websites all the time! I sent my CV into CPL (www.CPL.ie) when I left university. They will then send your CV into companies who use recruitment agencies to find their employees and the recruiter will contact you directly if the company want you to interview. Check with your Careers Service and see what companies regularly visit the campus or advertise within the campus. These companies will have a rapport with the college and will be more likely to look at your CV more closely if they see you have been to Maynooth University. The college held an open day the year I graduated (2007) and lots of companies offering internships set up stalls and you could apply there and then for internships in companies in Ireland or abroad.
When applying for a job, don't be put off if the job requests that you have loads of experience. For example, I had only a year and a half's experience when I applied for the job in Pfizer which required 3-5 years experience - my application was successful and I got the job! In all honesty, the amount of experience you have is not always that important. If you can show in an interview that you have a good education in the field, that you're quick to learn and enthusiastic, you can be snapped up quickly. Interviews, everyone hates them, but you will have been told already by now that it is THE chance to sell yourself to an employer, so try your best with them, be confident and don't be intimidated. Often there can be 2-3 people interviewing you, which can make you very nervous, but think of it this way; they've seen your CV, they like what they see on paper and they just want to see what you're like in person and if you match up to what you have on your CV. More often that not they have more or less decided if they think you'll be good at the job and an interview is just your chance to convince them. If you find a question hard to answer, just be honest and say you're not sure, DON'T try to waffle your way through! They'll appreciate that, as a new graduate, you won't have experience in all fields yet.
Be enthusiastic about the job you've applied for and know what the job requirements are so that you can research them and talk about them. If it doesn't goes well, it's not the end of the world. At least you'll learn from mistakes and have that experience for the next interview. Be prepared to relocate to another part of the country; don't rely on looking for jobs close to home. Saying to an employer that you're free to relocate can also put you at an advantage. Relocation is definitely the best thing I ever did and if you get the chance to go abroad to work, even better! Go for it! Having worked abroad looks good to an employer because it shows you have determination, confidence and independence. Best of
(update June 2014)
Unfortunately, the legacy of Shanbally came to an end and like many others she was made redundant. Aoife was fortunate enough to continue her career, now as a Quality Specialist in Cork's booming Pharmaceutical industry.
"These trying, but wonderful life experiences could not have happened if it weren't for the education and training given to me in Maynooth University. I will forever look upon those brief four years as valuable career preparation, which hopefully will continue for years to come" says Aoife.
Aoife is currently Senior QC Microbiologist at Amgen.