Mary Gormley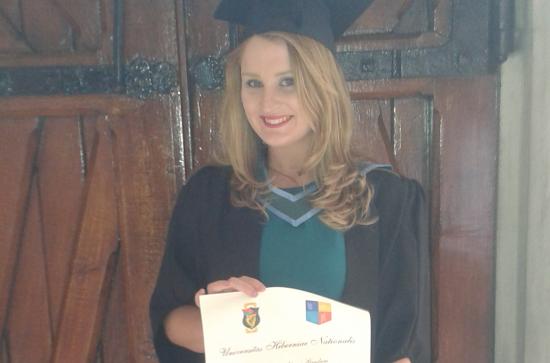 Year of Graduation 2014 BSc Science Education
My name is Mary Gormley and in September 2014 I graduated from the BSc Science Education programme in Maynooth University. I entered the course four years earlier with the hope that Science Education would allow me to juggle my love of science and my desire to teach. The course did that and so much more. From first year we were immersed in interesting and exciting scientific material and our education lectures allowed us to nurture and develop skills that were essential for life in the classroom. Throughout the course I completed placements in many different types of schools, each placement presented unique challenges and rewards, but I felt supported by our wonderful lecturers every step of the way.
Also as part of the course we were introduced to a range of different aspects in Education. One area of particular interest was development education. As a result five final year Science Education students headed to Uganda for a three week teaching placement in June 2014. This was one of the most rewarding experiences of our lives and we were supported every step of the way by lecturers from the Mathematics, Chemistry and Education departments.
I am currently teaching Mathematics and Science in Coolmine Community School. So far I have thoroughly enjoyed my first year as a fully qualified teacher. My successes this year are undoubtedly due to the fantastic education I received in the friendly and vibrant Maynooth University.