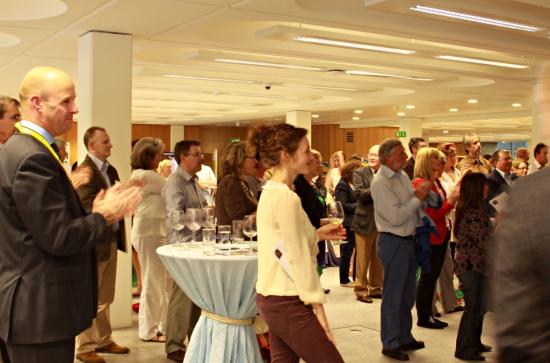 Wednesday, May 29, 2013 - 00:00
The foyer of the new €20 million library extension was the venue for the inaugural Maynooth Alumni Summer Soirée.

Over 200 alumni and friends enjoyed an evening of art, literature and music on a beautiful summer's evening in the University with the new library proving to be the star attraction on the night as alumni took full advantage of the library tours on offer. Demonstrably different to the original 1984 building, alumni saw first hand the cutting edge technology and eight different learning types which are now available to Maynooth students and experienced the unique public space in the foyer which is regularly enjoyed by the local community.
The night began with alumnus John Drennan reading from his recently published book "Standing by the Republic - 50 Dáil Debates that Shaped the Nation", a preview of the recently acquired art exhibition featuring pieces by artists such as Robert Ballagh, Martin Gale and Louis le Brocquy, and finished with a high octane performance by alumnus Regina Nathan (accompanied on piano by Dr Antonio Cascelli from the Music Department) who amply demonstrated why she is a soprano of international acclaim.
Among the guests were the winning Barton Cup Shield Golf team lead by 2010 graduate and Golf Development Officer, Barry Fennelly. The event also paid homage to the University's growing sporting achievements in soccer and GAA.
See more photos from this event
Photo caption: Professor Nolan, alumni and friends enjoying Regina Nathan's performance in the library foyer