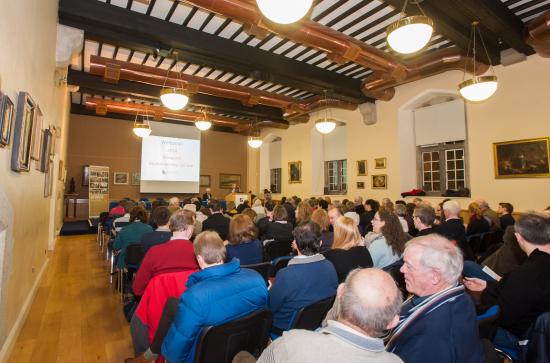 Wednesday, March 12, 2014 - 00:00
Memories, Millennium Milk Bottles and Manhole Covers
Speaking to a packed Renehan Hall on 12th March, alumni and friends had the pleasure of an insightful and thought provoking lecture from one of the University's longest serving academics as Professor Colm Lennon, who is also a Maynooth alumnus, delivered the first in a new annual lecture series specifically for alumni.
Entitled 'Tread softly? History, Commemoration and Popular Beliefs about the Past', Professor Lennon's lecture began with reminiscences of student life in Maynooth. Harking back to summer days of newly cut grass - the student's nightmare 'betokening the proximity of exams' – the changing seasons on campus and the community of learning and scholarship of which he was proud to be part of, his lecture touched on many key themes including the role of history in the Junior Cycle and the importance of the role of professionally trained historians so as popular perspectives on historic events can be shaped and challenged. Praising the professional expertise and trained pedagogy of the local history community, he stressed the need for caution in the interplay between historical scholarship and popular sentiment; 'if too assertive, the academic position may be at odds with the popular view.'
With a number of humorous anecdotes including a millennium milk bottle delivered by his milkman last Christmas as part of the 25th anniversary celebrations of Dublin's Millennium, manhole covers in Donegal which celebrated the Flight of the Earls, the lecture entertained as much as it questioned. Given Professor Lennon's current involvement in the Battle of Clontarf commemorations, this talk also included a spotlight on the role of Brian Boru and the debate concerning the location of the battle itself.
Former colleagues also attended the evening including emeritus professor of Modern History, Vincent Comerford.