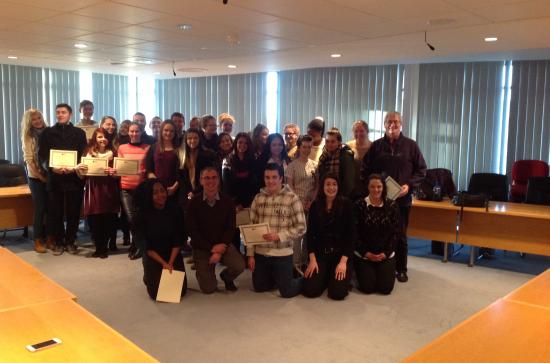 Thursday, December 11, 2014 - 00:00
Maynooth University Department of Law would like to warmly congratulate the first class to successfully complete the Department's first ever blended-learning module, Introduction to Irish Law and the Irish Legal System.
This innovative project (designed, lectured and administered by Eva Barrett, with the support of Lisa O'Regan in the Centre for Teaching and Learning) was piloted as an elective and offered to students studying Law as one of their Arts (MH101) subjects and students on the BCL (Law and Arts) programme. It was designed to be a fast and accessible mainly on-line introduction to Irish law and the Irish legal system and ran as a 10 week course, with two face-to-face and seven pre-recorded lectures. To successfully complete the course students were required to watch the pre-recorded lectures and complete short 5-10 minute exercises each week (including posting in forums, comprehension quizzes, choice activities and exercises designed to ensure students could complete specific tasks, e.g. finding reported and unreported cases).

The following students are highly commended for having successfully completed this elective module on Monday, 8 December 2014:

Diana Birladjana, Aoife Birmingham, Patrick Black, Christopher Brogan, Ellen Brophy, Daniel Canning, Samantha Carr, Ciara Cornyn, Ruth Corrigan, Aoife Daltuin, Thuy Dam, Katie Font, Aine Geraghty, Akvile Girdauskaite, Liam Gleeson, Stephen Gray, Aislinn Greene, Martin Holland, Eleana Kelly, Sana Malik, Niamh Mangan, Gerard Martin, Sophie Mc Closkey, John Meade, Sinead Moran, Edel Murphy, Aimee Ni Ghallchoir, Gloria Nkencho, Latesha Nwizu, Lauren O'Brien, Alison O'Dea, Katie O'Reilly, Elise O'Reilly McFadden, Ngoc Vi Pham, Dawn Reilly, Alan Rigney, Jessica Scott, Sibheal Toner, Lewis Arthur Wood.