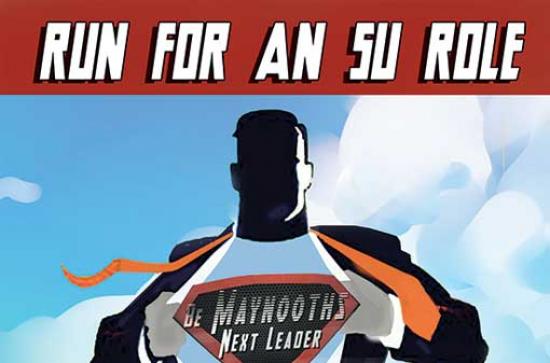 Monday, February 23, 2015 - 00:00
Are you unsure as to what you want to do next year? Feel like you have the potential, energy and enthusiasm to really make a difference? Then we may just have the perfect opportunity for you.
Every year four students are paid a competitive year long salary to work full-time to lead Maynooth Students Union. The roles are a fantastic job opportunity for those passionate about Maynooth and our students. The role is a challenging but rewarding one that has the potential to help shape your future career. The future of these positions lies in the hands of you, the students of Maynooth.
These roles result in a combination of skills being developed and nurtured from management to lobbying, negotiating to socialising, networking to leadership and many more.
There are four full-time paid positions up for grabs where you would take a sabbatical year from your studies either during your degree or even if you are in your final year. If you don't want to go for one of the full time positions, then there are a number of unpaid part-time roles as well that you can run for.

Responsibilites for each role are as follows:
President
Have you ever considered yourself to be a leader? Ever had a real burning desire to be the captain or to manage a team? Feel like you have the ability to work towards goals whilst also building a strategy and bringing together a whole team of people? The President's job is to coordinate the work of the SU on a day-to-day basis, including acting as the first spokesperson for the SU and its 10,000 members, maintaining and improving SU services, coordinating campaigns and ensuring that students have a voice at every level in the University's decision-making processes. The President is a leader and has the power to shape the future of the student life experience on campus.
Vice President for Education
Passionate about third level education? Think not enough is being done locally and nationally to support the academic development of our students? The Vice President for Educations job is to defend and help to improve the quality of your education in Maynooth and to help you with anything academic related, from sitting repeats to changing courses and everything in between. This person should be passionate about third level education and be prepared to go head to to toe with academics and government ministers in demanding the absolute best education for our students here in Maynooth.
Vice President for Welfare & Equality
Have you ever thought of yourself as a peer to friends or colleagues? Are you someone who is available if someone ever needs to talk or just want someone to listen to. If you feel like you can act as a support for students who are finding things difficult, who can't settle in or who have a personal problem and who don't feel confident talking to someone they know, then VP Welfare & Equality is the perfect role for you. This person will act on behalf of the Union to campaign for equal rights and will lobby the University to provide better and improved welfare services on an on-going basis.
Vice President for Clubs, Societies & Student Engagement
Do you feel like you are friends with almost everyone? That you just love the student life aspect of Maynooth and are always keen to get involved in different activities and events? Ever been a part of a Club or Society? Do you feel like you can contribute to the long term development of the clubs and socs structure in Maynooth?
The VP for Clubs, Societies & Student Engagement is a support structure for the 120 Clubs and Societies keeping campus busy all year round. The Clubs, Societies and Student Engagement Officer is the go-to person for information on students' favourite clubs/societies and not to mention the simple tips on how to get involved in the sheer banter that Maynooth has to offer. As well as overseeing the set up of new exciting clubs and societies, the officer works to help current clubs and socs develop and excel throughout the year.
HOW?
In order to get these positions one must run in an election campaign, where you get the opportunity to demonstrate to students why you would be the best person for the job. Even if you think you would be fantastic for the role but couldn't face a campaign, don't let that put you off at all.
Even if you feel like you don't know enough about the SU and these roles or feel like you could never run a campaign, DON'T LET THAT PUT YOU OFF!! This year full training and advice workshops will be made available for prospective candidates on all aspects of the roles and indeed the initial campaigning part.
When?
Nomination forms will be made available from the SUHQ on Friday the 13th of February and must be returned by Thursday the 26th of February. Campaigning will then commence from Monday the 2nd of March.
Voting will take place on Tuesday and Wednesday the 10th and 11th of March - even if you don't want to run for an election, save this date to vote and help shape the future of your Student's Union
What do I do next?
For more information pop into the SUHQ or just email president@nuimsu.com to confirm your interest and you will receive all the information you need and the answers to any questions or queries you may have.