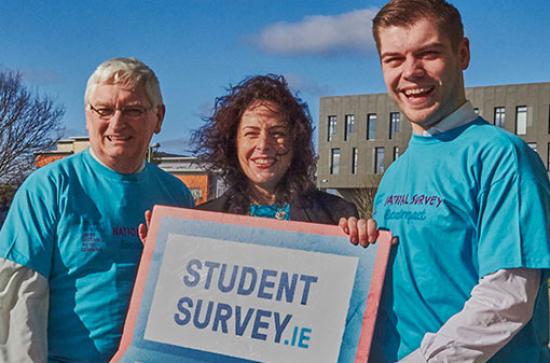 Wednesday, March 2, 2016 - 13:00
The Maynooth component of the Irish Survey of Student Engagement (ISSE) was launched on Monday, 22 February, 2016, by Prof Jim Walsh, Vice-President for Strategy and Quality; Dr. Alison Hood, Dean of Teaching and Learning; and Dillon Grace, Vice-President for Education Maynooth Students' Union.

Now in its third round, the survey is designed to inform institutional and programme/course development and to prompt awareness of any issues affecting students. In the 2014 survey, 86% of Maynooth University students said they would still choose to attend Maynooth if starting their university career again, and 74% of all students selected good or excellent, when asked how they would evaluate the quality of the academic advice they receive at Maynooth.

Dillon Grace, Vice-President Education MSU, commented: "The Irish Survey of Student Engagement is designed to reach out to students and to hear about their full experience of higher education." He strongly encouraged all students to participate and "to let the University hear your voice so that you can have an impact."

Professor Walsh said: "The ISSE survey is a very rich resource for monitoring changes in the experience of students at Maynooth from first year onwards, and also for comparing aspects of the Maynooth student experience with that of students in the other Irish universities."

Dr Hood emphasised the importance of the 2016 survey, saying "it will provide important baseline data for measuring progress over the coming years as the new curriculum is implemented. It is a unique listening opportunity for the University that will enable us to refine and enhance the quality of the academic and wider experience provided to students at Maynooth."

The survey is open until March 14th to all first year and final year undergraduate and taught postgraduate students. It is jointly sponsored by the University and Maynooth Student's Union and is part of a larger national survey involving students in all higher education institutions. Click here to complete the survey.