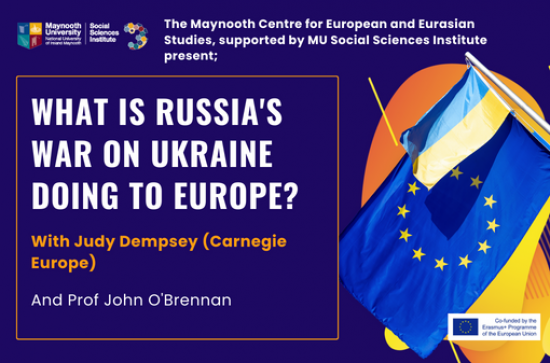 Tuesday, March 21, 2023 -

16:00

to

17:30
MUSSI Seminar room 2.31 & online
Join Prof John O'Brennan of MU centre for European and Eurasian Studies (a Jean Monnet Centre of Excellence) and MUSSI as he speaks to Judy Dempsey (Carnegie Europe) to discuss;
What is Russia's War On Ukraine Doing to Europe? join in here live
https://us02web.zoom.us/j/89305885902?pwd=RGFRaVdTTWtGZ2tib3I0TkgzYVBJQT09
*Maynooth University collects your personal contact details for the purposes of registering for this event and verifying your attendance on the day. After the event, all contact details used for registration will be securely deleted. Only authorised personnel will be able to access your personal data, and only for the purpose of facilitating this event. Maynooth University will not share your personal data with any third party. Your personal data will be processed in accordance with GDPR and the Irish Data Protection Act 2018.

In addition, parts of this event may be filmed and photographed for documentation and promotional purposes, including a livestream of the event on the day. Parts of the recording may retain your likeness. Images/video which include your likeness may be used for University Marketing Campaigns in the following forms: Social Media, Print Marketing, University Publications, Internet (e.g. Maynooth University website), Cinema and TV, and third party companies in service for Maynooth University. These images/video will be retained by the University indefinitely for use in future publication as outlined here.

By registering for this event you also consent to your image potentially appearing in the livestream and recording. Please note that withdrawal of consent is not possible as images/video once published on the internet cannot be controlled.