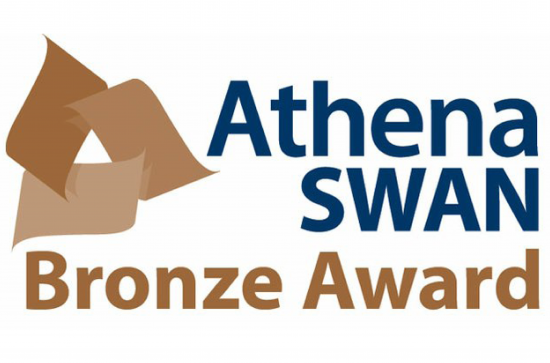 Monday, May 7, 2018 - 01:00
Maynooth University has achieved the internationally recognised Athena SWAN Bronze Award for gender equality in higher education institutions.
Athena SWAN accreditation is awarded by the Equality Charter Unit (ECU, recently reconstituted as Advance HE), which works to support equality and diversity for staff and students in higher education institutions across Ireland and the UK.
The original Athena SWAN Charter was established in 2005 to encourage and recognise institutional commitment to advancing the careers of women in Science, Technology, Engineering, Maths and Medicine (STEMM) in both higher education and research. In 2015, the Charter was expanded to recognise work done in Arts, Humanities, Social Sciences, Business and Law; in professional and support roles; in work that considers intersectionality; and efforts to support transgender and gender diverse staff and student populations.
Maynooth University is the first and only institution in Ireland to date to apply for and achieve the Athena SWAN Bronze award under the expanded version of the charter that includes Arts, Humanities and Social Sciences disciplines as well as STEMM. The University is also the first Irish institution to incorporate intersectionality as part of its Athena SWAN application, taking into account the numerous factors than can overlap in discussions of inequality, including the intersections between gender, race and ethnicity.
President of Maynooth University, Professor Philip Nolan, commented: "The Athena SWAN Bronze Institution Award is a welcome recognition of Maynooth University's collective institutional commitment to advancing gender equality and represents a key milestone for us at an important stage in the University's development."
Professor Linda Connolly, Director of the Maynooth University Social Sciences Institute and Chair of the Athena SWAN Self-Assessment Team that prepared the application, stated: "A comprehensive action plan and organisational analysis developed in the last year will now be fully implemented and will produce a range of progressive actions in the University, in the next three years."
The cornerstone of Maynooth University's Athena SWAN application is its comprehensive Gender Action Plan for 2018-2021, which is underpinned by the University's recently renewed Equality and Diversity Policy.
The 57 actions in the plan include the appointment of a Vice-President for Equality, Diversity and Interculturalism, the launch of a Gender Identity and Expression Policy for transgender and gender diverse staff and students, an internal equality data analysis system and gender equality dashboard, and a strategy to address the under-representation of women in different disciplines and grades within the University.
The Athena SWAN submission indicates that Maynooth University has a higher than average percentage of female Professors, with 42% female Professors in Arts, Humanities and Social Sciences, and close to 31% in the University as a whole (the national average was 19% in 2016). The University commits to take further action to increase the percentage of women promoted to all senior grades, with a specific strategy for the recruitment and promotion of women in the Faculty of Science and Engineering.Professor Nolan added: "The Gender Equality Action Plan highlights and strengthens Maynooth University's commitment to progressing gender and intersectional equality. Under the action plan, we will proactively improve the position of women and other underrepresented groups at every level of our institution, including some initiatives which we hope will serve as models of best practice."