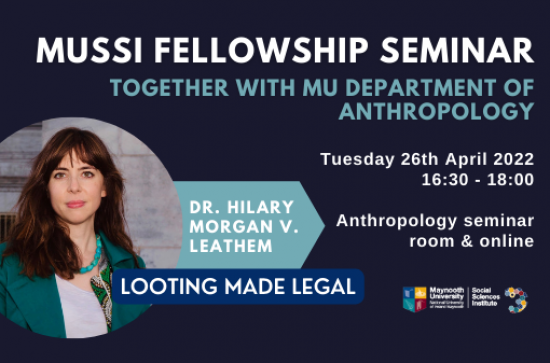 Tuesday, April 26, 2022 -

16:30

to

18:00
Anthropology Seminar Room, Rowan House & Online
Abstract:
This talk explores a heritage scandal known as the "sacking of the Frissell," which occurred in the Indigenous Zapotec town of Mitla in Oaxaca, Mexico. One evening in 2006, it is said, the Frissell Museum's entire collection of artifacts disappeared. Mitleños were shocked and appalled when it was revealed that the 'theft' had been carried out by the INAH, Mexico's National Institute of Anthropology and History, which claimed rights to the collection as national (Mexican rather than Zapotec or Mitleño) patrimony. As such, this talk traces the different understandings of (dis)possession and heritage that circulated around this incident, arguing that the INAH's reported actions reflect a distinctly settler-colonial modality through which Indigenous rights to their own past are erased and silenced. In doing so, it suggests that 'looting made legal' not only upholds a nationalist ideology but creates the conditions for haunting.

Hilary Morgan V. Leathem is a writer, anthropologist, and visiting researcher at MUSSI currently lecturing at Queen's University, Belfast. Previously a Digital Knowledge Sharing Fellow at the American Philosophical Society and exchange fellow at the École des Hautes Études en Sciences Sociales, Leathem holds a PhD in Anthropology from the University of Chicago, where they recently completed their dissertation, History (Dis)Possessed: Haunting, Theft, and the Making of Monumental Heritage in Oaxaca, Mexico. Leathem's doctoral research explored the ways Indigenous Zapotec and Mixtec stakeholders form social and affective relations with monumental heritage sites, specifically attending to tensions between state possession and Indigenous dispossession. Their research has been funded by the Fulbright-Hays DDRA, Mellon Foundation, Tinker Foundation, American Philosophical Society, and the Field Museum of Natural History. Their academic writing appears in the Archaeological Review from Cambridge (2019), Cultural Anthropology's Visual and New Media Review (2019), and Culture Work: Folklore and the Humanities for a 21st Century Public (2022). Leathem is also an award-winning poet, essayist, and science-fiction writer, with their public anthropology essay, 'To Coronavirus, C: An Anthropological Abecedary', anthologised in Best Canadian Essays 2021.
he MUSSI Fellowship Scheme began in the 2019/2020 academic year and was designed to enhance the research community of the University by fostering collaboration between Maynooth University Social Sciences Institute Visiting Fellows and academic staff at Maynooth University. Fellowship recipients have the opportunity to engage with a vibrant research culture in the Institute (see www.maynoothuniversity/mussi ) and across the wider university, Dublin city area and the region.
Registration required