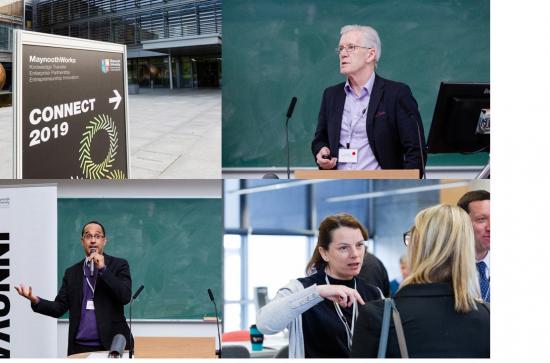 Wednesday, May 29, 2019 - 16:45
Three colleagues from the School of Business, Dr. Nicola Mountford, Dr. Paul Donovan and Dr. Patrick Rigot-Muller have recently presented their research at CONNECT 2019, Maynooth University's Industry networking event.
CONNECT events are organised to showcase to the industry the research undertaken at Maynooth University, with examples of how it's applied to real problems, and how our industry partners have benefited through collaboration.
Nicola offered a snapshot of her work at European and national levels to understand the new organisational networks needed to increase adoption of digital health technologies. Paul spoke about his research into the transfer of learning from training courses back into the workplace. Patrick presented an analysis of the POLARIS Risk Index applied to a shipping project in the Arctic, using historical ice conditions from satellite data. Their presentations fueled interest among the audience, and we are looking forward to seeing more fruitful collaborations with industry in the future.

Thanks a lot to our colleagues in MaynoothWorks for organising the event!