Understanding the impact that live-streaming opera into cinemas is having on the artform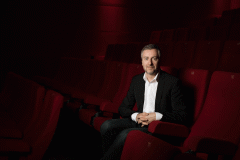 Who goes to the cinema to watch opera? Over the past few years, bemused audiences have found fewer trailers for upcoming blockbusters and more for live operas and theatre, which is beamed in to big screens in numerous countries.
It's being billed as 'event cinema' and growing numbers of cinema-goers are heading to the multiplex to catch an opera. What's behind this new phenomenon? Will it bring opera to new audiences, or will it be its death knell? What has it meant for cinemas and how will it change our cultural relationship with them?
These are questions that Christopher Morris, Professor of Music at Maynooth University, wants to answer. For the past few years, he has been researching the broadcast of live opera into cinemas from places like The Met in New York, La Scala in Milan and Covent Garden in London.
"My first experience of this was in a cinema in Dungarvan, Co. Waterford," he says. "In Dublin, the Light House Cinema in Smithfield was one of the first to get on board but, gradually, the bigger chains have started to sign up as well."
There are now an estimated 2,000 cinemas screening opera worldwide, including 30 in Ireland. It all began back in 2006, when the Met seized the opportunity presented by the conversion of cinemas to the new digital format and launched its Met Live in HD series. The company had a long history of broadcasting live on radio on Saturday afternoons and regarded the cinema broadcasts as a logical extension of that tradition. The screenings also built on a history of television broadcasts of opera stretching as far back as the 1940s. In the UK, opera was screened on the BBC, and it featured in the programming of state broadcasters from Germany to Japan. For a time, it was even shown by the big commercial stations in the US, including CBS and NBC, but it was not commercially viable and they dropped it. In recent years even the state broadcasters have tended to offer less opera, and today it is most likely to be seen on subscription channels like Sky Arts.
"Cinema audiences worldwide are down and while younger people are still going to see big blockbusters, the older audience has declined," says Morris. "When The Met started to talk to cinemas, it was seen as a way of bringing in an older demographic. That said, opera has tried to present itself as reaching out to a younger demographic, and these screenings were supposed to be a part of that initiative. So there's a mixed message here. The screenings also tend to get their bigger audiences in the arthouse cinemas, whereas those shown in the multiplex cinemas often attract tiny audiences in my experience."
Overall, however, cinemas are continuing to invest in event cinema. Live opera, theatre and ballet is attracting an older and wealthier demographic into the cinema, often at a time of the day when it might not typically be busy. Ticket prices for event cinema tend to around €25 compared to €10 for a film, and live opera typically has two 20-minute intermissions, which means audiences are returning to the foyer looking for refreshments. Some cinemas are very keen to make it into an event, so the ushers wear black tie and wine and cheese are offered instead of - or as well as - hot dogs and popcorn.
It's not just a big adjustment for the cinemas of course; however opera houses have had to consider how live screenings fit into their business model. Will it bring more audiences to live shows, or will the cinema steal their business? Barrie Kosky is the director of the Komische Oper Berlin, which is widely regarded as one of the most progressive and daring opera houses, and he says that live-streaming is death-knell of opera. It is a special experience, he says, to have the human voice come from this human body in this space at this point in time, rather than through cinema speakers. Some opera houses disagree and say it is mainstreaming opera and creating a wider audience. The Met, in particular, is doing well from it: their profits for 2013-14 were a reported $30m - even if their own director Peter Gelb has expressed concerns that they may be cannibalising their live audience.
Professor Morris says this is yet to be proven. "There is a theory that the big opera houses are stealing audiences who would typically go to regional theatre, but I'm hoping my research will clarify some of these questions."
Watching a live, three-dimensional show is a very different experience from watching it in two dimensions on a big screen. "There's a suspicion that the live cast is affecting how opera directors are casting singers," says Professor Morris. "The official line is that the opera is not being moulded to fit the big screen, but directors are telling us that they are in fact being urged to consider how the production will appear on screen. Because it is broadcast in high-definition, there are close-ups of the singer's face and this inevitably does affect how they perform. With the singers wearing microphones for cameras, they don't need to project their voice in the same manner, so smaller voices can be cast as well."
Professor Morris intends to continue his research by exploring to what extent the audience is participating in the event. Why, for example, do some audiences clap at the end but others don't? He will also be interviewing audiences about their attitudes and behaviours to live opera.
The relative success of opera in cinemas has opened the doors to other forms of event cinema. Music festivals would be a visual feast on the big screen if licensing and royalty issues could be overcome. Just as we now go to the pub to watch sport, we may, in the very near future, grab a beer in the cinema and watch the spectacle on the big screen. With box office receipts for cinemas down, have we found a way to save the cinema?
More Spotlight on Research articles.