Stand on Mount Street Bridge in Dublin today, and you stand on the site of a very significant battle of the 1916 Rising. The Battle of Mount Street is generally considered as one of the biggest victories for the Irish Volunteers, but what really happened on that fateful day which saw the demise of Volunteer Commanding Officer, Mick Malone, and the death or serious injury of at least 160 British troops? How did the battle really play out and what can we be sure of?
Until now, nobody has really known. Now, Contested Memories: The Battle of Mount Street Bridge is using three-dimensional technology to bring us towards a greater understanding - and, in the process, allow the general public to get a better sense of this pivotal battle of the Rising.
It's one of two major initiatives from Maynooth University to mark the 1916 centenary, both led by Susan Schreibman, Professor of Digital Humanities and the Director of An Foras Feasa, the Humanities Institute at Maynooth University. And they both marry traditional, old-fashioned research with some of the most cutting-edge technologies, as part of the emerging discipline known as "digital humanities" (see below).
Schreibman is also leading and co-ordinating Letters1916, which is collecting, collating and transcribing letters, written between November 1915 and October 1916 by members of the public and those connected to the events of the Rising. The letters, which address everything from daily life to military events, are giving a valuable insight into what it was like for ordinary people to live in Ireland at this extraordinary time.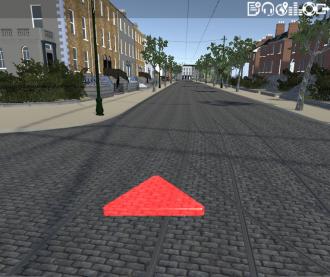 "The Battle of Mount Street Bridge is bringing together a strong team of military historians, active and retired members of the defence forces, 3D specialists, modellers and architects to painstakingly recreate the world of that time," Schreibman explains. "We have done old-fashioned historic research to find out how many guns were used, what type of guns, and how effective they were. We are creating a virtual world that people can view and engage with."
What have they learned? "We came to the project with some basic knowledge about what happened on Mount Street Bridge and Northumberland Road. We already know that. Now, however, we're as close as anyone has been to knowing precisely how many people were killed and wounded, and we have been able to map the contours of the battle through a combination of traditional research and new technologies.
Walking down the street brings only so much understanding, but when you view it in the 3-D world, you can get a birds-eye view. This gives you a much better sense of troop movements and fields of fire, bringing a very different perspective to a complex series of events."
Letters 1916
The digital world is also creating a new space to explore the most manual of technologies: written letters. Schreibman's project is asking members of the public to submit letters written in or about Ireland six months before and after the 1916 Rising. It is, she says, "a year in the life" of Ireland.
"We are collecting as many letters as possible in one database and allowing people to search across the letters, getting a sense of what life in Ireland was like and what people's concerns were at that time. The Rising is such a contested space and there are many voices in the debate today; we are allowing people who lived at the time to have a voice in our contemporary debates. We have added abstracts and metadata (to allow the letters be searched by topic, theme or writer) but, otherwise, these are unmediated and unedited."
This is a crowd-sourced project which cannot thrive without the involvement of the public. So far, the project has gathered around 2,500 letters, with a small army of people (some 1,500) who have volunteered to transcribe the handwriting into searchable text. The letters have been submitted by private families and public institutions.
There are love letters. There are reflections on the political fallout. There are reminiscences about the week of the Rising. There are letters addressing The Great War, which raged through Europe between 1914 and 1918. There are some from WB Yeats' father, who was then living in New York, to his children, giving them advice on how to manage their lives and affairs.
"There are many to and from women, which is hugely important, because they played all kinds of roles in public and private life around 1916 but are not always reflected in historic accounts," says Schreibman. "We are finding that what people are most interested in is the stories of ordinary people from this time. There is a realisation that history is not just about major figures and big battles; it's equally about the day-to-day lives, hopes and experiences of real people."
RTE One will air a television documentary about the Letters1916 project, "16 Lives" as part of its 1916 programming, while a radio documentary about the Mount Street project will air on RTE Docs on One.

A Breakthrough for Digital Humanities
Digitisation and technology is becoming increasingly important in the world of arts and humanities. New technologies, from simple scanning to full-blown 3-D recreations, mean that growing numbers of people can access information and stories that were previously locked away in archives and museums. They also enable researchers to take a "big data" approach to politics, history, language, social science, literature, history and other humanities subjects.
Professor Susan Schreibman has been at the forefront of developing digital humanities for two decades, and Maynooth University, where humanities are actively embraced and promoted, is leading the charge in Ireland - and in Europe.
As part of both the Mount Street and Letters projects, Schreibman's team is working with schools throughout Ireland.
"For the Mount Street project, we are providing a box of materials which enables schools to make their own models of the buildings using 3-D printing, and we're creating a set of lesson plans to go with it," Schreibman says.
"We have done significant work with schools for the Letters1916 project, including a workshop with teachers, a set of lesson plans and a partnership with the military archives. The lesson plans can be used across the curriculum, in subjects as diverse as history, art, geography, English and more. One person has created an art project from the letters, another has written music on them, and we will be holding county launches, funded by Science Foundation Ireland, to show children how to use these resources and to work with metadata. People don't want to be passive receivers of information anymore; they want to be part of the research process. Now, they can be."