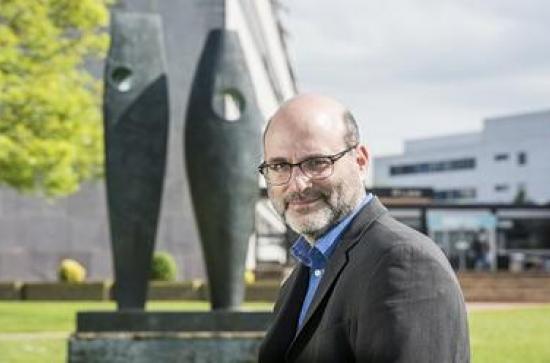 Wednesday, March 25, 2020 -

16:00

to

17:00
Bewerunge Room, Logic House
'The Noise Big History Makes: A Global History of Sound for the Anthropocene'.
Thomas Irvine is Associate Professor and Director of Taught Programmes in Music at the University of Southampton (UK). He is a global historian of music with special interests in the British Empire, modern Germany, jazz and Science and Technology Studies. His monograph Listening to China: Sound and the Sino-Western Encounter 1770-1839 will be published by University of Chicago Press in April 2020. This project was supported in 2015-2016 by a Mid-Career Fellowship of the British Academy. His co-edited book (with the historian Neil Gregor), Dreams of Germany: Musical Imaginaries from the Concert Hall to the Dance Floor, was published in 2018 by Berghan Books. He is currently a Fellow of the Alan Turing Institute in London, the UK's national research center for data science and artificial intelligence, where he leads the project "Jazz as Social Machine." Irvine is a Non-Executive Director of the Southampton Web Science Institute and serves as an external examiner at the Royal Academy of Music. He co-chairs the American Musicological Society study group "Global East Asia.'"
His work appears in journals including Music and Letters, The Journal of Musicology, Current Musicology, Mozart-Jahrbuch, Göttinger Händel-Beiträge and Eighteenth-Century Music. He has contributed chapters in English and German to edited volumes on global Enlightenment, art and legal theory, British musical modernism, the Prometheus myth, the history of British concert life and Rousseau studies. In recent years he has given invited lectures at Zhejiang University, the Chinese University of Hong Kong, Hong Kong University, National Taiwan University and National Chiao Tung University (Taiwan), the Royal College of Music and the universities of Bristol, Cardiff, Birmingham, Konstanz, Mainz, Michigan and Stony Brook.
Irvine originally trained as a violist in the United States (he has degrees in viola performance from Rice and Indiana Universities) and spent several years as a professional musician specialising in historical performance in Germany. He then returned to academia to study performance practice and musicology at Cornell University where he received his PhD in musicology in 2005.
Outside of his  teaching and research he is trying to learn Chinese and supports Southampton FC. Both can be challenging! He sings a little.