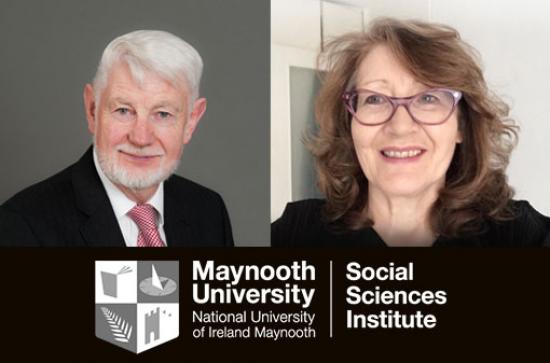 Thursday, January 10, 2019 - 12:30
Maynooth University Social Sciences Institute is delighted to announce the appointment of two new Adjunct Professors and a Visiting Professor.

Professor Mary Hickman has been appointed to MUSSI as an Adjunct Professor. She is Professor Emeritus of Sociology & Irish Studies at London Metropolitan University, where she established the Irish Studies Centre in 1986.
Mary Hickman is Professor Emeritus of Sociology and Irish Studies at London Metropolitan University. She established the Irish Studies Centre at London Met in 1986, where she was also Director of the Institute for the Study of European Transformations, 2002-2012. She was a Professorial Research Fellow at Centre for Irish Studies, St Mary's University, London, 2012-2016. She has written widely on migration and diaspora, especially about the Irish in Britain and the USA. She is co-author of Migration and Social Cohesion in the UK (Palgrave 2012) and co-editor of Women and Irish Diaspora Identities (Manchester University Press 2014). She is a Fellow of the Academy of Social Sciences and Chair of Votes for Irish Citizens Abroad (VICA).

Dr. David Begg has been appointed as an Adjunct Professor in MUSSI and will work with Sean ORiain in Sociology, Michael Doherty in Law & colleagues in the area of work and employment.
Dr. David Begg links both academic research and policy practice in employment relations and the welfare state. David has long experience in leadership in the trade union movement including as General Secretary of the Irish Congress of Trade Unions and the Communication Workers Union. He has been involved in development work as Chief Executive of Concern Worldwide and through work with Irish Aid and Trócaire. David currently plays a key role in various aspects of the welfare state, such as pensions, healthcare and child welfare. He has a PhD in Sociology from Maynooth University and has been Chair of the Nevin Economic Research Institute, Director of TASC and a member of the National Economic and Social Council. He is author of Ireland, Small Open Economies and European Integration: Lost in Transition (Palgrave Macmillan, 2016) as well as a wide range of academic and media articles.

Professor Mark Boyle based in University of Liverpool, Heseltine Institute, has been appointed as Visiting Professor in MUSSI.
Mark is a trained human geographer (BSc Geography first class hons from the University of Glasgow in 1988 and PhD in Geography University of Edinburgh 1992). He worked from 2003 to 2007 at the University of Strathclyde in Glasgow as Lecturer and then Senior Lecturer in Geography and from 2007 as Professor/Chair of Geography at the National University of Ireland, Maynooth.

From 2007 to 2012, Mark served as head of the large and lively Department of Geography at Maynooth and from 2013 to 2016 as Director of the Interdisciplinary National Institute of Regional and Spatial Analyses (NIRSA) at Maynooth. He has served as a Leverhulme Research Fellow and as an Isaac Manasseh Meyer Visiting Fellow (IMMF) at the National University of Singapore.

He has authored two books, edited seven special editions/sections of international peer reviewed journals and published over 70 scholarly papers and reports (including 40 in international peer reviewed journals).

From 2015 to end 2017, Mark served as the National Contact Point for Ireland for the URBACT III programme. Funded by ERDF, URBACT's mission is to enable cities to work together and develop integrated solutions to common urban challenges, by networking, learning from one another's experiences, drawing lessons and identifying good practices to improve urban policies.