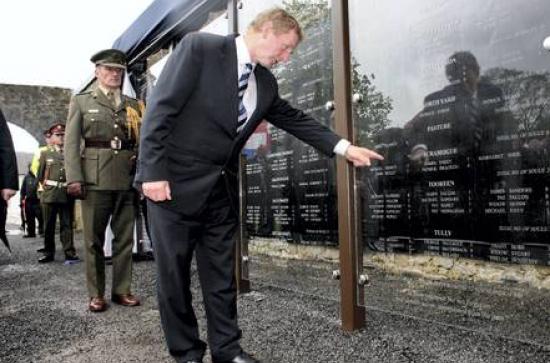 Tuesday, May 13, 2014 - 00:00
A memorial wall commemorating the Famine has been unveiled by An Taoiseach, Enda Kenny TD at Strokestown. Conceived by Dr Ciaran Reilly from the Centre for the Study of Historic Irish Houses & Estates in the Department of History at Maynooth University, the memorial wall contains the names of 1,490 people from 275 families in thirty-two townlands who were sent to Canada in 1847. The names were extracted from the Strokestown Park Archive on loan to the OPW/ Maynooth University Archive & Research Centre.
Assisted Emigration
Dr Reilly explains how the 1,490 came to emigrate; "on the death of Rev Maurice Mahon, third baron Hartland, in November 1845, Major Denis Mahon inherited the 11,000 acre Strokestown estate in county Roscommon. Years of neglect and mismanagement meant that the estate was now almost £30,000 in debt.
In an effort to radically overhaul the problems of gross overcrowding, subdivision of the land and mounting arrears, John Ross Mahon, the land agent, devised a scheme of assisted emigration. For the estate administration this made economic sense; to keep the people in Roscommon workhouse would cost over £11,000 annually whereas a once off emigration scheme would cost £5,800.
In May 1847 1,490 tenants left from the Strokestown estate for Quebec in British North America (Canada). They were accompanied on their walk to Dublin, by the Royal Canal footway, by the bailiff, John Robinson who was instructed to stay with them all the way to Liverpool and ensure that they boarded the ships".
Leaving Liverpool on four ships the Virginius, Naomi, John Munn and the Erin's Queen, the Mahon tenants were amongst the first to be characterised as sailing on coffin ships during the Famine. With Cholera and typhus rampant the emigrants were exposed to the ravages of disease. The Toronto Globe newspaper was amongst the first to highlight the problems encountered by the passengers on board the Virginius and thus reported its arrival at Grosse Île:
The Virginius from Liverpool, with 496 passengers, had lost 158 by death, nearly one third of the whole, and she had 180 sick; above one half the whole will never see their home in the new world.
Emigrant faces from County Roscommon
An exhibition designed by Dr Reilly details the lives of many of the famine emigrants who went abroad, including
Michael Flynn, James Higgins and Thomas Fallon who fought in the American Civil War
Michael Calhoun Dufficy, who became a lawyer and justice of the peace, and in 1904 was listed as being one of the most notable people in California
Patrick McNamara a labourer on the construction of the Blue Ridge Mountain Railroad Tunnel which was hailed as the engineering feat of the 19th century
It also highlights the continued search for those like Frank Coggins and his family who appear to have simply 'disappeared' in early 1850s America.
Ends.