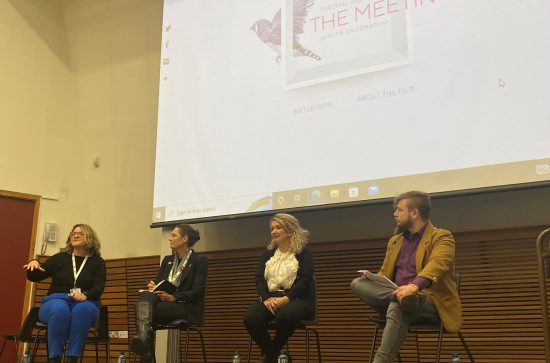 Wednesday, November 23, 2022 - 16:15
On Monday 21 November 2022, over 120 people attended a screening of The Meeting at Maynooth University. To mark International Restorative Justice Week, the screening was organised in partnership between Maynooth University School of Law and Criminology and Restorative Justice: Strategies for Change (RJS4C), a project involving partners from ten European countries seeking to support the development of restorative justice in criminal justice settings.

Based on a true story, The Meeting is an Irish film depicting a real restorative justice case following sexual violence. It shows Ailbhe Griffith, who plays herself in the film, meeting the person who raped her after he is released from prison. The process was prepared for and facilitated by a professional restorative justice service, and the film focuses on the facilitated discussion between Ailbhe and her attacker.

Dr. Ian Marder (Maynooth University School of Law and Criminology and RJS4C Coordinator) then facilitated a panel discussion and Q&A with Dr. Marie Keenan (UCD School of Social Policy, Social Work and Social Justice), Dr. Sinéad Ring (Maynooth University School of Law and Criminology) and Dr. Gemma Irvine (Maynooth University, Vice President for Equality and Diversity). The panel discussed their reactions to the film, the use of restorative justice with different types of serious offences, the flexibility of restorative processes, the potential and challenges of using restorative justice in response to institutional abuse, and the need for universities to find new ways to meet the needs of victims of gender-based violence from within their own communities.

You can read a review of The Meeting written by Maynooth University School of Law and Criminology students here. You can also watch the film here. We are grateful to Vanessa Gallagher (Maynooth University School of Law and Criminology) for her support in organising the event.

Also on the occasion of International Restorative Justice Week, Maynooth University hosted a one-week visit by Prof. Noël Busch-Armendariz (University of Texas at Austin Steve Hicks School of Social Work). Noël's work focuses on gender-based violence, and she visited Maynooth during a sabbatical at the University of Edinburgh to attend the screening and discuss future collaborations. This week, Ian and Noël also delivered sessions on the Maynooth University MSocSc in Social Work, focusing on restorative justice for the first-year cohort and restorative practices for the second-year cohort.

Dr. Ian Marder is chair of the MA in Comparative Criminology and Criminal Justice, on which he teaches LW687 Restorative Justice.